Messaggio plans: how to choose?
Messaggio offers two pricing plans: Standard and Corporate. After registering with Messaggio, your account gets the Standard Plan by default — a basic set of features for sending messages. The Corporate Plan gives you access to the advanced functionality of Messaggio — tools for increasing the conversion rate of your message campaigns. This guide will help you figure out how to use the Corporate Plan to solve business problems and how to activate the Corporate Plan via Messaggio.
Standard Plan
The Standard Plan is suitable for beginner entrepreneurs, or small businesses. Choose it if:
You are the sole message sender (the tariff assumes that only one user will work with Messaggio's dashboard);
You only have 1 project (you can send messages on behalf of one brand only);
You don't need to coordinate message campaigns with your colleagues (you can only connect 1 test phone for sending preview messages to your test device and making sure they are displayed correctly).
Standard Plan's functionality:
Bulk messaging to all available channels: Flash Call, SMS, Viber, WhatsApp, RCS;
Unlimited number of contacts for bulk messaging — upload an unlimited customer database to Messaggio contact groups;
Unlimited message templates — add images, videos, links, and CTA buttons to your messages, if the messaging channel provides such functionality;
Online chats — quickly respond to customer requests from your Messaggio dashboard, with all channels in one interface;
Message personalization — add variables to personalize your message campaigns: name, date, promo code, and more to increase customer engagement and message clickability;
Scheduled messaging — prepare your campaign in advance, and select the date and time for the automatic launch;
Cascade campaigns — deliver messages via SMS if a certain messenger was not found on the user's device;
Activity history — track the changes in your Messaggio account linked to the user.
Standard Plan pricing: free

After registering with Messaggio, the Standard Plan's functionality will be available to you by default. However, all the features of Messaggio that help work on campaign conversions — such as smooth sending, best-time delivery, A/B testing, and others are limited on the Standard Plan.
Corporate Plan
The Corporate Plan is suitable for those who want to use Messaggio not only as a message provider but also as a marketing platform, improving campaign performances and reducing costs.
The Corporate Plan will be useful if:
You have several branches (the plan allows you to create an unlimited number of projects — each branch can manage message campaigns in its own project, and the manager will have shared access to the company's account);
You want to use Messaggio to automate the processing of customer requests (you can connect multiple operators to chat communicating and restrict their dashboard access);
You need a higher level of data security (Two-Factor Authentication is available via Google Auth);
Improving the metrics of your message campaigns while optimizing your budget is important to you (Messaggio's Corporate Plan tools will allow you to increase Open Rate, CTR, CR, and ROAS while reducing your CPA and CAC).
Along with the features available on the Standard Plan, you will have access to:
Smooth sending
You can send your message campaign gradually, within several hours. Available intervals range from 1 to 10 hours. Smooth message sending helps protect your call centre from a large request inflow. This feature is great for large-volume campaigns (starting from 5,000 messages).

Best-time delivery
Sending campaigns at the moment when the user is most likely to open the message. Messaggio determines the best time to send a message based on the accumulated messaging history with each user. The system takes into account such facts as delivery to a particular channel, and the speed of reading and clicking on the link. If there is no data about the user, the campaign will be sent instantly.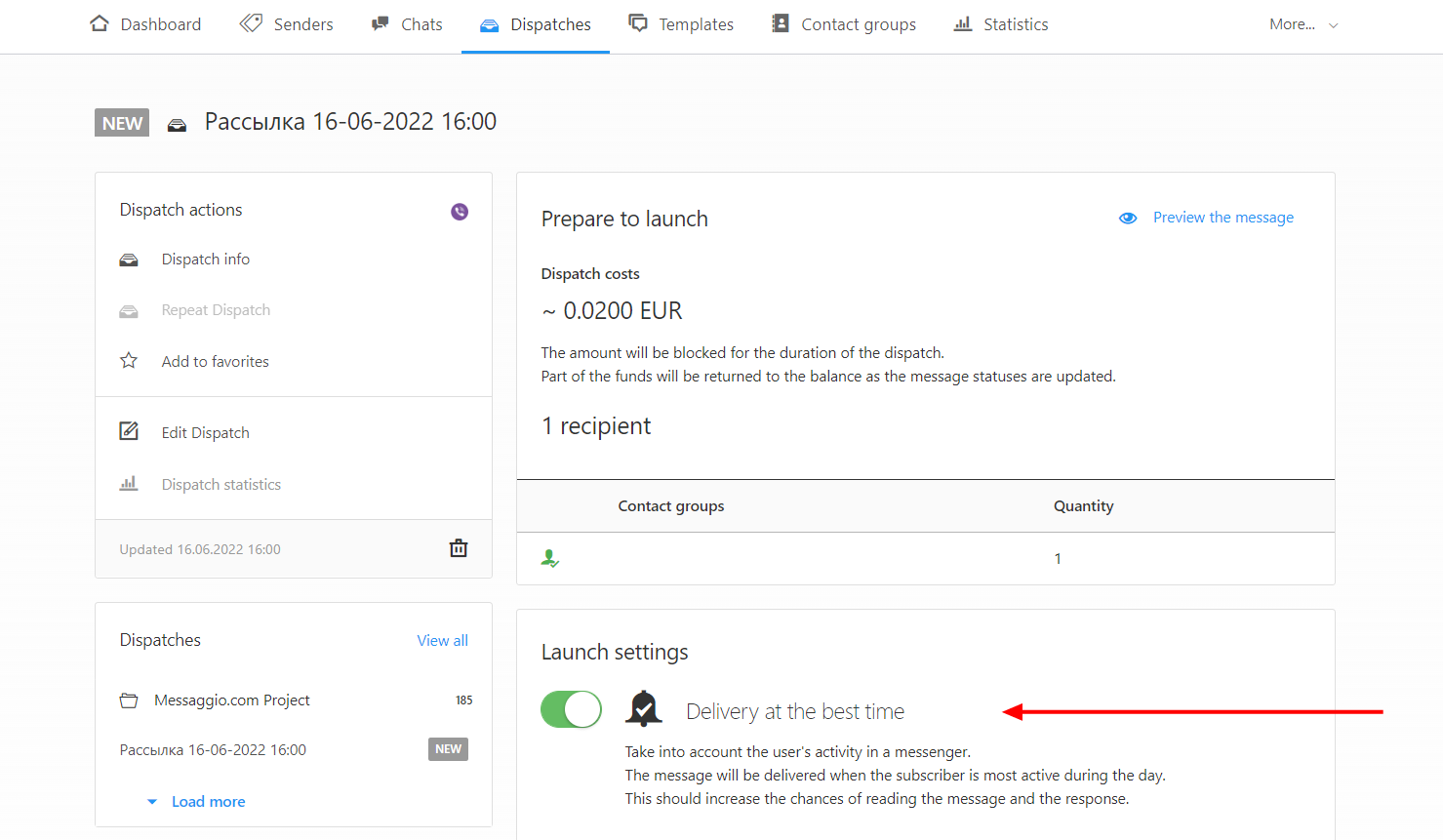 A/B testing for message campaigns
Message campaign A/B testing is a tool for testing hypotheses and finding effective message templates.
To run an A/B test, create two templates and specify a percentage of randomly selected contacts that should receive Template A and Template B respectively. Template recipients will be evenly selected from contact groups and formed into message campaigns with A and B suffixes at the end of the names. Each of the two created campaigns should be either launched manually or scheduled.
This feature allows you to test message elements — headers, texts, images, buttons — in order to find which message templates receive the best response from recipients.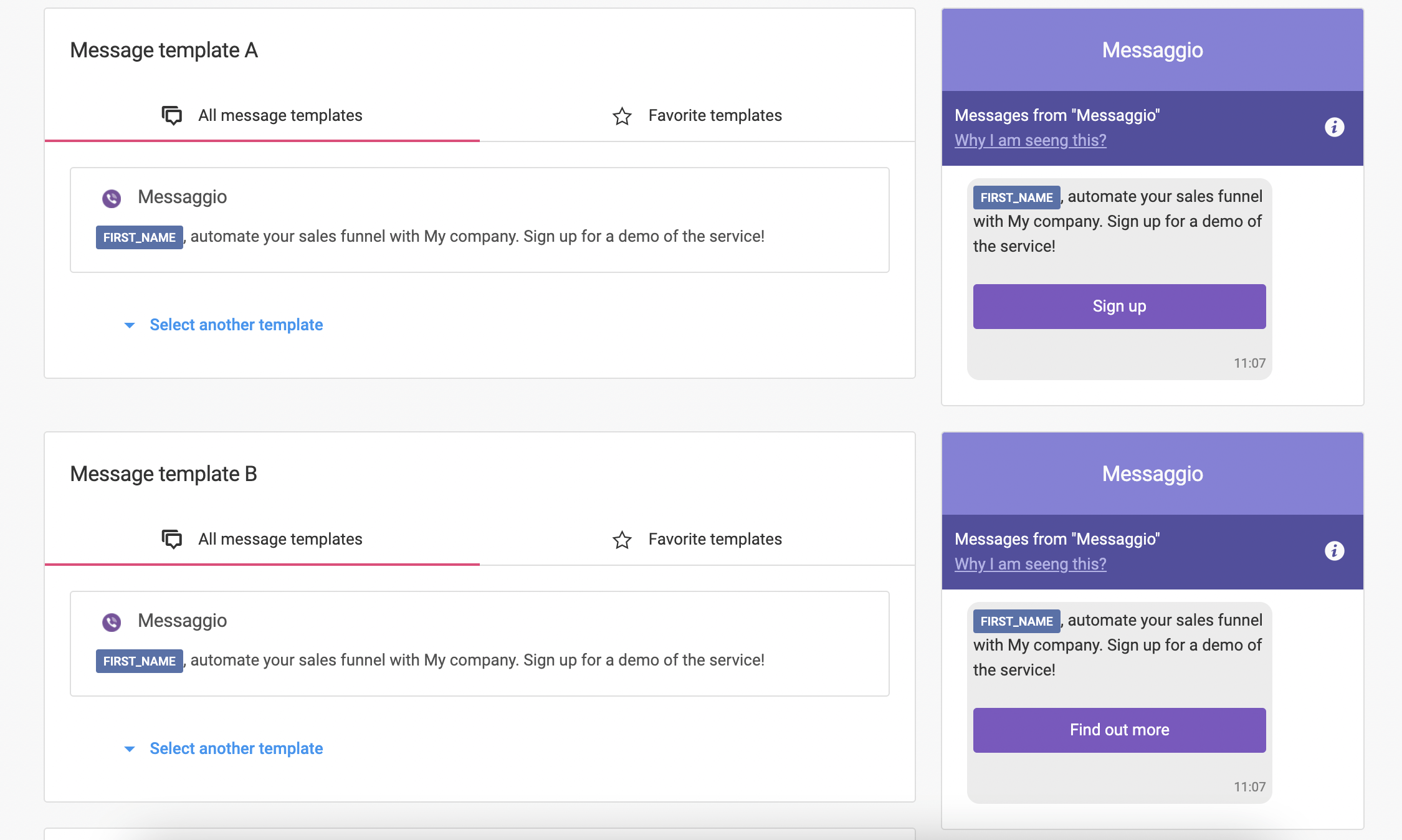 Short links and message click tracking
In Messaggio, you can create static and dynamic links with an attractive clickable appearance and then track the click-throughs. This helps to measure message campaign conversion rates.
Static links are permanent addresses with no dynamic parameters. In Messaggio, you can use static links to mask a long, unremarkable URL or UTM tags from recipients, replacing them with the desired displayed link. Click-through statistics are assigned to each static link.
Dynamic links are addresses where parameters are generated separately for each subscriber. Pages with dynamic parameters don't actually exist, but their URLs lead to the landing page. In Messaggio, a click on such a link is recorded and stored in statistics for a specific recipient.
You can create static and dynamic links on your domain by contacting the support service. By default, links are created on one of the Messaggio domains.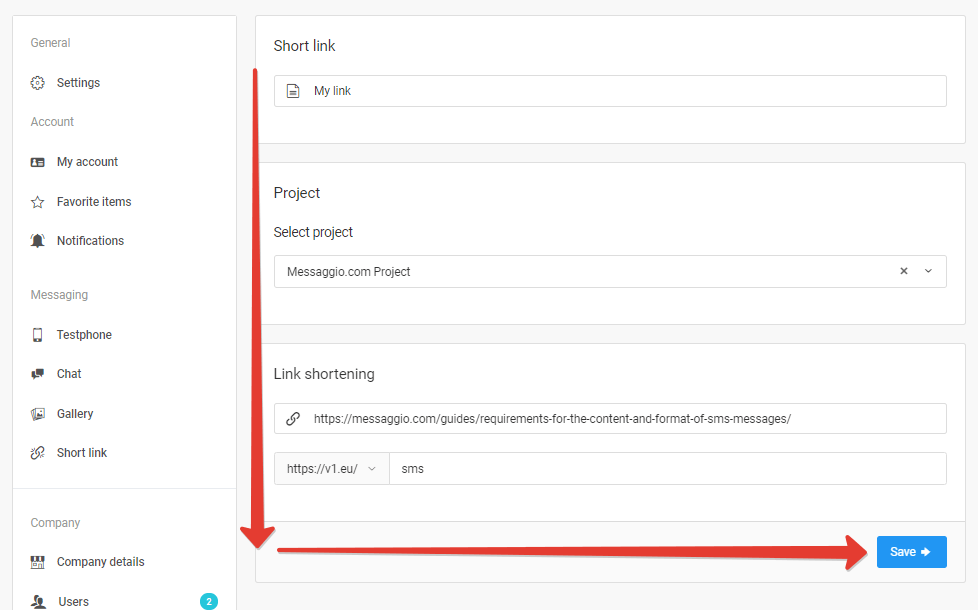 Priority technical support
Messaggio's technical support team processes Corporate Plan customers' requests on priority — within 15 minutes.
Corporate Plan's billing cycle
In your dashboard, you can choose a period during which your Corporate Plan will remain active. Available options are 3, 6, or 12 months.
If you choose a 6-month subscription, Messaggio will grant you +1 month. If you activate the Corporate Plan for 12 months, you will receive +2 months as a gift.
What is the Corporate Plan trial?
The Corporate Plan trial is a free test month that you can activate via your Messaggio dashboard in order to try out our advanced functionality with your projects.
After the free 30-day period, your account's functionality will be limited to the Standard Plan. To continue using the Corporate Plan, you will need to pay for a subscription for 3, 6 (+1), or 12 (+2) months.
How to activate the Corporate Plan
To activate the Corporate Plan trial, go to the Balance section and in the Move to Corporate Plan block, click Activate for Free! next to the 1 Month option.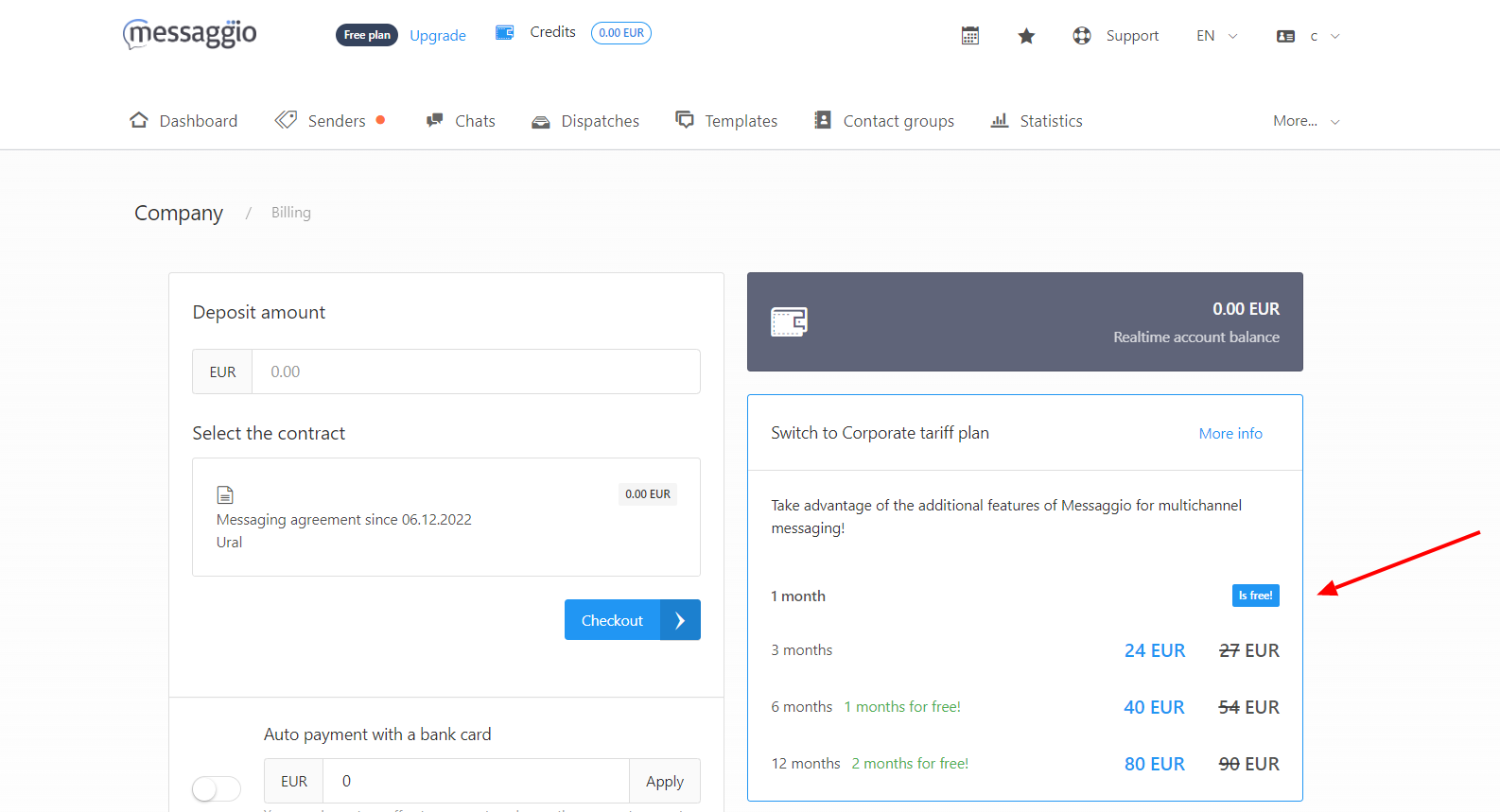 You can also activate the Corporate Plan for 3, 6 (+1) or 12 (+2) months via the Balance section, in the Switch to Corporate Plan section. Then follow the interface prompts to make the payment. If you want to learn more about the plan's configuration, click the Go to Corporate Tariff section and click Learn More. You will see a table showcasing the differences between the Standard and Corporate Plans. You can also activate the Corporate Plan from that page.