How to create a multichannel campaign
With the help of multichannel messaging, you will not only send a message to the customer base but deliver it to a channel convenient for the client, which he uses every day and which he trusts. You can send service and advertising traffic first to the messenger and then to SMS or vice versa. This is useful if you are not sure whether all contacts from the database are using the channel you have selected. Messaggio's flexible settings allow you to route messages by assigning the order of channels in one click. We will tell you how to create a successful high-deliverability dispatch in this guide.
To create a multichannel campaign, you need to prepare a multichannel message template. Our section «How to create a multichannel template» is about it.
When the multichannel template is ready, go to the «Dispatches» section and click «Create».
Specify the name of the dispatch, choose the project, and select a multichannel template for messaging. Turn on message templates for the channels you plan to send to. The order of templates determines the order in which messages are routed. To reorder, drag over message blocks and assemble the sequence you want.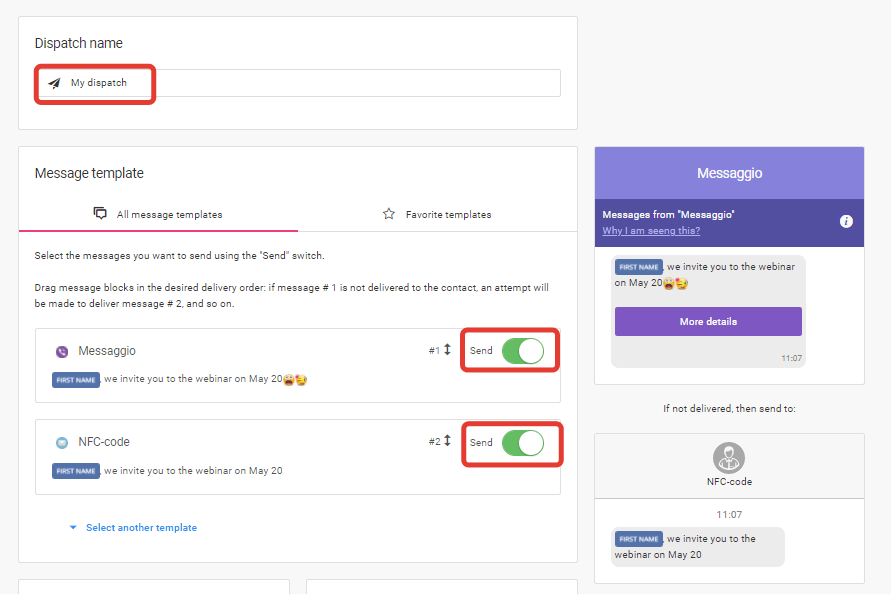 For more information on how to create a dispatch in each of the channels, see the sections: