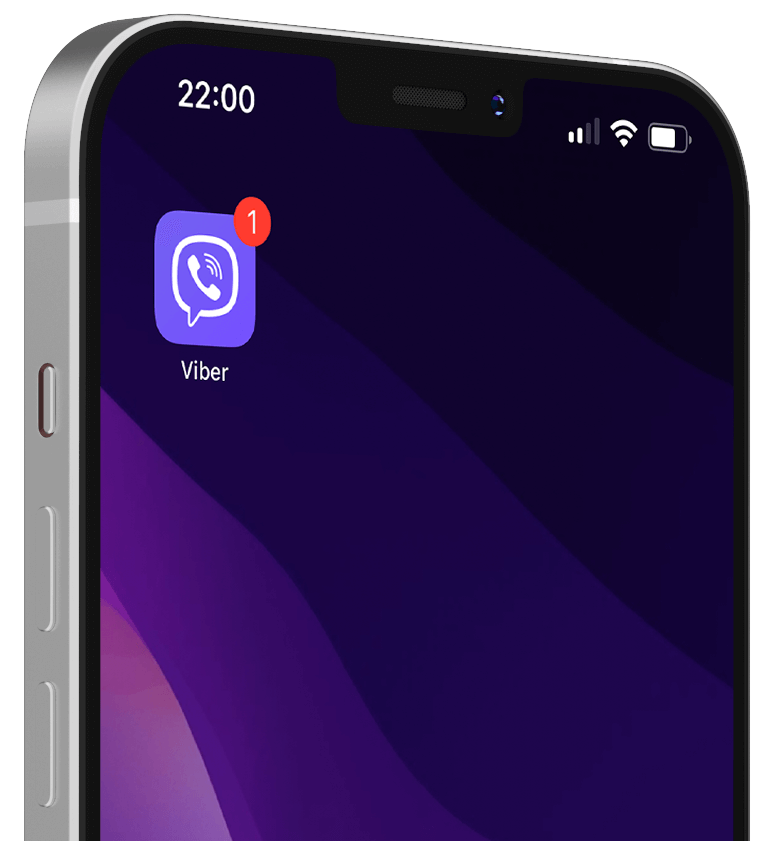 Improve your marketing campaigns
with Viber Business Messaging
Powerful platform for worldwide Viber Business messaging.
Register Viber Sender ID to send promotions with great conversion and branded customer notifications.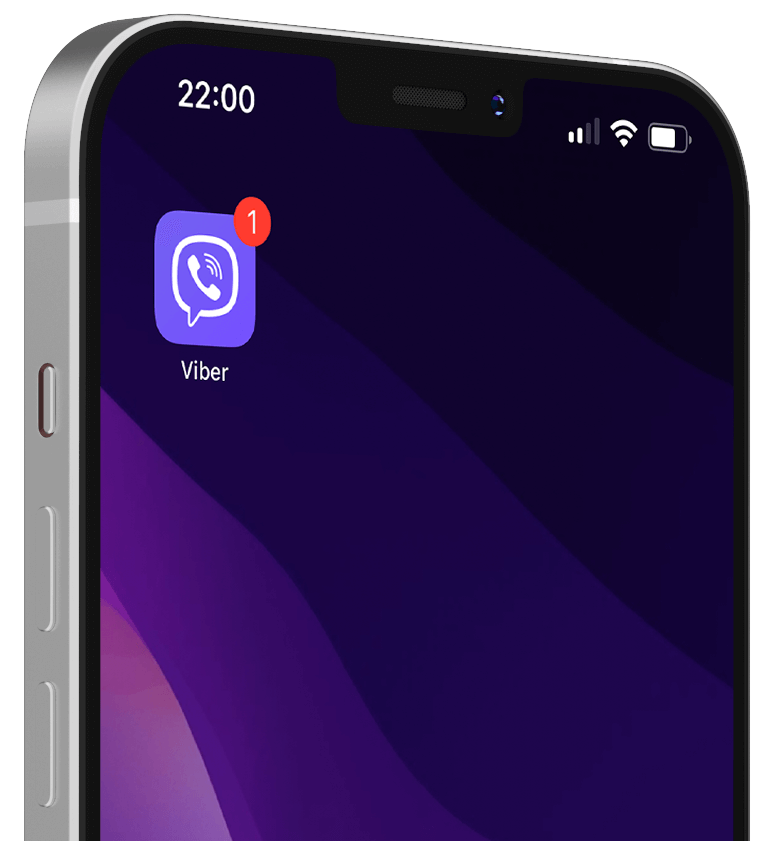 Communicate with customers in Viber
Use Viber Business Messages to be closer to your customers: send important notifications and keep chat communication.
Viber provides great opportunities for branding and business! Your company Sender ID can be named in any language, has logo, verification badge, business description and contacts details.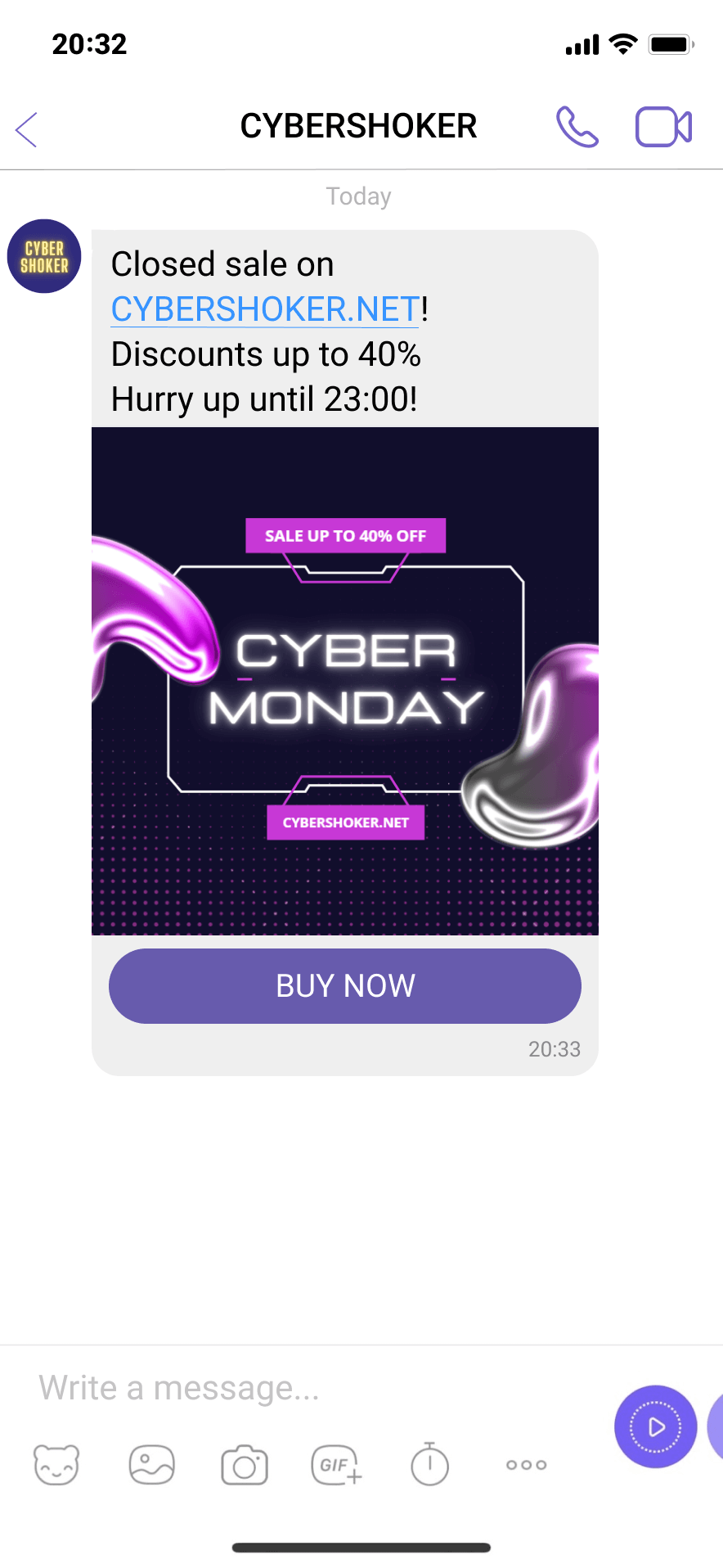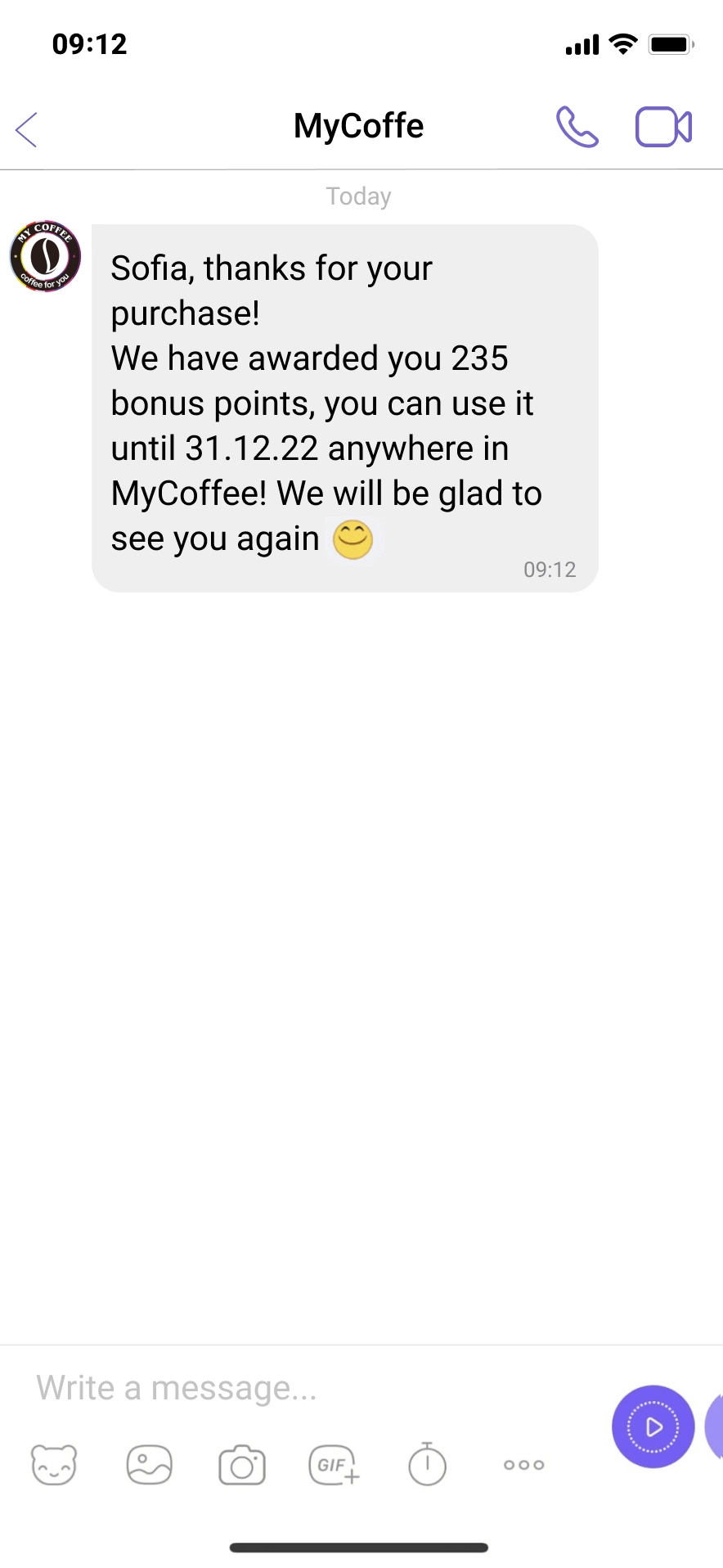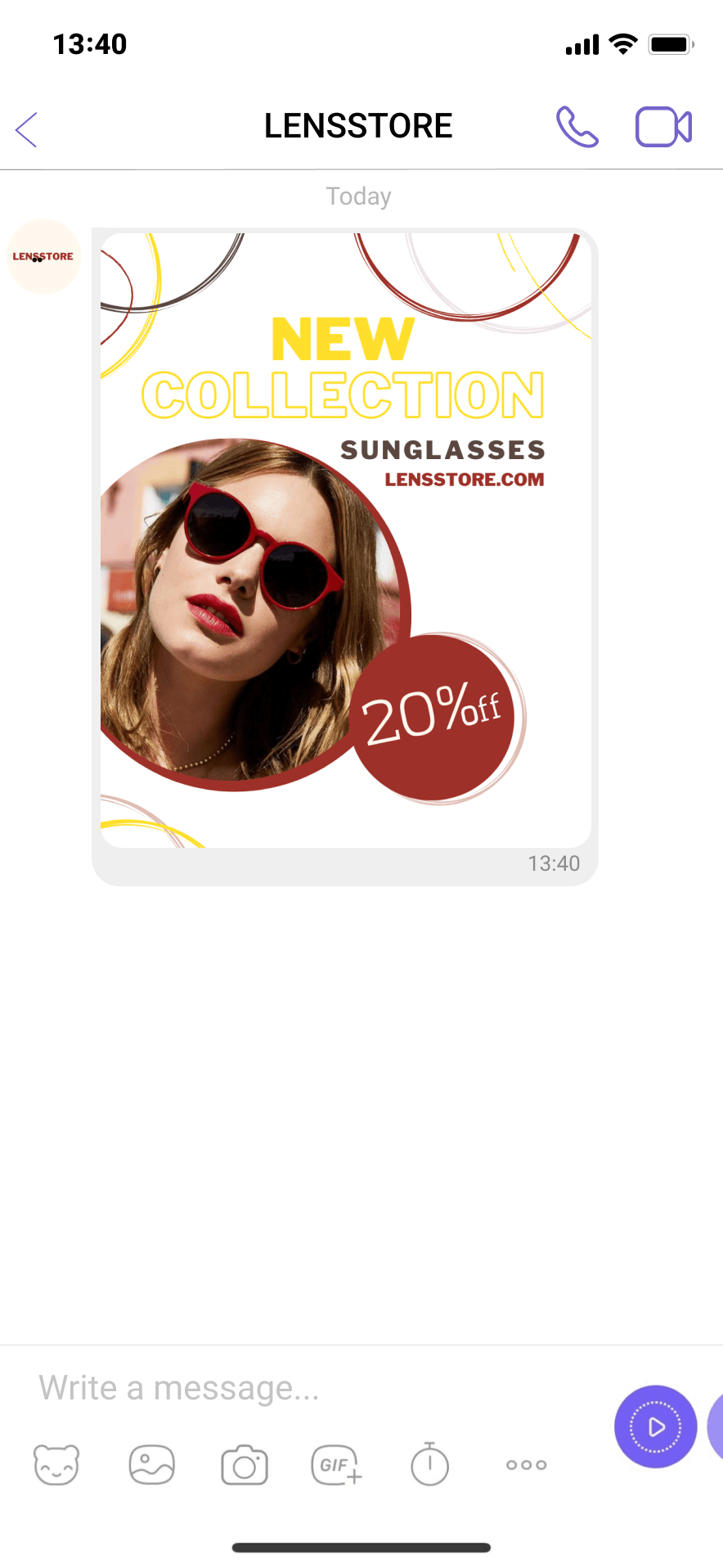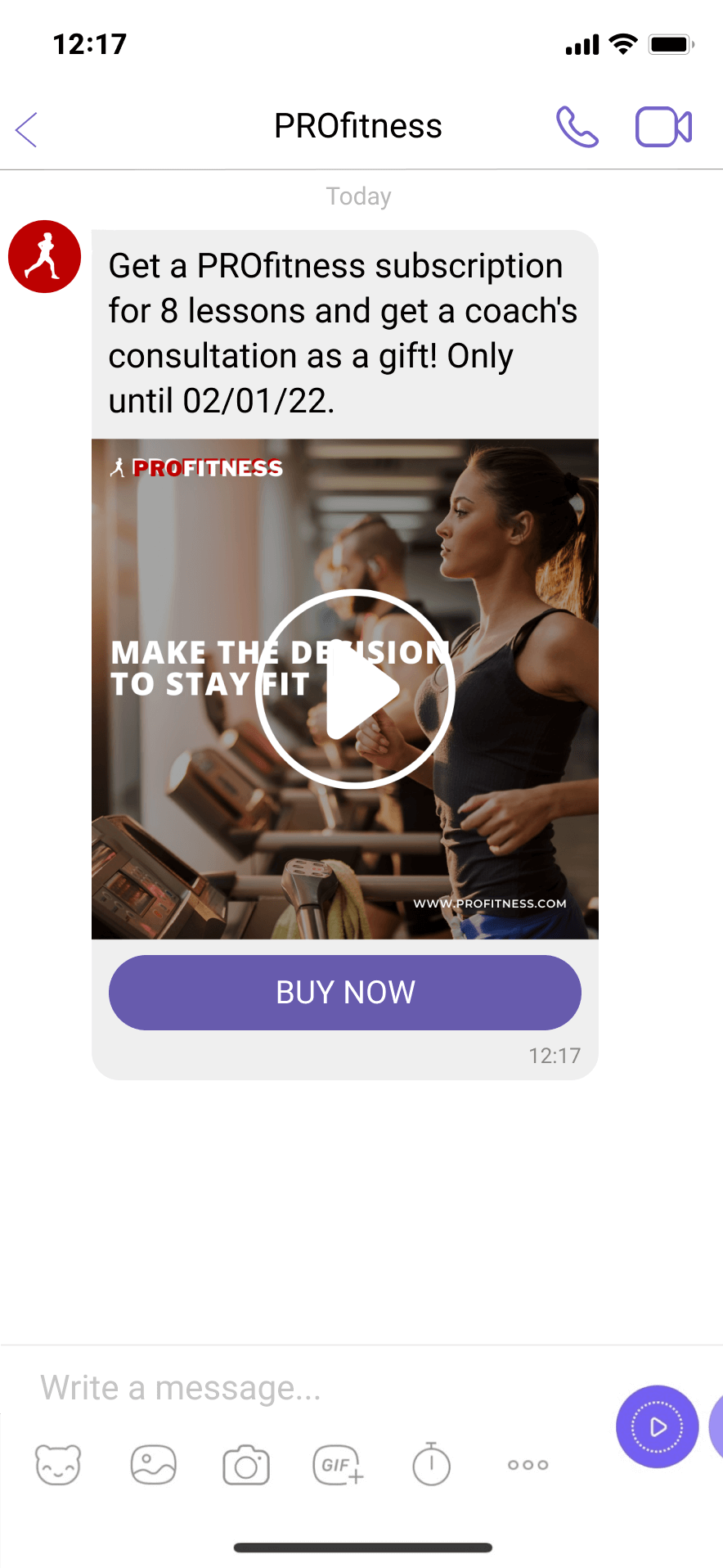 Global coverage
After the approval (typically process takes 2 business days) branded Sender Name may be utilized to send A2P messages to any destination Worldwide.
Native 2WAY
Business may use native 2WAY Sender IDs for interaction and receiving feedback from the users the same way as using long-code SMS A2P.
Rich content
Emojis, special characters, images, buttons, extended statuses are optionally available for your business. Message text contains up to 1000 symbols and it doesn't depend on the language.
Extended statuses
Fastest & reliable DLR message statuses: accepted, rejected, delivered, etc. Viber processes business messages in less than 3 seconds or answers "not Viber user". There is no charge for undelivered requests.
Branded Sender ID
Company name and logo icon are visually recognizable in the conversations list. Business chat is highlighted with the green mark "V" (Verified) next to the Sender ID in dialogues list.
Push notification
Business notifications attract user attention and force users read them even if Viber is not a major chat app, but just installed on the phone. This option boosts Viber's audience coverage up to 99%.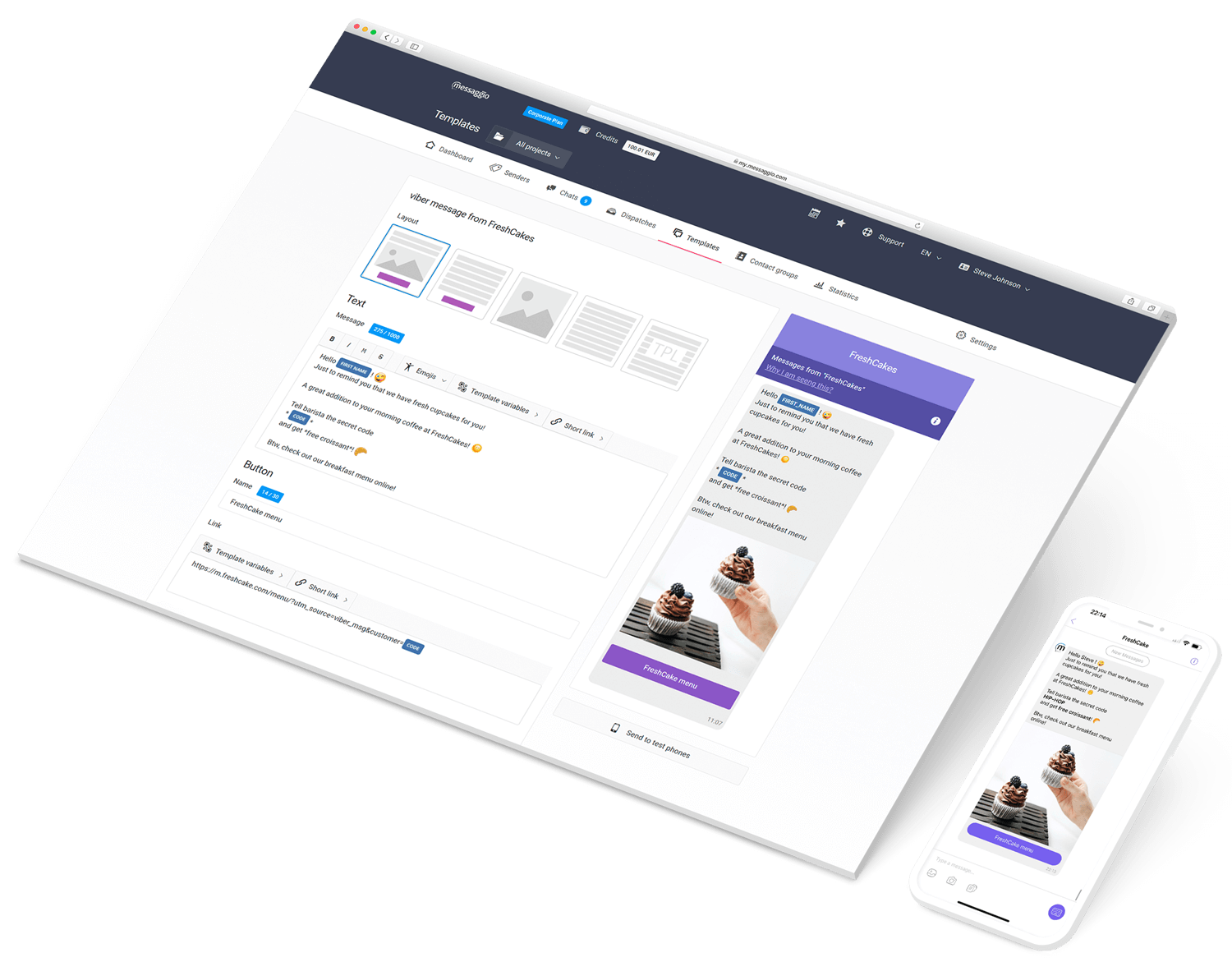 Appearance testing
Test the appearance of the business message on your phone before using it in mass-sendings or API notification.
Template constructor
Use the template constructor to create rich notification content with emojis, personalization and link tracking.
Message preview
Create multichannel message templates and see the result in the preview.
Join Messaggio today!
Use a powerful template constructor to create beautiful multichannel business notifications
Create account
Messaggio Dashboard for Viber messaging
Just a minute!
Tell us about the tasks of your business, and Messaggio's manager will contact you to fid the best solution.
How to start a Viber campaign?
01
Create account
Sign up to Messaggio for free, no credit card required.
Create account
02
Submit Viber Sender ID
Choose the brand name and phone number for Viber messaging.
More info
03
Launch Viber business messaging
Start using chat dashboard or set up API or plugin integration to your system.
More info
Integration
Viber Plugins & Modules
Easy integration without code! Try business messaging plugins for popular CRM, website and online shop management systems.
View plugins catalogue
Customer Case: Diamandino
How Diamandino achieved a 848% ROAS using a Viber messaging campaign
For those customers who do not have Viber, business messages can be automatically redirected to SMS. To do this, in Messaggio you can create
a multi-channel message template
and set the sending order. Thanks to this function, when starting a Viber sending, business messages will be delivered to all contacts from the database.
Yes, messaging in Viber involves a monthly fee:
199 €/month for sending to Russia, Belarus, Bulgaria, Greece, Hungary, Iraq, Moldova, Ukraine or sending to several countries
149 €/month per month if messaging will be carried out in other countries
However, this amount includes the cost of messages. If the cost of the volume of messages is beyond the monthly fee, their delivery must be paid additionally.
Sender ID is the name from which the client receives the message. The name of the sender is usually the name of the brand. Without registering the Sender ID, you will not be able to launch a Viber messaging campaign. In addition, the Sender ID must meet
the Viber requirements
.
You can create a name in your Messaggio account. Activating the Sender ID in Viber will take 1-5 days. After successful activation, the name will receive a verification badge.
Yes, you can send video files to users in Viber Business Messages. There are different types of messages available:
video
video + text
video + text + button
Allowed video formats: 3gp, m4v, mov and mp4. Maximum size: 200 MB.
Looking for reliable Viber business messaging service provider?
We provide Viber messaging to all destinations via official direct connection. Contact us today and get the best price offer.