Omnichannel Platform for
Business Messaging
Send notifications from your CRM, eShop or App, keep chatting with customers via SMS, Viber, WhatsApp or RCS!
Customer notifications

Mobile marketing campaigns

Chatting with customers

Messaging via API or plugins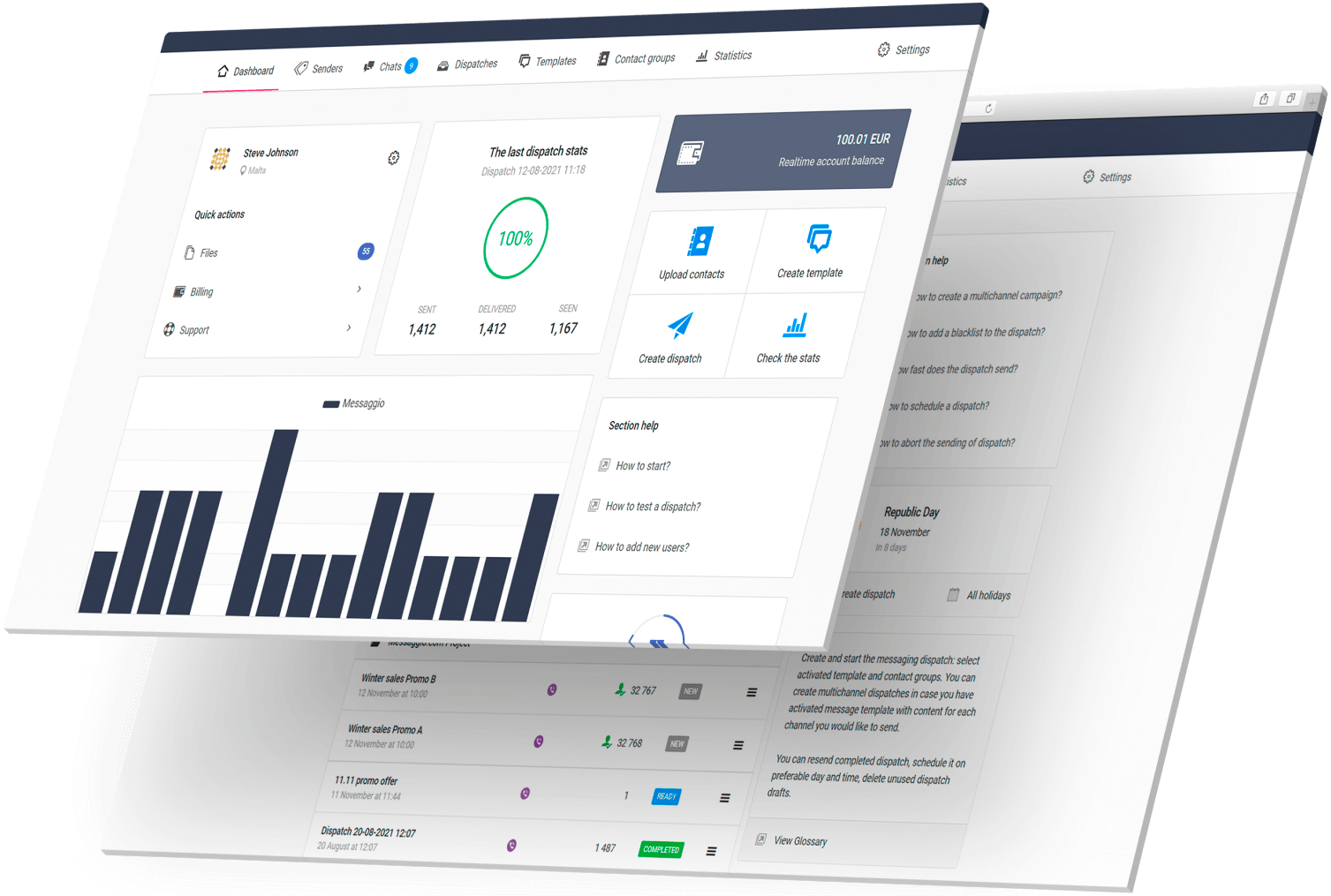 What We Do?
Effective tools for customer service, marketing, and security
Mass-sendings
Messaggio Dashboard
Register the Sender's ID, create a message template, customize message personalization, timing and smoothness of sending, and launch service or promotional messaging campaign.
Know more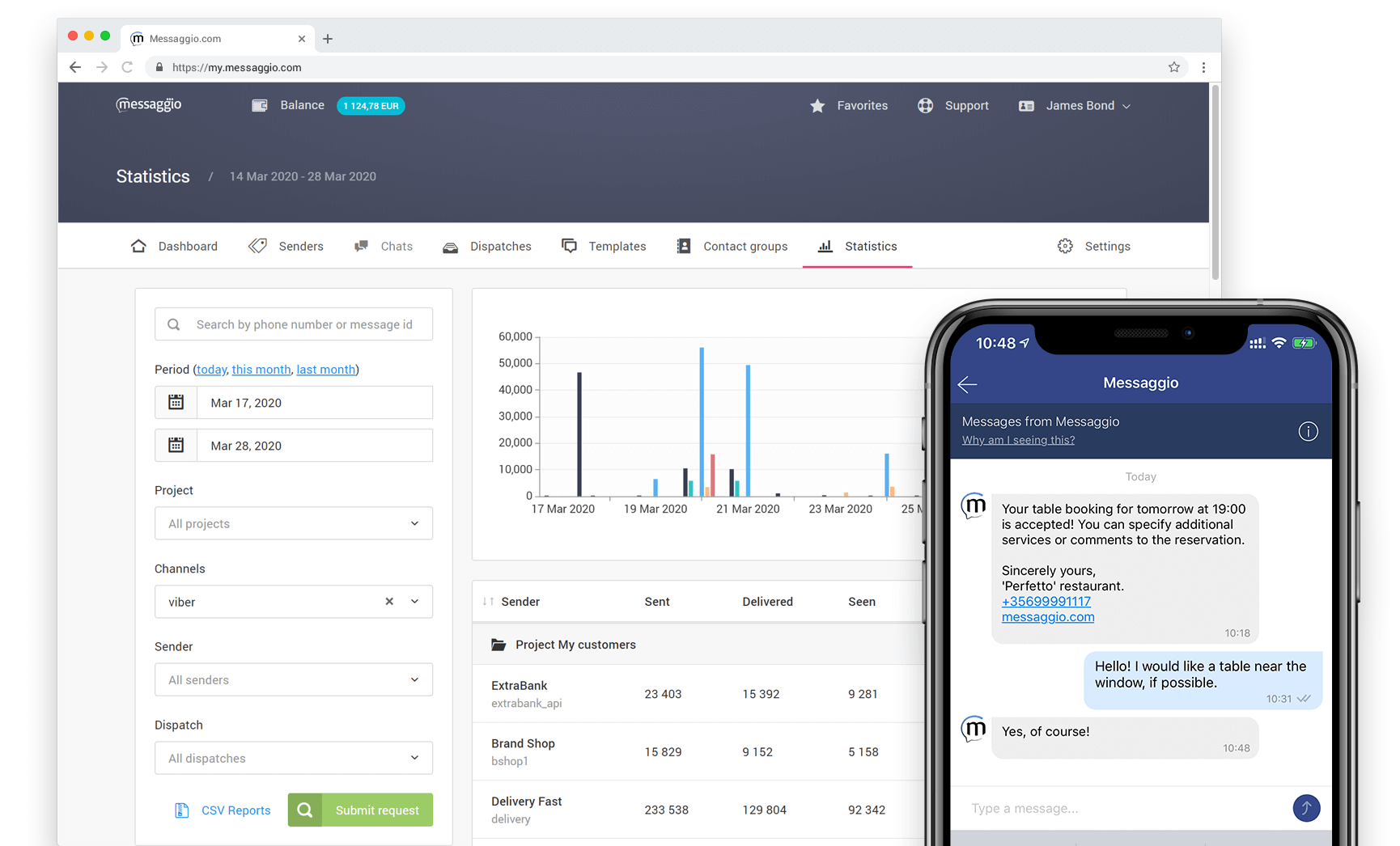 Chatting
Messaggio Chats
Connect business accounts in messengers to Messaggio Multi Channel Communication Platform — provide customer support from a single interface.
Know more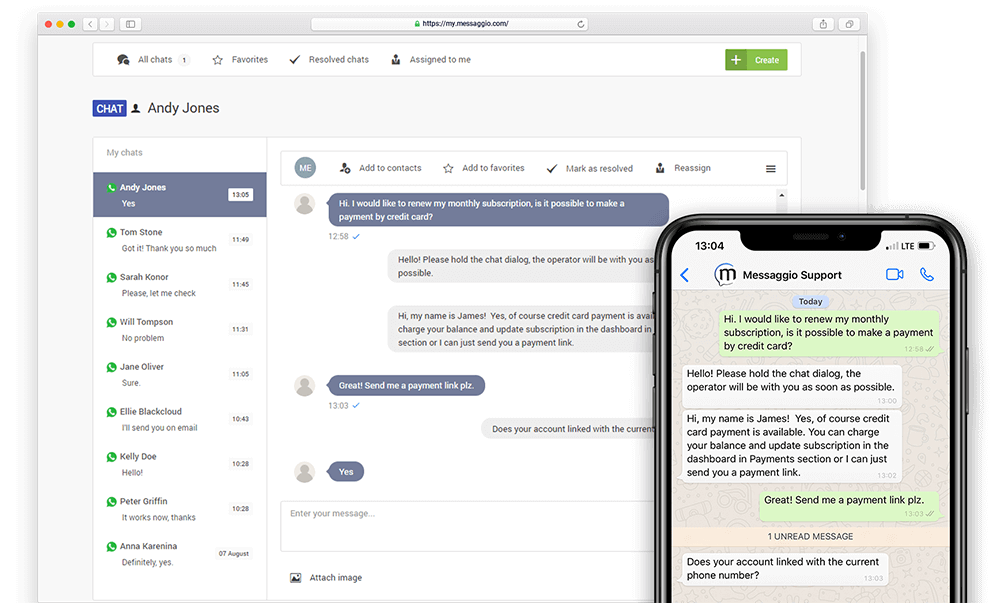 what to send?
Text message examples
Use SMS prepared by Messaggio to stay in touch with customers and achieve high Click rates.
View all examples
what is the price?
Messaging calculator
Calculate your messaging budget: find out the cost of sending to your customer base.
Calculate budget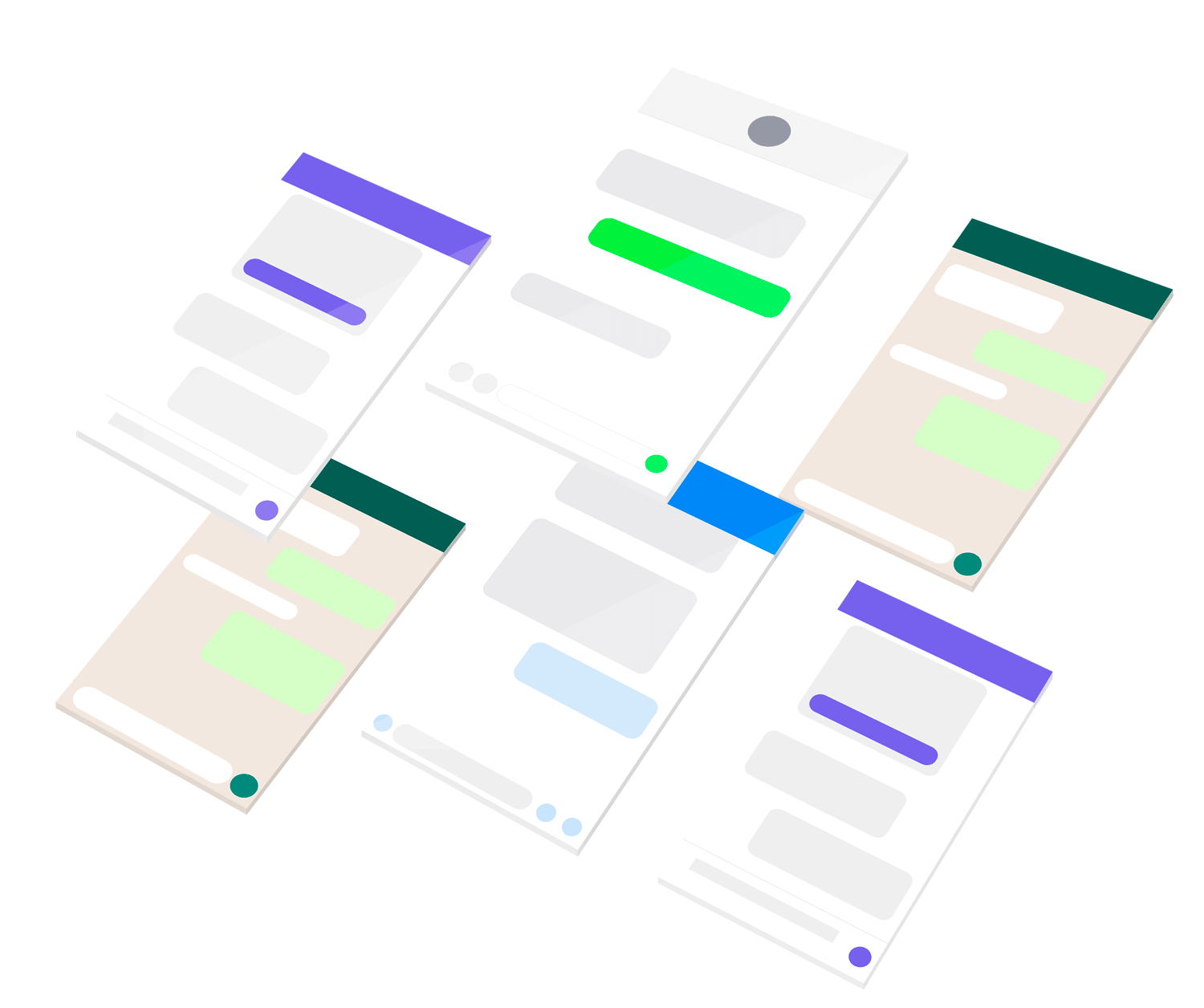 How It Works?
Here are the 3 working steps to success.
Accept the terms and conditions
Sign the Message distribution agreement with Messaggio.
Set up an account
Connect the Messaggio plugin to your system or set up integration via API.
Register the Sender ID
Register the Sender on whose behalf you want to send messages. After moderation, launch your first messaging campaign!
Our Clients
Trusted by over 300+ clients
We bring solutions to make life easier for our customers.
Messaggio offers a wide range of services for marketing through SMS, Viber, WhatsApp, Telegram and other communication channels. Our Multichannel Messaging Platform helps companies deliver advertising and service messages to customers, as well as user notifications, send personalized, scheduled and smooth messaging, configure integrations and APIs and much more. Messaggio offers a variety of tools for customer interaction and has extensive experience working with operators and direct contracts with messengers.
Messaggio provides an intuitive interface and convenient tools for organizing and managing messaging through messengers and SMS. You can create and customize message templates, schedule sending times, track real-time results, and utilize a multi-user personal account with 2FA authentication for collaborative work.
Messaggio offers integration with popular CRM systems such as HubSpot, YCLIENT, Zapier and others. The integration process typically involves several steps:
Choose the CRM system you want to integrate with from the available Messaggio integrations list.

Start configuring the integration by following the installation instructions provided on the solution page.

During the installation process, you may need to provide credentials or an API key, which can be found in your Messaggio account.

Once the solution is successfully installed, you can customize its settings and link it to your Messaggio account.
After the integration is complete, Messaggio will automatically synchronize with your CRM system, allowing you to manage customer communications from a single interface.
Integrating Messaggio with your CRM system significantly enhances the efficiency of your customer communication, reduces time and effort, and improves interaction with your audience.
Messaggio offers extensive integration capabilities with other systems. We provide ready-made integrations with popular CRM systems, as well as APIs your own integrations and and configuring Messaggio interaction with your systems.