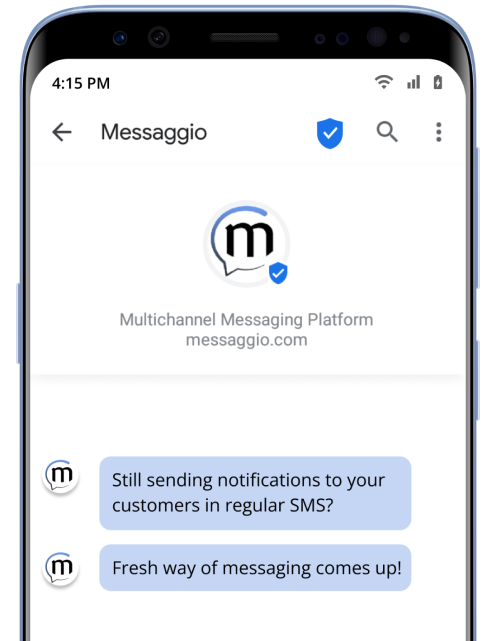 Rich Communication Services

Business Messaging
Discover a new messaging solution. Engage mobile consumers with rich messages. Improve customer experience and mobile marketing with RCS Business Messaging.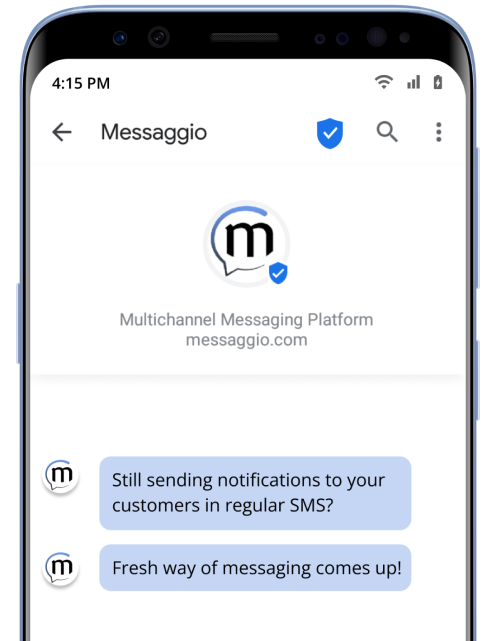 Multimedia content
The message may contain an image, video file, document or geolocation. Huge opportunities for message template design!
Interactive communication
Keep chatting with your customers via RCS. Organize customer support through a native messaging app.
Marketing campaigns
Create great marketing campaigns, take advantage of the rich business messaging technology in your business.
Enhanced analytics
Messaggio real-time statistics are available not only for the "sent" and "delivered" message statuses, but also "Viewed" and so on.
RCS — enhanced messaging solution
Connect with customers over RCS Business Messaging
01
Create account
Sign up to Messaggio for free, no credit card required.
Create account
02
Submit RCS Sender ID
Choose the brand name and phone number for RCS messaging.
More info
03
Launch RCS business messaging
Start using Messaggio dashboard or set up RCS API or plugin integration to your system.
More info
are more likely to purchase online if they can ask questions in real-time
are more likely to engage with a brand throught RCS
are more likely to read RCS messages than emails
Messaggio is Jibe's Messaging Partner
Jibe is a RCS leading provider that helps telecom operators implement RCS for their users easily.
Messaggio guides you on the journey to increase sales and drive engagement through RCS technology.
Integration
Viber Plugins & Modules
Easy integration without code! Try business messaging plugins for popular CRM, website and online shop management systems.
View plugins catalogue
Frequently Asked Questions
If you don't see an answer to your question, you can send us an email from our contact form.
RCS stands for Rich Communication Services. RCS messaging is a protocol that can send messages to mobile phones to the standard app for SMS and MMS. But it's so much more than that – think of it as SMS or MMS 2.0.
The RCS advanced messaging is similar to messaging apps like WhatsApp or Instagram; you can send texts, images, videos, buttons, carousels, and more. But the best part is that there's no third-party messaging app needed. RCS messages go directly to a phone's native inbox, just like SMS and MMS do.
RCS is a collaboration between Google and mobile operators around the world. Support for RCS is growing all the time. For more information, contact one of our experts.
Currently, all Android handsets that have the Google Messages (or Samsung Messages) app built into them as the SMS messaging client, support the RCS texting.
RCS protocol enables real-time message receipts, high-res images, video and audio. In addition, reply chips and carousels allow for simple browsing or scheduling.
Looking for reliable RCS RBM service provider?
We are connected with RCS RBM hubs and mobile operators. Contact us today and get the best offer for RCS RBM messaging!