Table of content:
More than 83% of the plane's population — which is almost 6.6 billion people — use smartphones on a daily basis. PCs and laptops are behind on 20%. The world prefers to experience the Internet through compact mobile devices, and businesses are rushing to optimize their processes accordingly.
When implementing and automating mass messaging in marketing, companies need to maintain real and personalized client interaction. Business tools in text messengers are adapted for this task. E.g., Viber for Business, a product of Viber, one of Russia's most favorite messengers, allows brands to:
Attract a wide audience through experimenting with message formats.
Chat with customers, and set up a chatbot, or 1-way conversations.
Send transactional notifications.
Mass send promos, and personal offers, as well as remind of themselves.
In the company's blog, Viber shared 5 recommendations on building a dialogue with customers in messengers. We're gonna go through them all and offer an implementation plan via Messaggio. We also want to share with you data and insights that you can use in your Viber marketing strategy.
Top 5 recommendations for Viber mobile marketing
Build human-to-human conversations
Don't just shoot a promo message: initiate a dialogue. Chat with a client naturally, without overfamiliarity but using conversational language. And when you're chatting — listen alternatively. People interact with brands more actively if they feel like a manager has heard their demands and answered their questions.
For this, Viber has a 2-way conversation tool called Conversational Business Messages (or Viber Sessions). Here you can, for instance, assist your client with choosing a product, consult them about sizes, prices, delivery, and additional services, and help them with assembling or using a product they already bought. All that — with a human being assistant and in real-time.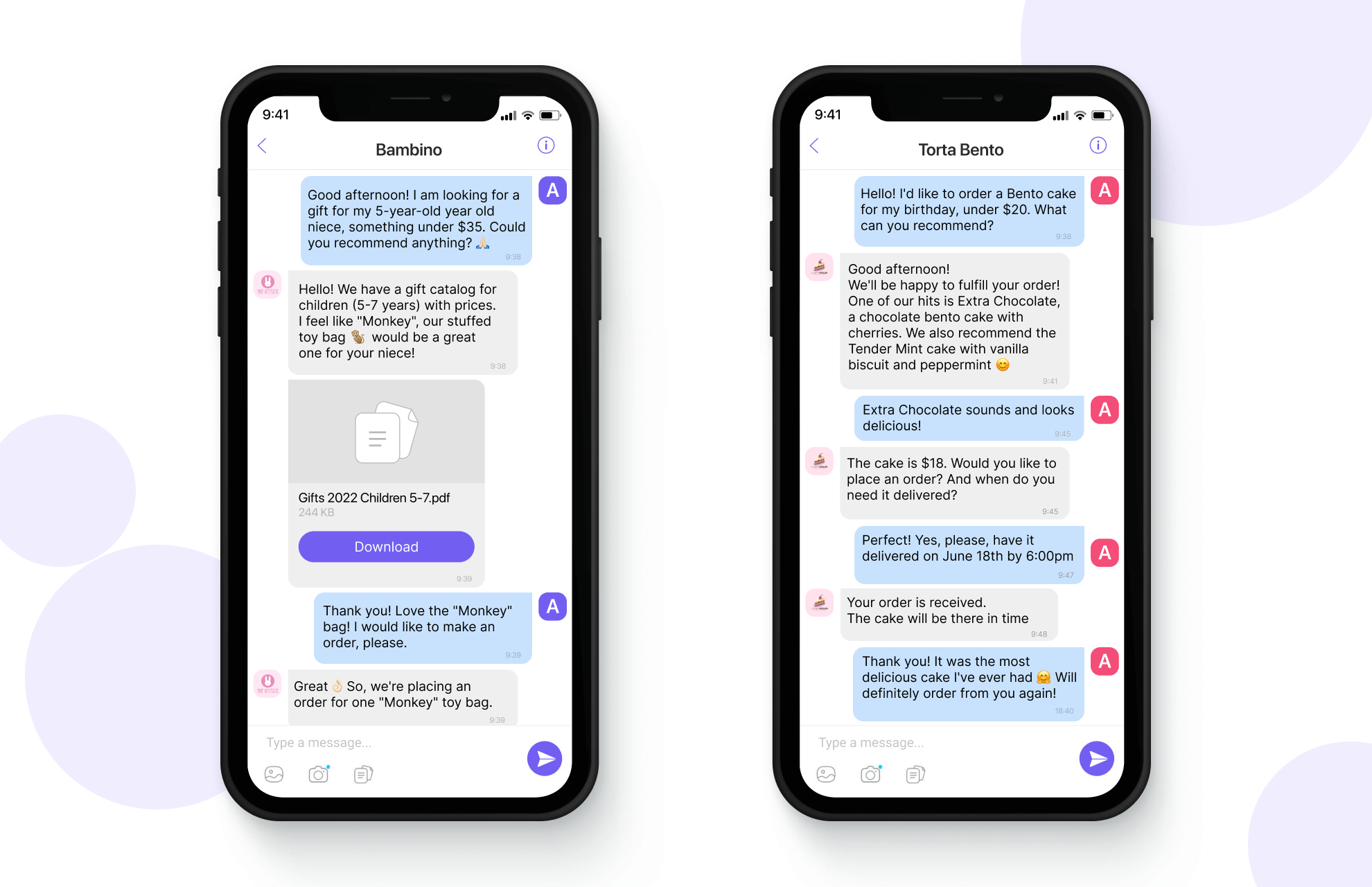 With Messaggio you can create a Sender ID, which allows you to both send and receive messages from customers. To do this:
Go to the Project's Settings section in your Messaggio Dashboard.

Project's Settings in Messaggio Dashboard

Click Edit Project — Set Up API Messaging and put your Callback URL for inbound messages in the respective field. Click Save Changes.

Callback URL for inbound messages
Now the setup URL will be used to receive inbound user messages addressed to all active Sender IDs in the Project.
Segment your audience
In that way, you won't overload your clients with information. By segmenting your customer database based on needs and inclinations, you can modify the tone of voice, contents, and time in mass messages for the particular segment.
Viber Business Messages integrates with CRM or CDP. This will allow you to analyze consumer behavior in clients who interacted with certain messages. Using that data, you can segment the audience and send out relevant personalized offers.
You can integrate Viber Business Messages with your CRM by using Messaggio plugins. Our service offers ready-made solutions for adding Viber Business Messaging in bulk to HubSpot, InSales, OpenCart, and other CRMs or CDPs. The integration takes several steps:
Download the Messaggio plug-in via your CRM's marketplace.
Copy Project's Login and Sender Code for API from your Project's settings in Messaggio Dashboard.

Project's Login and Sender Code for API

Paste this data to your Messaggio plug-in settings.
Create a Viber Sender ID in the plug-in. Await its activation.
Now you only have to create message templates in the plug-in's constructor and set up terms for mass messaging.
Simplify the content
Consider the mobile platform's context. Short, but substantive messages work the best. A user most likely won't stay focused for more than 10 seconds per message, so try to present the USP in 1-2 sentences.
To help you discover the highest converting combination of text, media, and CTA-button, Messaggio offers A/B testing for mass messaging. To use this service:
Go to Messaggio dashboard's Dispatches section and click Create — A/B-testing Dispatch.

Setting up A/B-testing Dispatch

Creating a message template for A/B-testing Dispatch

Select Template A and Template B for testing (they must be verified in advance).
Import your Contacts file and enter as a percentage the amount of randomly selected contacts that should receive Template A. The rest will be sent Template B.

Recipients of Template A and Template B
In the Statistics section, you will see which template has shown the highest Open Rate, CTR, and conversion. This you'll be able to decide on your further messenger marketing strategy.
Collect feedback
You don't have to hit your customer with a sudden "Rate our service" proposal in order to do this. Answer questions and comments from clients via the messenger and collect this feedback during those conversations. Exhibit your interest in the client's opinion, and the willingness to make the service better. Use the most enthusiastic and positive comments for your website and social media.
To increase the response from mass messaging in Viber, you can send messages to a user's device during the time they are most likely to open it. Messaggio analyzes the accumulated user statistics activity from your database and automatically sets up the best time for inbound messaging during each 24-hour cycle.
How to set up the best time for inbound messaging
Open Dispatch settings and click Schedule

Scheduling the inbound messaging

Activate the Delivery at the best time feature by moving the slider to the right.

Send at the best time
Now you've increased the probability of getting the user's response to the message. Therefore, you'll be able to continue the conversation by asking them to review the latest purchase, providing help with order placement, or offering a discount.
Use your fantasy
Utilize emoji, stickers, photos, and videos that will help make a captivating offer presentation. Don't forget about the power of humor and memes: relevant irony will increase the click-through rate for your website among certain audience segments.
Viber Business Messages has tools for diversifying text with media, files, CTA buttons, links, etc. Bulk messaging can turn interactive, increasing engagement and the mood.
Messaggio's Message Templates Constructor supports all Viber for Business features for creating multimedia mass messaging. To construct an interactive message template:
Go to the Template section in Messaggio Dashboard and click Create.

Creating message templates

Enter a name for the template, then enter the Viber Sender ID on behalf of which you want to launch this mass messaging.

Viber Sender ID

Choose a template with a suitable content combination and experiment!

Viber message template
In the Constructor's preview window you can observe in real time the way this message will look on the client's phone.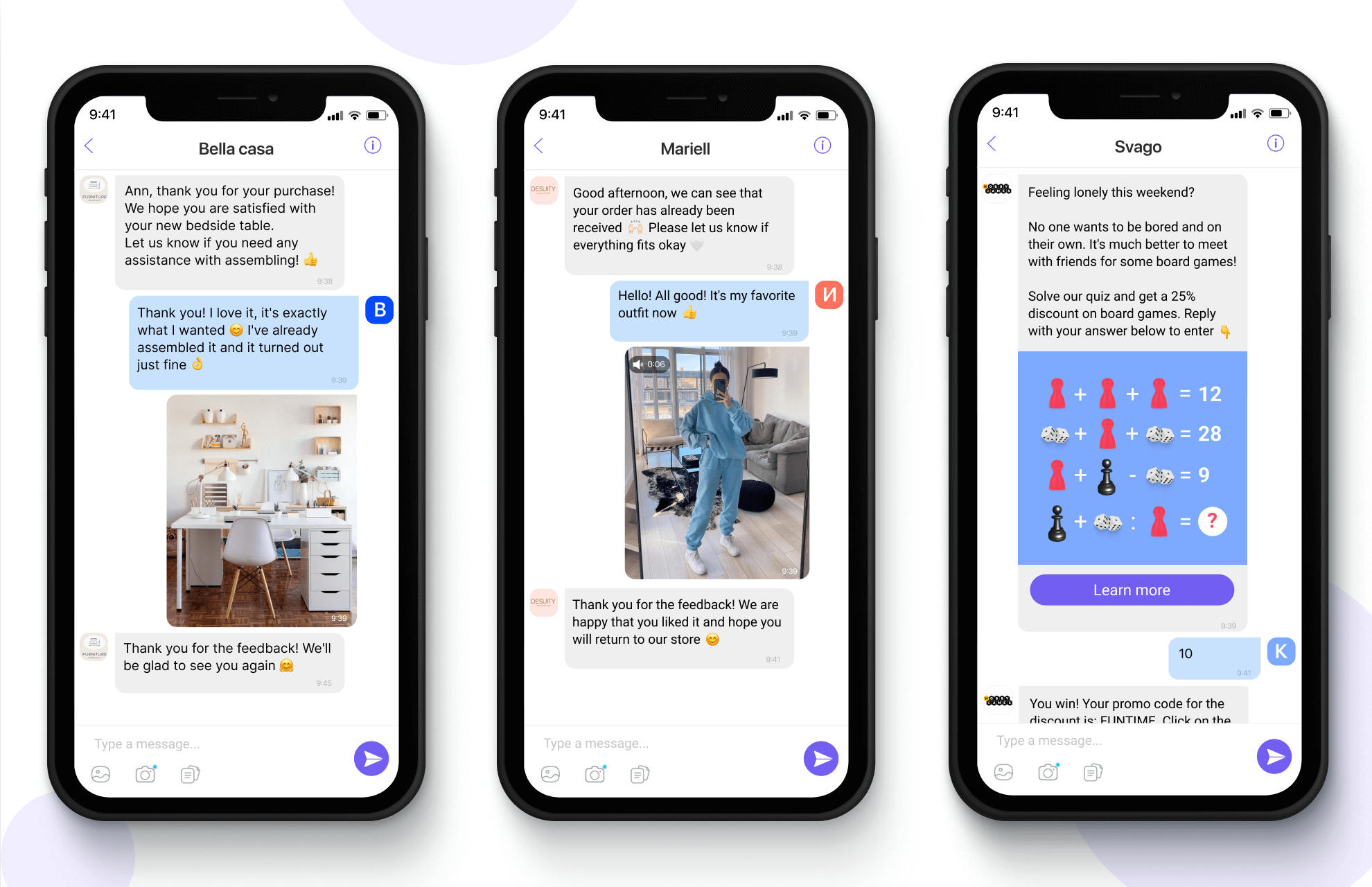 Bonus: TOP-3 ant-recommendations. Don't do this when messaging customers
Don't launch non-personalized bulk messaging. It annoys customers, and leads to canceled subscriptions and lost loyalty. Aim to form a positive user experience with your messages, and provide a stress-free interaction with your business.
Don't message people, who aren't subscribed to your messaging. This isn't just an invasion of privacy: it also breaks the General Data Protection Regulation (EU GDPR). The recipients will most likely refuse to converse with you, and will probably block you as spam.
Instead, create a verified Viber business account. It's trustworthy but prevents abuse of trust: official business messages here can only be sent after you agree to Terms & Conditions for Advertisers, accepting rules of user privacy.
Don't manipulate your product information. The lies will most likely come to the light, and instead of sales and LTV growth your bulk messaging will bring customer churn and public complaints.
Bottom line
Messengers make a popular and truly viable channel for personalized marketing. More and more marketers can see the potential in personal connection with users. Informal communication allows customers to see: that this brand is real, it has human beings behind it. This contributes to the growth of customer trust and loyalty.
Thanks to its conciseness and non-intrusiveness, mass messaging quickly become a part of users' daily life. And if you make them consecutive, useful, and personalized, customers will receive them happily, making purchases time and again.
Register your branded Viber Sender ID and test the messenger's recommendations in practice. Need help with that? Contact Messaggio, Viber's official messaging partner. We will help on every moderation stage and integrate bulk messaging into your system.
---
Ready to start messaging campaign in Viber?
Tell us about your task and we will offer a suitable solution.