Table of content:

Bulk SMS campaigns are the messenger marketing classic. The device that your customer uses doesn't matter — it can be a cutting-edge smartphone or a "vintage" push-button cellphone. It also doesn't matter if they have Internet access or data. An incoming SMS will still reach them.
Let's take a closer look at how to create a bulk SMS campaign for your customer base — and how this will help your business grow and yield results, fast.
Understanding business messaging: what are A2P and P2P?
Two terms are used to describe sender-recipient communication in messenger marketing: A2P and P2P.
A2P, or Application-to-Person, is an SMS message sent via software run by a business to a person's device. A2P communication is what message marketing is built on.
P2P, or Person-to-Person (Peer-to-Peer), is an SMS message directly exchanged between individuals and their mobile devices. Unlike A2P, P2P messaging doesn't require specialized software and serves no marketing purpose.
In this guide, we are talking exclusively about A2P communication.
Advantages of sending SMS messages in bulk for business
Messenger marketing employs various channels, including popular ones like WhatsApp, Viber, and Telegram. And the SMS channel is not inferior to them in efficiency — see the list of advantages below.
Versatility
SMS messages can be received by any mobile device with an active SIM card and in the mobile network coverage area. No internet connection is required.
Users don't need to install third-party messengers: SMS messages are sent to native apps on their devices. Most carriers don't charge incoming SMS messages. Thus, business campaigns are more likely to reach the recipient. This is what the cascading messages tool is based on: if a message from a brand cannot be delivered to any third-party messenger, it will be automatically rerouted to the customer in SMS format.
Popularity
The number of customers who are willing to communicate with businesses via SMS has increased by 75% over the past year, according to the latest global report from Statista.
Broad outreach
For every 100 people in the world, there are 110 mobile subscriptions. Europe and Central Asia lead with 129 subscriptions per 100 people.
High Open Rate and CTR
98% of customers who receive an SMS campaign will open the text message. The average conversion rate for promotional SMS messages with links is 19%.
Trust and relevance
SMS campaigns used to be notorious for their spammy and annoying nature. Modern advertising laws put an end to it by protecting subscribers from inappropriate messages. Now customers can choose which brands they want to receive SMS offers from. Meaning, that consenting customers are expecting texts from those brands. A blue checkmark of verification and a branded Sender ID increase customer trust.
Personalization
You can personalize any SMS campaign so that each customer receives a message addressed to them personally.
Seamless process
Customers can perform different actions without leaving the SMS app — such as placing and confirming an order, agreeing to the terms and conditions, or tracking deliveries and request statuses. RCS campaigns have an even broader action list. RCS is a native app that has replaced the SMS app on modern Android devices.
Result tracking
Businesses send bulk SMS messages via mass messaging sms aggregators. There they have a merchant dashboard for statistics tracking and evaluating campaign performances. Common data points include the number of sent, delivered, and read messages, as well as the number of clicks.
Tasks that SMS campaigns help to achieve
Lead generation
Brands can add a contact phone number to their ads, specifying that texting to that number means consenting to personal data processing. This gives brands the right to connect with the customer, generating leads.
Increasing website traffic
Adding links and promo codes in promotional SMS messages gives customers a reason to visit the brand's website.
Improving customer experience
Automation of SMS campaigns simplifies and accelerates interaction with the business. And the ability to personalize each message wins customer loyalty: 49% of consumers expect an individual approach from brands.
Sales, pre-sales, upsales, and repeat sales
Targeted SMS campaigns can fully move customers through the sales funnel. Using two-way communication via SMS, each client can place an order, receive an add-on offer, and get a heads-up from businesses.
Types of SMS campaigns
Service messages
Non-advertising messages that act as notifications.
Service SMS campaigns can be:
universal — for example, when a brand informs the entire customer database about Terms and Conditions changes.
individual — such as order status, or a customer support ticket update.
Triggered service messages are sent as a response to an individual user's action. This can be a confirmation code, a request to rate the service, or a security notification. Transactional SMS messages that notify customers about financial operations also fall under the triggered message category.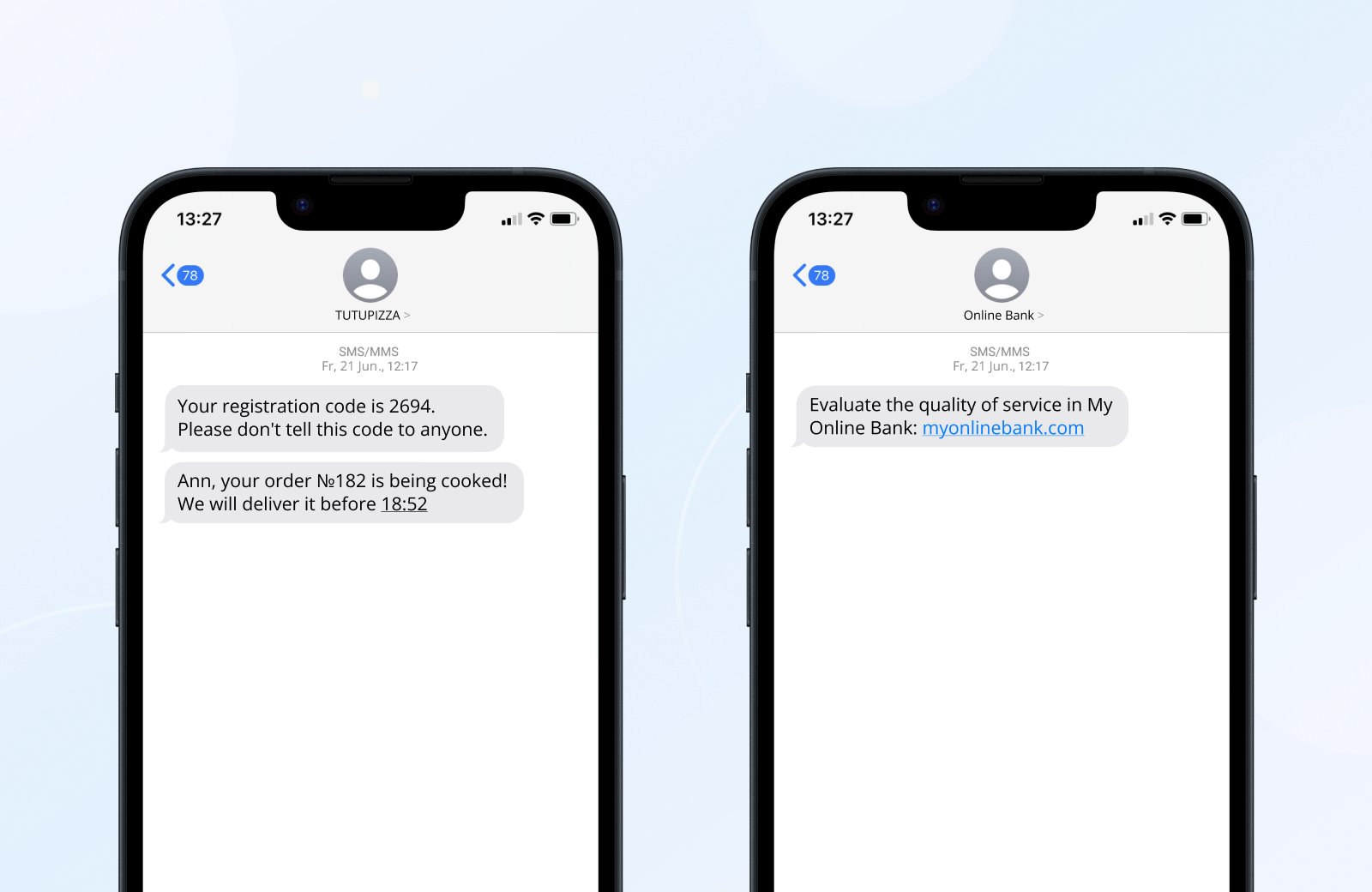 Promotional / marketing messages
Messages that introduce and sell a product or a service.
Promotional SMS campaigns can be:
universal — sent across the entire customer database simultaneously.
Commonly, such campaigns provide information about seasonal sales, popular products, or other services that can be relevant to all customers at once.
segmented — they are sent to a specific contact or groups of contacts.
These can be individual discounts, special offers, closed sales, abandoned cart reminders, or loyalty program registration.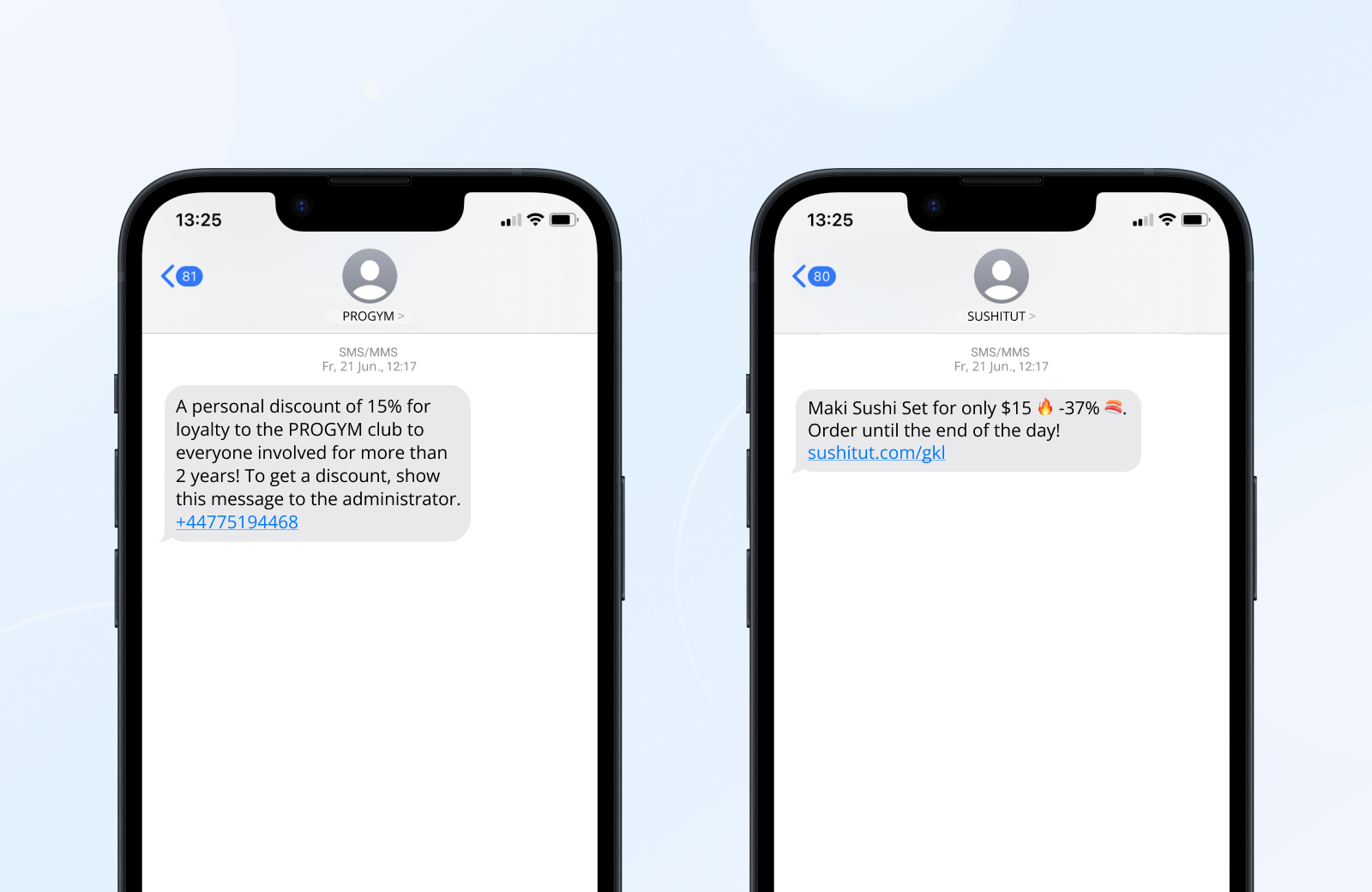 When to send an SMS campaign
Although any campaign can be sent instantly, SMS marketing offers tools for flexible planning:
Scheduled bulk messaging allows setting an SMS campaign in advance: the date, the time, and the recipients. The recipients can be either the entire database or selected contact groups. The campaign will be sent to users automatically and simultaneously within the specified time limit.
Smooth SMS sending is also planned in advance. But, unlike the standard scheduled bulk messaging, messages here are sent in "chunks", over a set time interval.
Say, you send a large promotional campaign in SMS to the entire database at once. It will most likely result in a sharp peak in customer requests as a response. But if you send it smoothly, over 1—10 hours, customer responses will be distributed evenly. This will reduce your team's workload, allowing the managers to process orders and inquiries without a rush.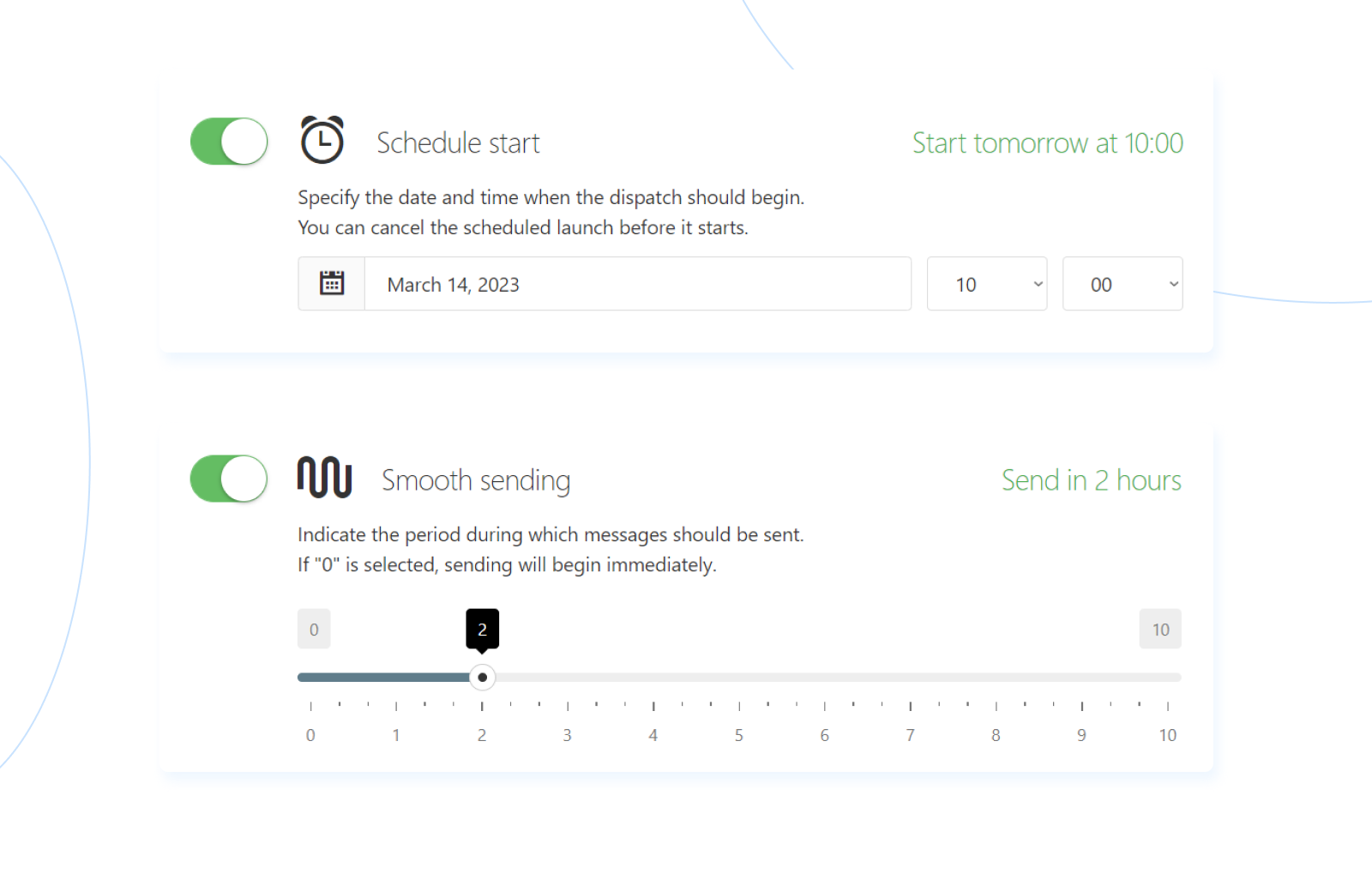 How to choose a supplier for bulk SMS messaging
There is no shortage of platforms that provide mass messaging services. How do you choose the premium sms service? If you're looking for an SMS and multichannel messaging provider, use the checklist:
Availability of the free trial version.
Quick registration, with no credit card required.
Assistance with a Sender ID and SMS template activation.
Availability of API integration and plugins.
Multi-user mode and intuitive interface.
Availability of personalization tools for SMS campaigns.
Fast delivery and a large number of locations for SMS campaigns.
Ability to run A/B tests.
Ability to send SMS campaigns smoothly.
Ability to collect data on all campaigns.
Learn more about how to choose a platform for bulk SMS messaging and important bulk sms platform features.
How to collect a customer base for SMS campaigns
Each customer must state their consent before receiving messages from your business. This is why you can't buy "ready-made" contact databases: not only is it illegal, but also harmful to your reputation.
There are legal ways to obtain consent for personal data processing. For example:
Offering a discount in exchange for registering on the website site or in the app.
Adding customers to loyalty programs.
Providing options for quick order placements, with only the name and phone number.
Adding widgets, links, and QR codes to websites, ads, and social networks, so customers could contact your brand in a few clicks.
These methods work offline too. For instance, a consultant in your offline store may request contact information from a customer in order to make a reservation or add them to a privilege program. The customer is therefore agreeing to receive promotional and informational messages from the brand.
How to create an SMS messaging campaign
Let's look at the step-by-step process of launching your first SMS campaign via the provider of bulk SMS — the Messaggio platform.
Step 1. Register your SMS Sender ID
Sender ID — a name attached to SMS messages from the business.
In the "Senders" section click "Create".
Select "SMS" as the messaging channel. Create a Sender ID — brands usually use their name. Per law, the right to use the name needs to be confirmed with a set of documents.
Submit the created Sender ID for moderation. Messaggio will coordinate it with the mobile carrier. If the name passes moderation, the ACTIVE status will appear next to it in your dashboard.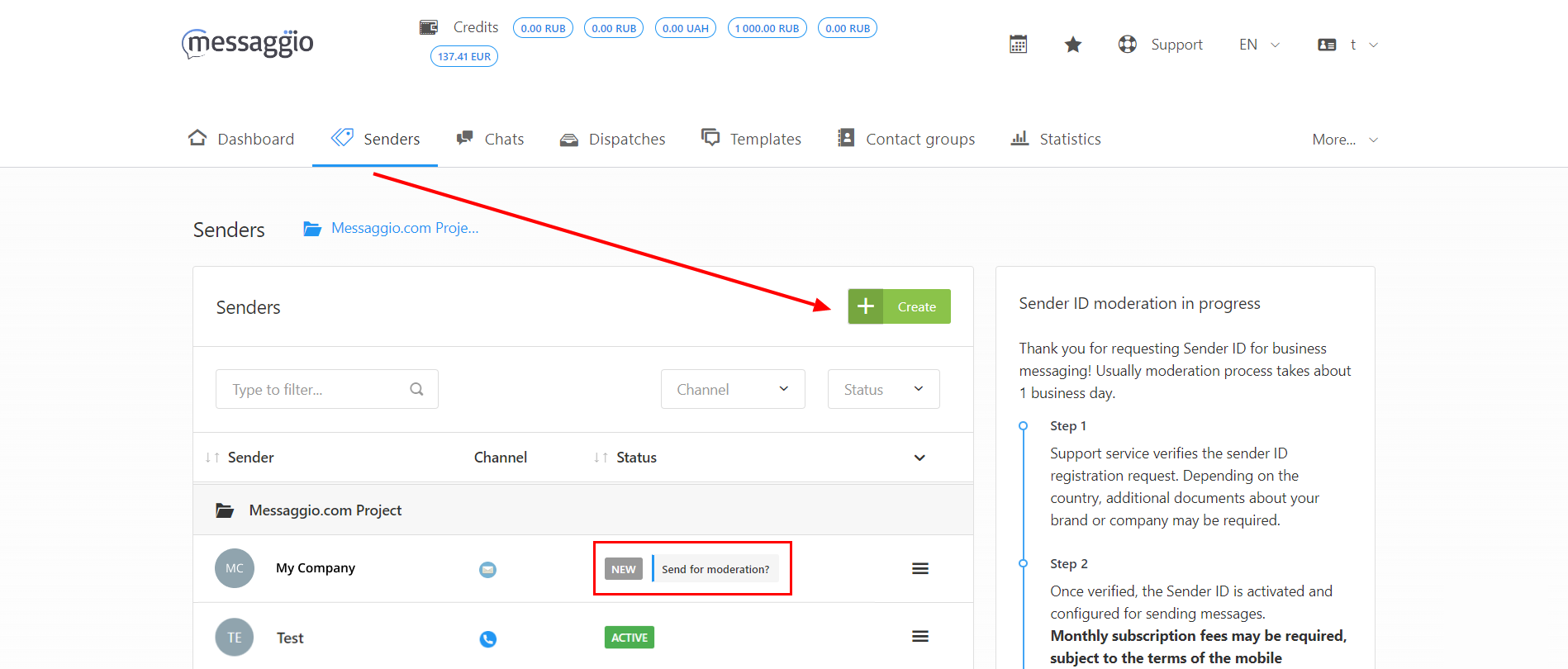 Step 2. Creating a message template
Message template — a content of an SMS message, prepared in advance. Each message template must pass moderation before the campaign is launched.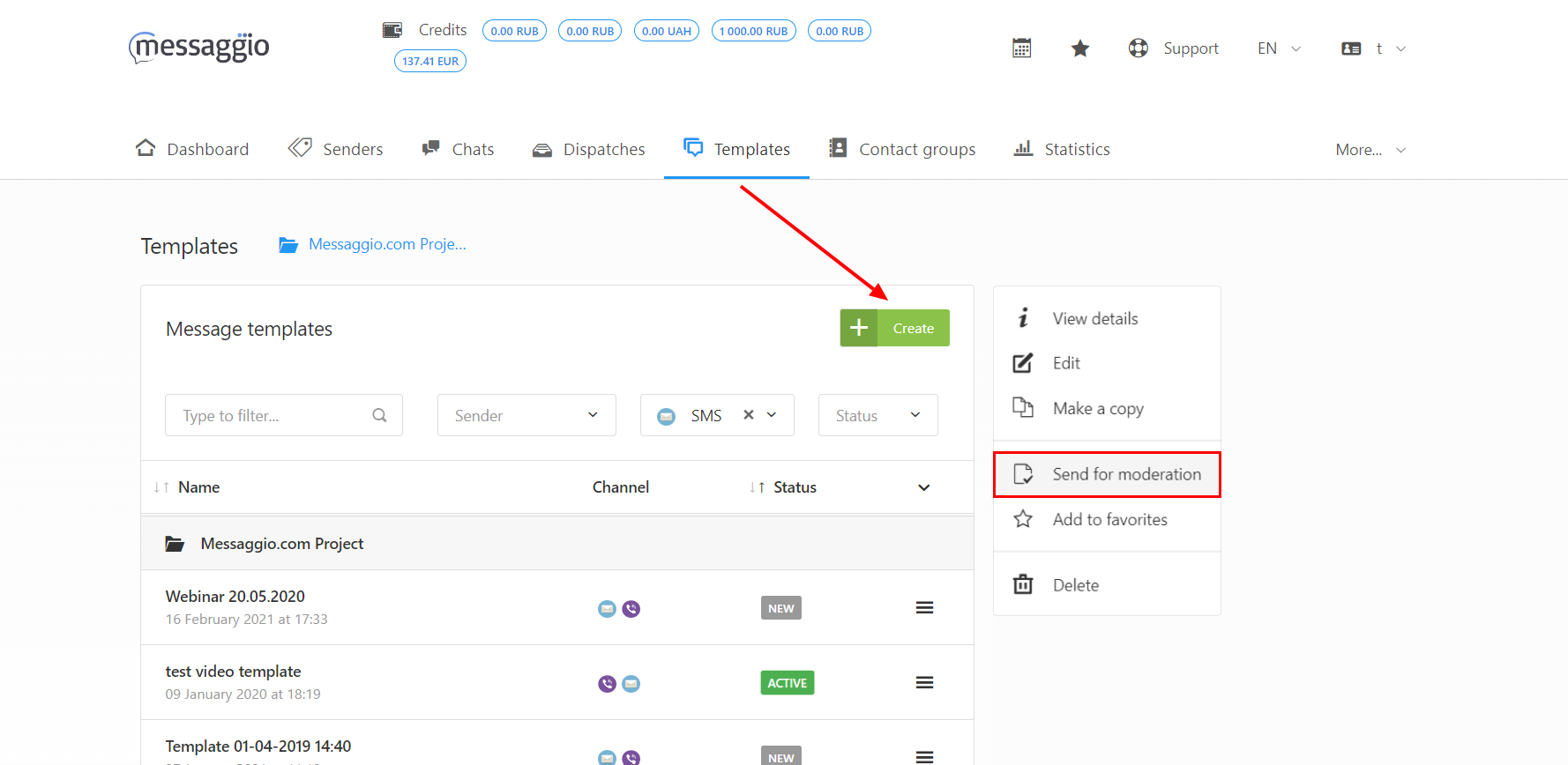 Step 3. Sending the campaign to contact groups
Contact groups — segments that you can divide your customer base into. The principles of segmentation are different for each business: from demographic and regional to behavioral.
In the "Dispatches" section, select an SMS message template. Select "SMS" as the messaging channel.


Creating a campaign

In the "Recipients" section, select the contact groups to which you want to send the campaign.


Selecting a contact group for bulk messaging

The campaign is ready to be launched. You can send it immediately, or schedule it for a specified time.


Bulk SMS messaging settings: scheduling a campaign
How to create a successful SMS campaign?
Write briefly, and go straight to the point. One SMS contains only 160 characters, so don't waste them. Hook the customer right in the preview that pops up on their lock screen. Use a link shortener. Literacy and a no-capslock policy are a must. Don't be afraid to use emojis to make your message expressive.
Add a call to action. You can't insert CTA buttons in a standard SMS, so use phrases such as: "click the link", "place an order here", or "grab the discount".
You can use the FOMO effect, but with caution. Millennials most often make purchases under the influence of FOMO, but an overly aggressive approach can scare off the customer and harm the brand's reputation.
Personalize it. Use variables to address each customer by name, make an offer based on their preferences and purchase behavior send them greetings on an important date.
Make sure to segment your customer base (for example, by demographic) so that SMS messages hit the target with the maximum precision.
Choose the right time. Do not send SMS messages at night, or early in the morning. Take into account your customers' time zones and locations. You can also schedule a campaign to be sent at the best time — each customer will receive the SMS when they are most actively using their phone.
Give each customer the right to choose — unsubscribing from your campaigns, sending a quick response, calling, and so on.
How can I improve an SMS campaign's effectiveness?
A/B testing
will help you determine the best version of an SMS. Create two versions, and send Option A to one contact group and Option B to another. Then compare the results: and use the message with the highest conversion rate as a template for future campaigns.
How the SMS constructor simplifies the process of creating campaigns
The Messaggio SMS constructor has ready-made clickable messages for different business areas. Each message can be adapted to your goals and added to your message templates.
The SMS constructor can also:
Include up to 12 variables.
Calculate the number of characters per campaign.
Compile multiple SMS parts into a single message.
Examples of SMS campaigns
There are lots of reasons to send SMS campaigns to customers. Here are some examples.
Example 1. Presenting a new service
"Jane, there's a new Gifty pickup point near you! How to find it: [geotag]"
Example 2. Abandoned cart recovery
"This item in your cart is now cheaper! Free shipping for the next 24 hours."
Example 3. Pre-sale
"Lisa, don't forget a case for your new wireless buds! 10% off all colors, just for you. Discount code is already active: [link]".
Example 4. Promotional campaign for the entire customer base
"Black Friday came a week early! Up to 35% off all Korean car parts in Autosphere — starting tomorrow and until November 30. Catalog: [link]".
Example 5. Offer for a new customer
"Nan, here's 25% off your first purchase in the Cosmicshop app — for any product! Download from the AppStore: [link]. Delivery to your door or our pick-up points."
Why businesses need SMS campaigns: summing up
SMS is universal — it can be sent to any mobile device with an active SIM card and in the mobile network coverage area. No internet connection is required. If a campaign doesn't reach the customer via a specific messenger, it can be automatically redirected as an SMS.
Despite the success of instant messengers, the annual popularity of SMS continues to grow, reaching a wide global audience.
SMS campaigns are read by 98% of customers. Automation and personalization tools help you gain customer trust and loyalty.
With the help of SMS campaigns, you can build an effective sales funnel, and attract traffic and leads.
Registering a Sender ID for SMS bulk messaging is fast. The moderation process for message templates takes no more than 30 minutes.
Messaggio is an intuitive platform for sending campaigns via SMS and instant messengers. We will help you create high-conversion messages and use the full potential of SMS marketing. Launch your first campaign.
---
Ready to start mass messaging campaign?
Tell us about your task and we will offer a suitable solution.