Table of content:

The e-commerce ecosystem cannot work without communication with customers. Instant messengers are used for such communications more and more. This approach is known as conversational marketing.
Let's find out how conversational marketing works, what tasks it solves, and what makes it important for business.
How does conversational marketing work?
Conversational marketing is a two-way communication between the client and the business in real-time. Unlike more traditional marketing, conversational marketing is more interactive and reduces response times. With the help of interactive messaging, brands answer customer questions, sell products and services, and reduce the workload.
Conversational marketing excludes calls. It uses A2P messaging for communication via SMS, RCS, WhatsApp, Viber, Telegram and other popular instant messengers. Automation and artificial intelligence are important parts of conversational marketing.
A2P trends from which conversational marketing emerged, according to MarketsandMarkets research
Growing popularity of two-way messaging.
Growth of the mobile marketing market.
Expansion of A2P messaging into more industries.
Emergence of chatbots and conversational interfaces.
Increasing use of RCS.
Scenario example of conversational marketing in action
Starting the dialogue. There are several options here. A client can text the brand via an instant messenger by clicking on an ad or a website widget. A dialogue can also be initiated by a bot via a pop-up window on a website page. Finally, a brand can also send a promotional or transactional message to a client, and the client can respond.
Lead qualification. Commonly handled by a chatbot. It asks the client questions and offers quick interactive answers to solve the most common problems and connect the right specialist to the dialogue, if necessary.
Even at this stage, communication is personalized. Data provided by the client is used for this, as well as their possible previous communications with the brand. The personalization can include the client's name, their loyalty program status, offers they checked, purchases they made, etc.
Sales funnel progression. Sometimes communication with the chatbot will be enough to solve the client's problem, close a sale, and upsell or cross-sell. A specialist can join the dialogue to solve a problem that the chatbot couldn't, manage sales objections, and move the client to the next stage of the sales funnel.
Advantages of conversational marketing
Proactive but unobtrusive lead acquisition
Brands can write first — for example, via a chatbot widget when a customer is visiting the site. If the client responds and shares their personal data, the communication can be transferred to instant messengers: it will be easier to initiate a dialogue there.
Intuitive system
Customers communicate with the brand via an instant messenger they regularly use themselves. They don't need to download a new app and figure out how it works.
Personal approach in real-time
Using customers' first names, mentioning details related to their shopping history and habits, and responding quickly make them feel cared for.
Fast request processing 24/7, with automation
A customer may become interested in your product or encounter a problem at any time. The multi-channel chatbot will answer their question around the clock, and call the manager only if necessary. The use of artificial intelligence and interactive messages will help reduce waiting times.
Faster movement through the sales funnel
The chatbot qualifies each lead and guides them through the sales funnel stages. A manager can take over at any stage, without having to ask the customer questions that the chatbot has already handled. Customer movement through the funnel will also be seamless thanks to the functionality of instant messenger software for business.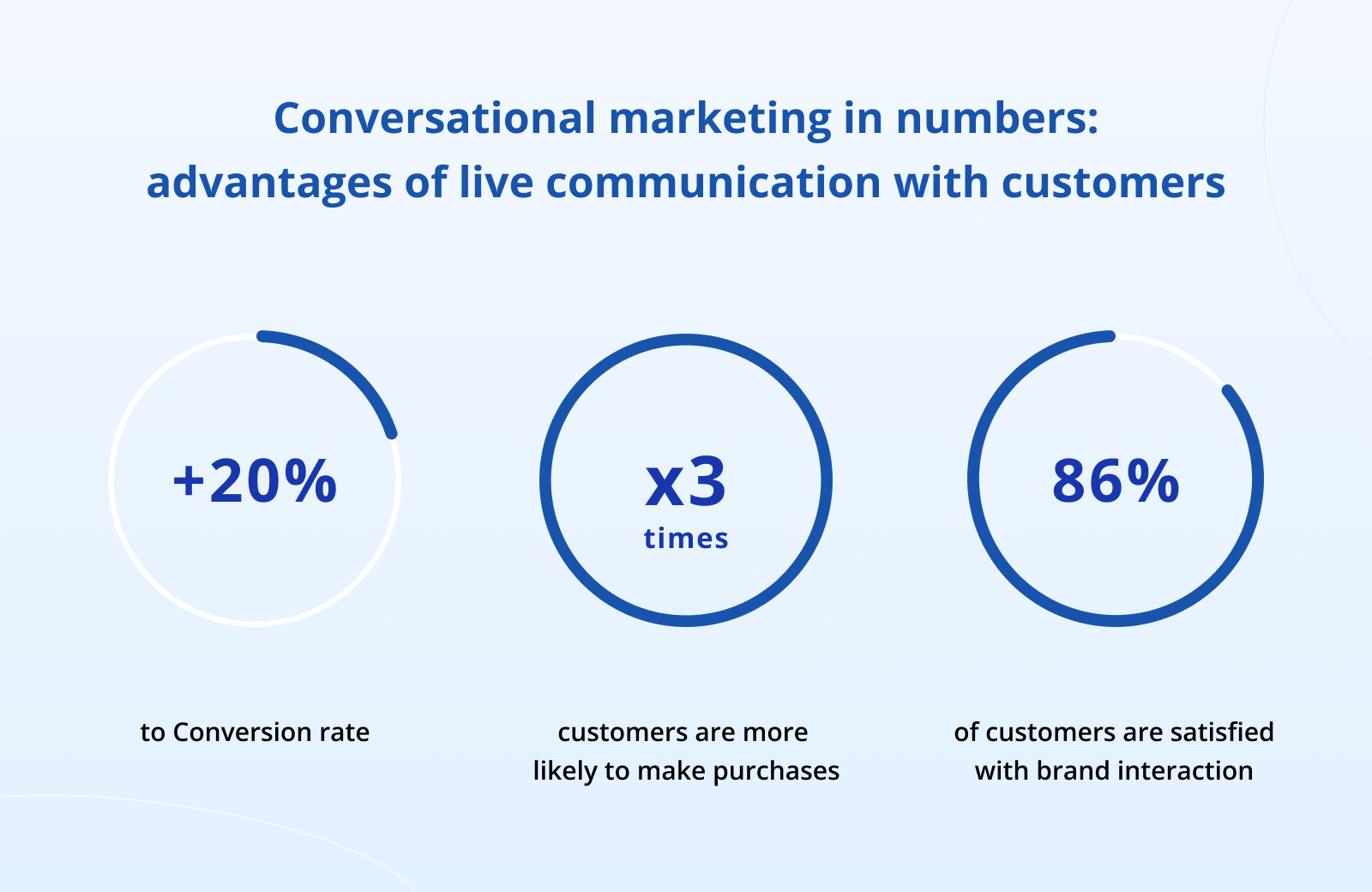 Tools of conversational marketing
The main tool responsible for two-way communication. Chats are available in RCS, WhatsApp, Viber, Telegram, and Facebook Messenger channels. You can add rich content, and attach files and media to messages. Channels can be united in a single interface.
Messenger chats can be integrated into popular CRM, CMS, and web applications. A simple and reliable way is to connect to a multi-channel platform that offers integration via API or plugins.
Automation
In addition to chatbots, WhatsApp Business API, Viber for Business and other instant messengers offer interactive features such as quick responses, while multi-channel platforms offer tagging and internal forwarding.
Promotional and service messages are a way to invite customers to a dialogue.
Methods of using conversational marketing
Lead generation
Place the chat widget on the site in pop-up mode to invite visitors to a conversation. You can set up a trigger so that the chat window shows up when a customer views certain pages or products.
Personalization of automated messages
Add variables that trigger messages, reminders, and greetings from regular customers containing unique data. You can personalize names, dates, amounts, codes, and contacts.
Increase in sales
Recommend products and services of a higher category during the conversation with a customer. You can set up a chatbot that will do this automatically, but it is better to assign the task to a manager after the chatbot qualifies the lead.
Cross-selling
Offer additional products, services, and complimentary discounts after the customer has placed an order. This can be handled by a chatbot that will send a "catch-up" message following the confirmed order.
Reduced waiting times
Combine a chatbot, automation tools, and manager communication into a single scenario. This will provide fast and high-quality service, which is the key to customer retention.
How to build conversational marketing with Messaggioo
Messaggio is a messenger marketing platform that supports omnichannel communication. This means that we help brands:
combine all conversations with customers in one interface;
increase your conversion rate by redirecting messages from channel to channel.
We also provide:
Integration with popular CRM, CMS, and web applications, for example Hubspot.
Official brand registration and moderation in WhatsApp Business API, Viber for Business, and Google's RCS.
Message constructors and templates.
Personalization of messages using variables.
Multi-channel messaging campaigns that invite customers to a conversation.
24/7 support.
Test Messaggio for free and find out that conversational marketing is not only effective but simple. Signing up takes three simple steps.
Let's summarize
Conversational marketing is an integral part of modern e-commerce. With the help of interactive marketing, brands provide customer support, sell products and services, and reduce the workload.
Conversational marketing eliminates phone calls, and SMS, RCS, WhatsApp, Viber, Telegram and other popular instant messengers are used to communicate with customers.
Chatbots and automation are an important part of conversational marketing. Chatbots qualify leads and either quickly walk them through the sales funnel or connect a specialist.
Messenger chats can be integrated into popular CRM, CMS, and web applications. This gives customers more opportunities to connect with the brand. Brands can also initiate a dialogue — for example, in a pop-up website chat.
Thanks to personalized communication and fast responses, conversational marketing increases customer loyalty.
Start using conversational marketing right now with Messaggio.
---
Ready to start mass messaging campaign?
Tell us about your task and we will offer a suitable solution.