Table of content:
Viber is an application that's been around for 12 years already, working its way up from a regular messenger to a multifunctional business tool.
It has more than 260M active users! 90% of the messages users open within the first three minutes of receipt.
Brands see the potential in the high-performance indicators of the messenger and increasingly integrate it into CRM strategies. Companies use the capabilities of Viber to keep in touch with clients, application processing, tech support, and sales.
In this article, we will talk about what Viber for Business is, its difference from a regular Viber account, and how to create, set, and use Viber for Business to the company's advantage.
What is Viber for Business
Viber for Business is a Viber messenger business profile account that allows sending business messages to the users who consented to communicate with the brand.
A verified Viber for Business account makes it possible to attract, retain, and win back clients, sell goods, and collect feedback. All that — through using easy yet effective features.
To manage their business profiles, brands use services in their personal accounts, as well as an API from one of the Viber messaging partners. For customers, everything happens in a standard messenger: they don't have to download a separate app to interact with companies. In other words, for subscribers, your business account remains a part of the usual, familiar contact list. This forms a trusting relationship between you, which can upgrade to friendship.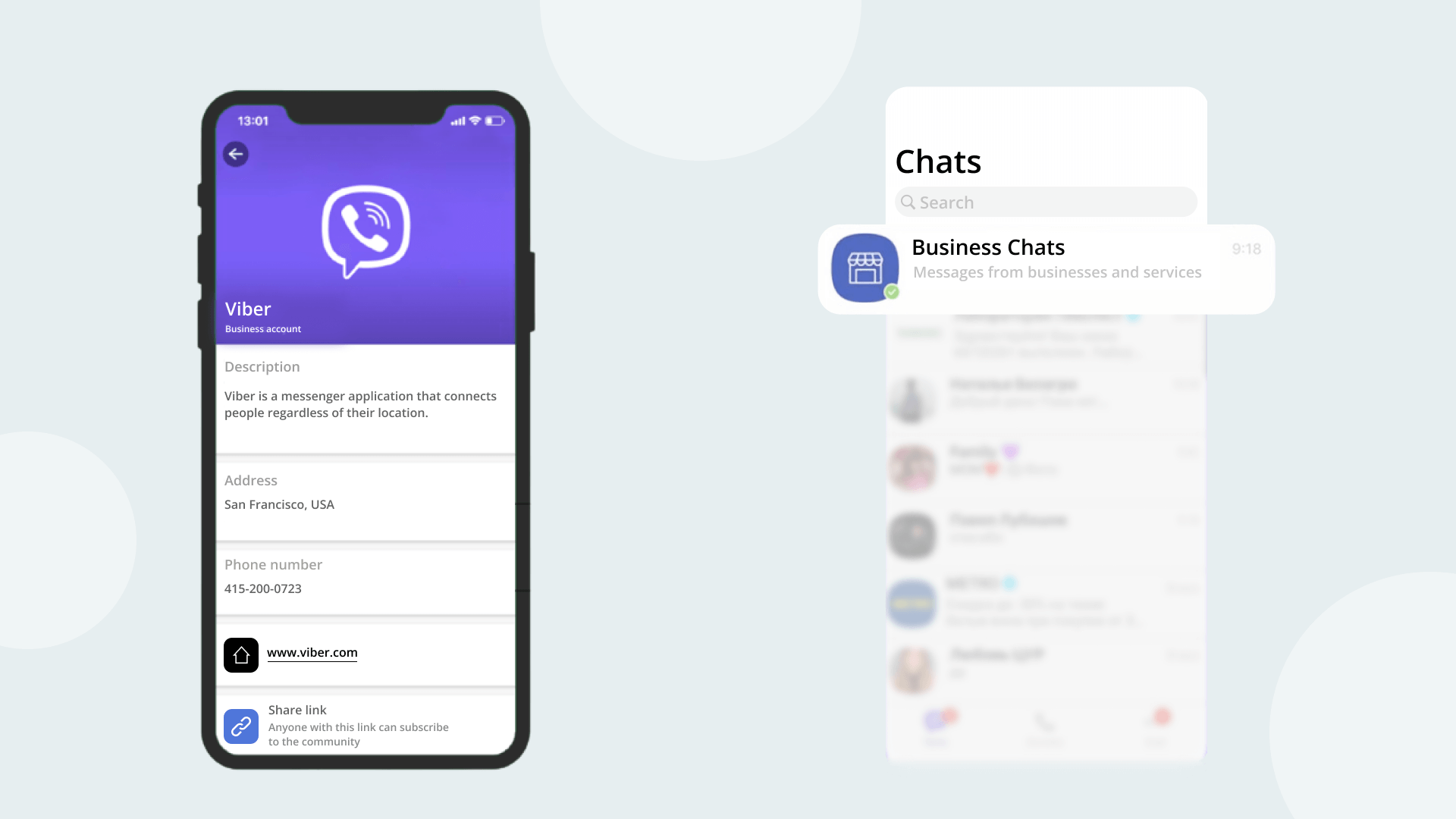 Viber for Business: Features and Tools
Let's see how businesses can use Viber to communicate with their clients.
Messaging
Viber for Business supports two messaging types: transactional and promotional.
Both types for business messaging:
Can be sent in bulk or be personalized/individual;
Support both 1WAY and 2WAY communication;
Can be used for automated trigger marketing.
Transactional messages

"Lightweight" (usually just a short text and link) triggered text messages: order notifications, receipts, registration confirmation, etc.
Arrive in response to specific actions by a customer;
Moderated by Viber.
Promotional messages
Interactive messages: support rich media, can be up to 1000 characters long, are used to announce sales, discounts, contests, promotional campaigns, etc.
Are initiated by the company;
Are not moderated by Viber;
Support images, audio, and video, animation, emojis, links, clickable media files, file and extension attachments, CTA buttons.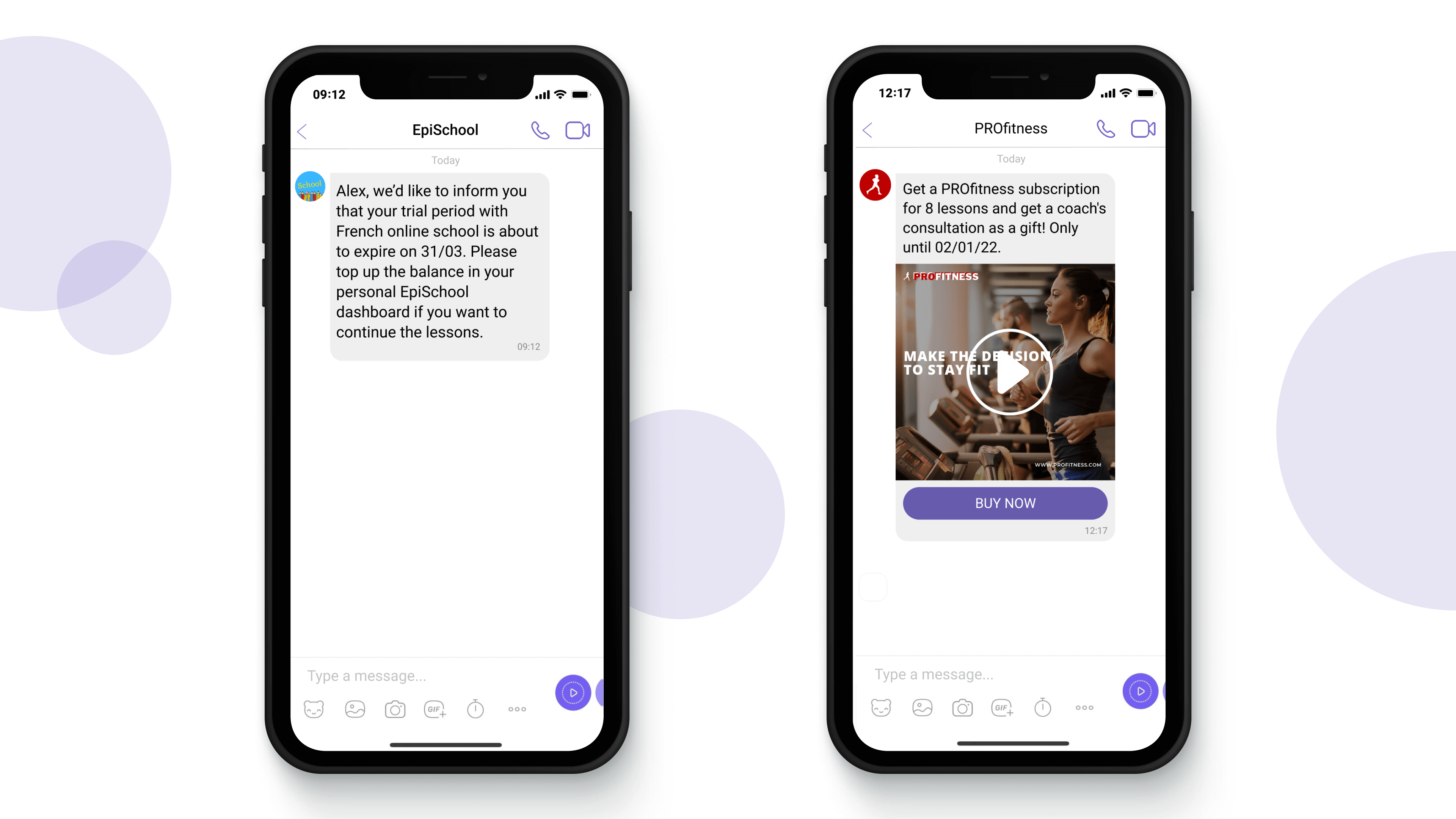 Sticker Packs
Companies can create sticker packs with brand imagery — logos, slogans, and mascots — and upload them to Viber Sticker Market. Any user saving a free Viber sticker pack created by your business account will automatically land in your follower list.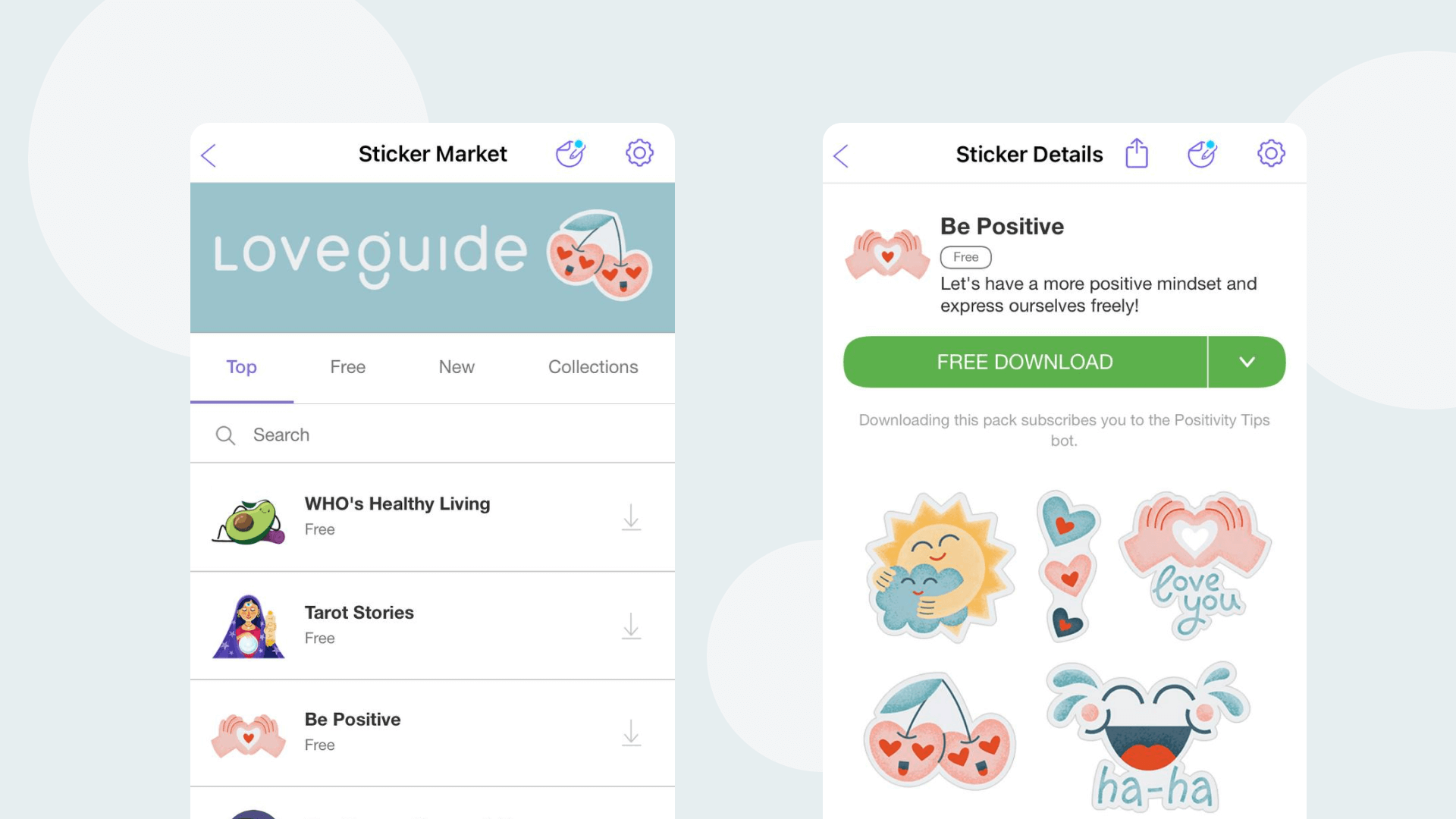 Chatbots
To let users make purchases without ever leaving the messengers, a Viber-verified company can set up a chatbot. A bot will allow you to automate customer support using artificial intelligence and provide relevant offers to specific clients, depending on their preferences.
The bot is set up through a special Viber Admin Panel. With its help, a company creates a bot account, receives an authentication token, and customizes the user interface. Next, the company needs to connect the bot to an API by setting up the events that correspond to the bot logic. When the settings are complete, send a chatbot verification request to Viber through the same admin panel.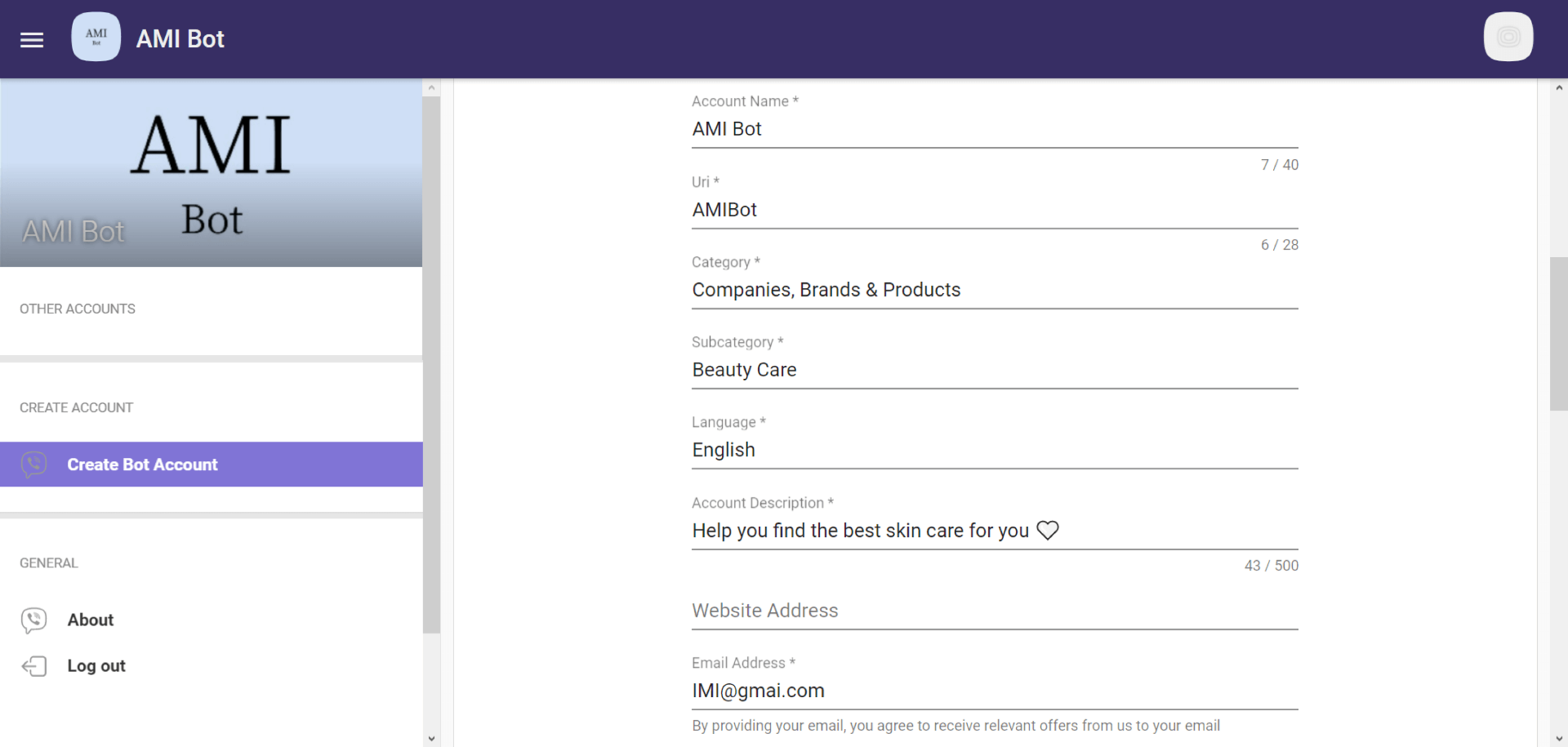 About Viber for Business Safety
Businesses that use an official Viber channel for business can rest assured that their customers' personal data is protected. A little bit about how the messenger provides security. Let's take a look at some examples of safety provided by the messenger.
Personalization and user verification
All Viber business accounts are mandatorily verified by the messenger. A verified account gets a special tick (checkmark). This boosts user trust and loyalty: they can see that a message from your company isn't spamming, and more enthusiastically interact with your manager in the chat.
Data protection
Viber doesn't store messages on the server, uses end-to-end encryption, whitelisted IPs, and HTTP. Personal information and payment details from customers and companies are secure.
What are Viber's advantages for business over other messengers?
Human touch 24/7
Viber for Business supports two-way conversations: messages can come not just from a business, but from a customer too. The user can respond to marketing messages or contact the company first. While Telegram or Facebook, for instance, only allow bot interaction, Viber users can reach a real human employee around the clock, getting personalized tech support in a format of a friendly chat.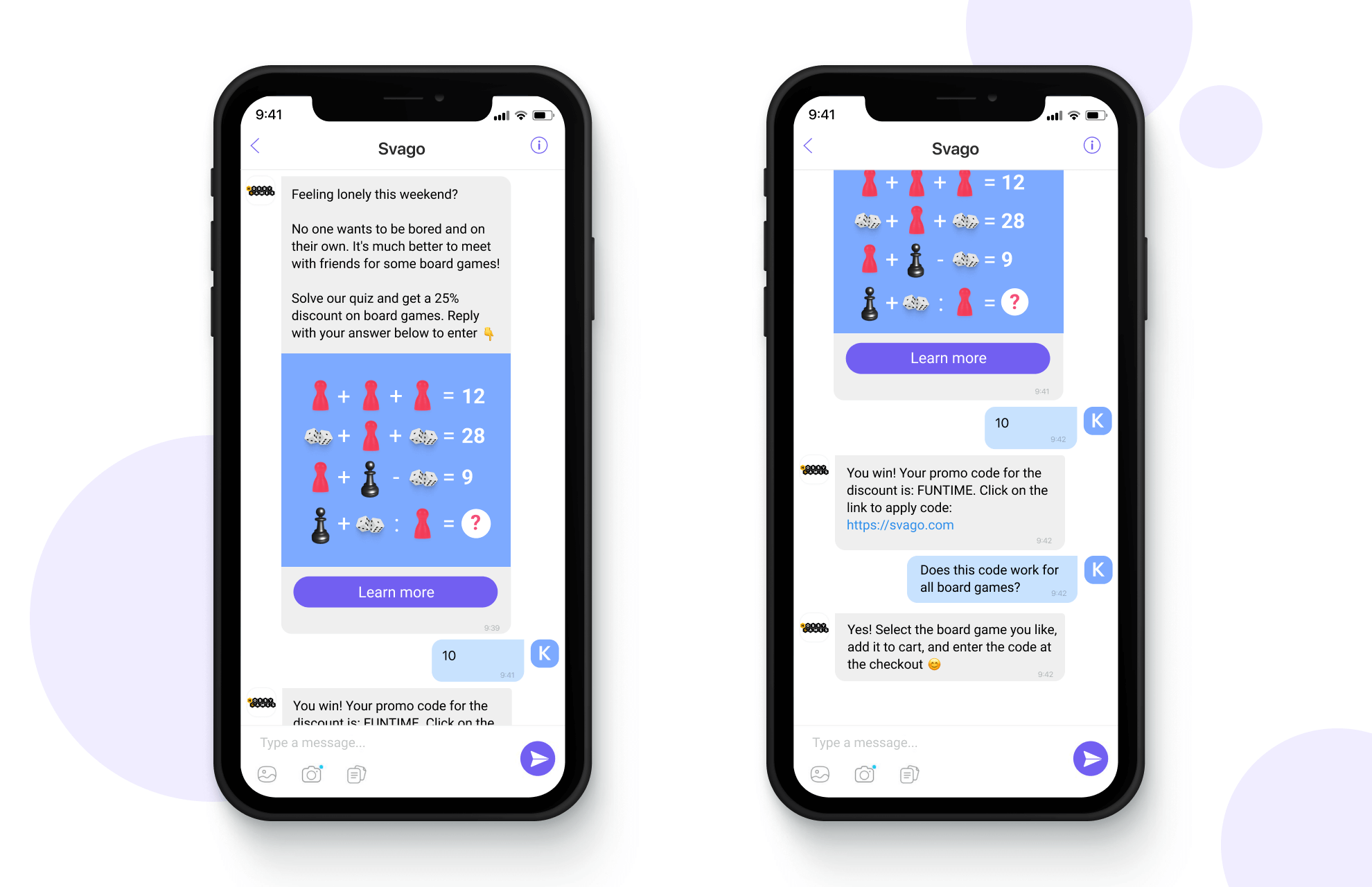 Long messages
With Viber, companies can send out up to 1000 characters per message, in any language. This allows you to "pack up" every benefit of the offer in one message. Besides, you can complete the texts with emojis, images, videos, or files. With Viber, users receive engaging rich media content that motivates them to respond to the targeted call to action. That's why mass messaging through this app is an evident alternative to SMS, where a text must fit in 160 Latin characters only.
Branded sender
For the Sender ID, a business can use the company's name that will be recognizable in the user's chat list. Companies can also add branding to their Viber business profile by adding:
logo;
description (up to 400 characters);
address;
phone number;
website.
A Sender ID, verified through Viber's official messaging partner, gets a "V" icon next to it, which stands for "verified".
Low costs
A Viber business message cost depends on the recipient country. On average, a promotional Viber message is four times cheaper than SMS. Another financial advantage of Viber over SMS is that by sending messages via messenger, you pay only for the delivered messages. Another cost advantage for business of Viber over SMS: when you mass send messages through that messenger, you only pay for the delivered ones.
But that's not all. If a user responds to the message, for the next 24 hours, all further chats between them and the company will be free. The messages sent in the 24-hour frame right after the response don't have to be approved by the messenger. This is the way Viber motives the transformation of business communications into casual chatting, where a manager is not a pushy salesman, but a friend and assistant.
High Market Penetration Rate
The messenger's high popularity allows businesses to engage the majority of their customer base into Viber marketing campaigns.
However, if a user doesn't have the messenger installed, Viber will take no more than 3 seconds to report back, informing you that the number is "not subscribed to Viber".
Those, who can't receive a Viber message, can get it reforwarded via SMS. For cases like that, messaging services have a special feature: Cascading Messages. It will give you a high delivery rate and will save your money by mass sending a non-expensive Viber message to the majority of users.
Who needs Viber for Business?
Viber functionality works for basically everyone, from the retail and beauty industry to B2B and NPO. Of course, every company has different key challenges that depend on its standards.
Here's how companies from different industries use Viber for Business to optimize their working process.
Process checkouts and confirm purchases, pre-orders, delivery, and pickups;
Send out promotional messages in a bulk and individually, mass-send news about new arrivals, discounts, campaigns;
Deliver documents (receipts, bills, subscription renewal info).
Logistics companies (delivery services, cargo transportation services):
Confirm delivery specifics:
Inform about the courier arrival time, warns about possible delays;
Transmit real-time cargo/delivery status, help to track their route;
Deliver document copies, receipts, invoices;
Send special offers.
Send out booking confirmations, check-in info;
Deliver e-tickets. boarding passes, online registration links;
Remind about the upcoming trips, or warn about any changes;
Offer last-minute travel deals, special traces, loyalty programs.
Send balance info, inform about request statuses, confirm transactions, recover passwords;
Send corporate security alerts;
Confirm updated policy agreements;
Advertise new products and special offers.
Official fan communities:
Publish announcements, trailers for new show episodes, sports season calendars, and concert tours;
Post official news, share media publications;
Sell merchandise and advertise special offers for community members.
Notifications you can't ignore
Messages received from a business Viber account are shown on the main screen, even if the client's smartphone is locked, and another app is used as a default messenger.
Why it's important to choose only official messaging partners of Viber for Business
Viber rarely works with brands directly, and special services must be used for mass messaging. Those services are divided into whitehat and greyhat ones:
— "Whitehats" are Viber's official messaging partners. They are used to kickstart mass messaging that will never get your account blocked or violate private information laws.
— "Greyhats" are ineffective for fast and guaranteed message delivery, they don't support account verifications, don't let you use clickable links or add CTA buttons. Their method requires you to install untrustworthy software, bulk purchasing phone numbers for mass messaging, and use other financially inefficient ways that only lead to banned business accounts and losing customer loyalty.
Viber mass messaging with Messaggio
Messaggio is Viber's official partner. We help companies to quickly and seamlessly go all the way from creating and verifying the account to launching mass messaging. We offer a reliable gateway for sending Viber business messages to any country.
We also give access to:
Sending multiple messages in a bulk instantly — up to 7000 per second.
Collecting the stats and message analytics — with a thorough system of filtering by a message status, time & date, etc.
Importing client base from CSV — you can organize the contacts in different groups to make personalized messaging easier.
Cascading Messages — a way to send messages through multiple channels, so you'll be sure you've reached the client (and saved money).
Tracking delivery statuses — a way to check which messages have reached the recipient, which were rejected, and which client doesn't use Viber.
Multiple platform integration — mass messaging through HubSpot, YClients, 1C, Bitrix24, and other CRM and CMS.
How to send bulk messages via Viber, by the case of the Messaggio partner
To start mass messaging using Viber, create a Messaggio dashboard by filling up the form. It's free and won't take more than two minutes.
Then you can proceed with the account settings.
Step 1. Setting up the account
The system will ask you to fill out your profile and sign the Viber Warranty Letter —
right down the following:
Company information: company name, country, business description.
User information: contacts and integration type.
Legal entity type: INN (TIN) or other details for closing documents.
Messaging channels: select Viber and enter a Sender's ID for the planned mass messaging. The company's name is the most common choice here. That name is your Viber Sender ID.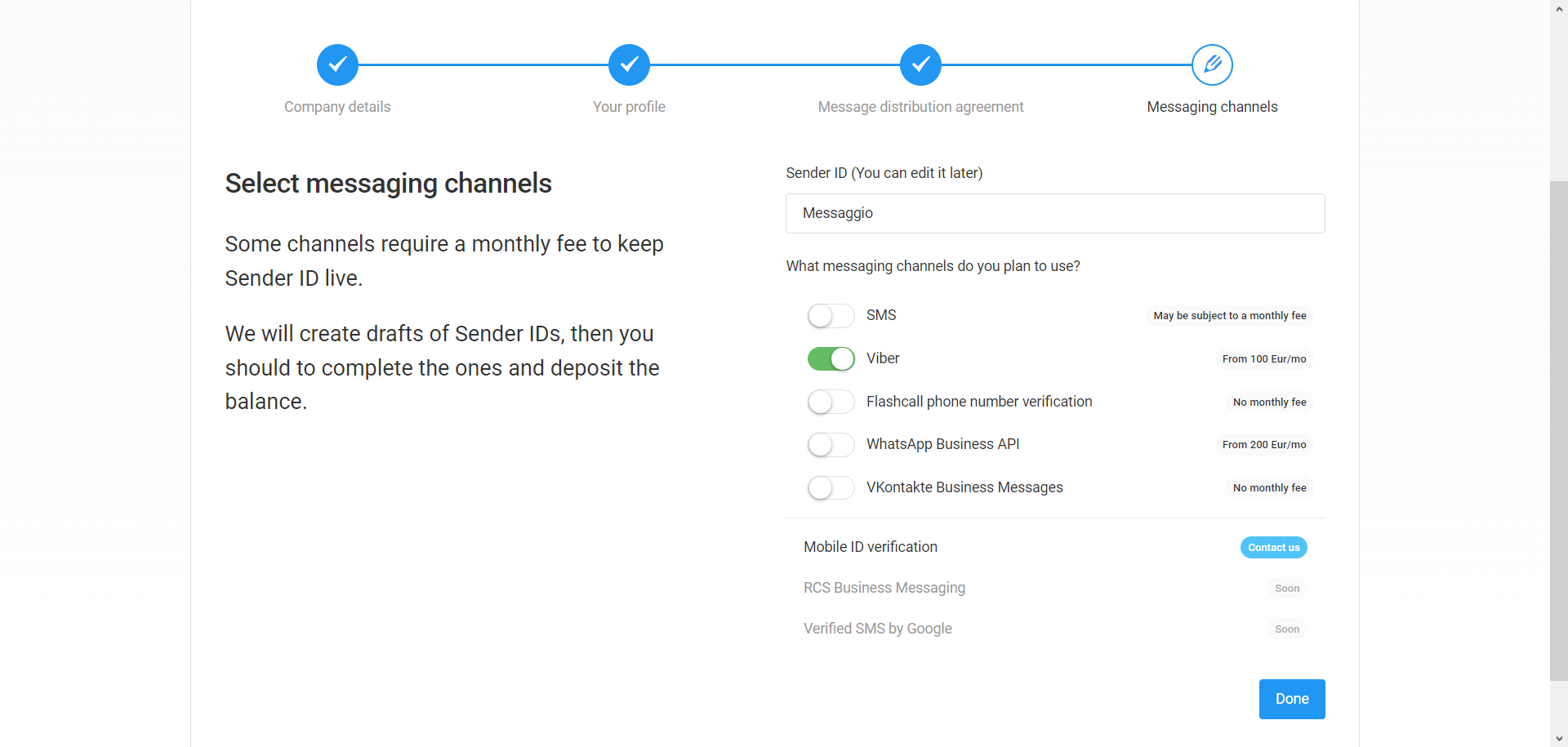 Step 2. Sender verification
Aftcompletinging 4 registration steps, click "Done". Now you wait for the Sender's ID verification: it usually takes about two days. When the activation is complete, in your Messaggio account you'll see the ACTIVE status, as well as the verification checkmark.
Step 3. Creating and sending the messages
After Viber approves your name, you can proceed with constructing the messages.
Create a Viber message template. The messenger offers several options with different text, buttons, and media combinations.
Personalize the content by adding variables in your templates: name, date, promo code, etc. Here you can also check a preview: the way your message will be displayed on the user's device.
Save the template and send it for the moderator's approval, just like you did with the sender's name: in two days, if the template doesn't violate Viber's content and format requirements, you will see ACTIVE next to it.
After the template is activated, start creating the bulk messaging: choose the Viber Sender ID, message template, import the customer contact base to message to.
Send out the messages: either instantly, on a specific date & time, gradually in the course of several hours, or when the user is most likely to open the message.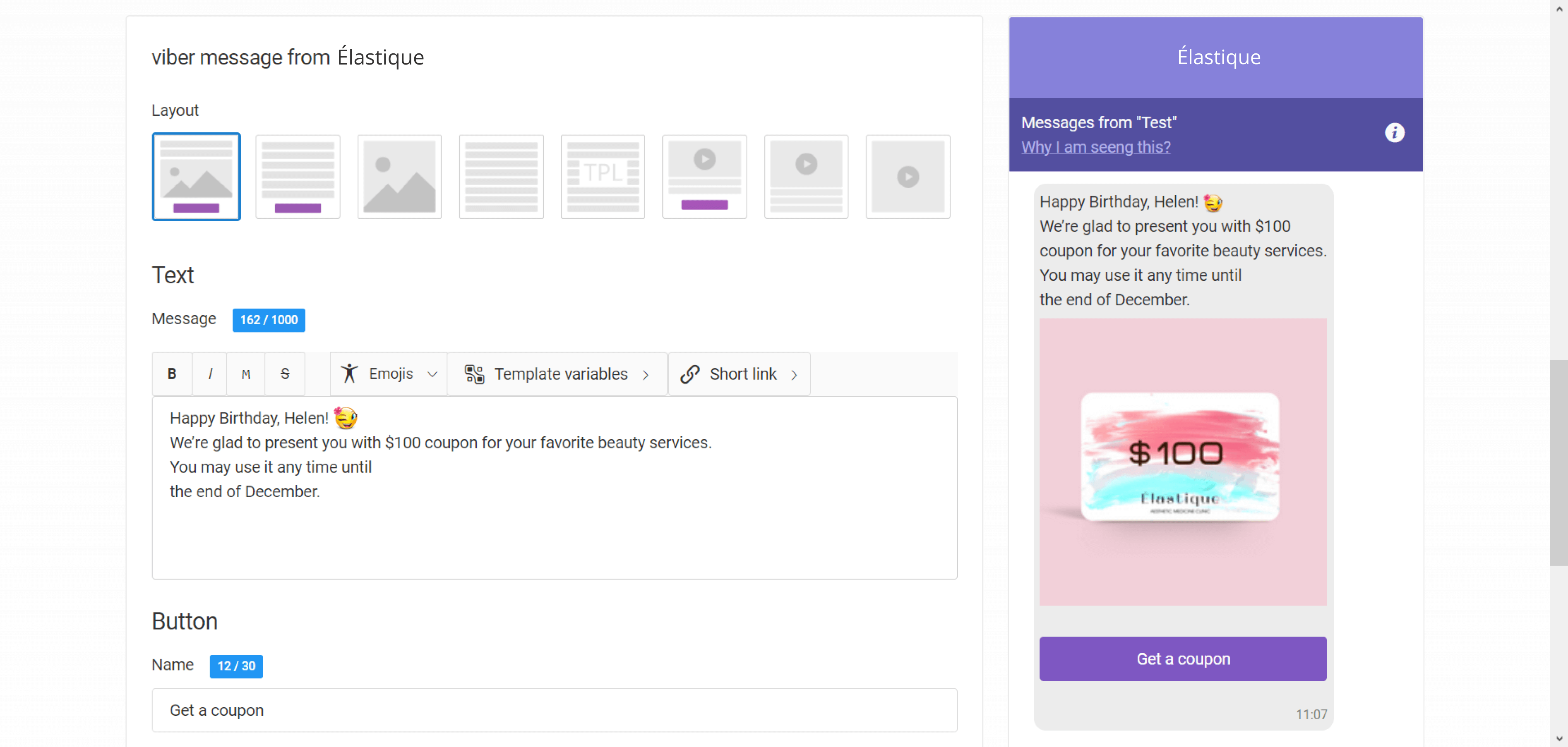 Step 4. Analyze the results
After the Viber bulk messaging is launched, analyze the outcome. By using Statistics in your Messaggio dashboard, you can choose the context for data analysis: the time frame, the sender, and the channel.
For Viber messages the available statuses are Sent, Delivered, Seen, Clicked, Not delivered. You can check the reasons behind failed deliveries in the thorough report available to download as CSV.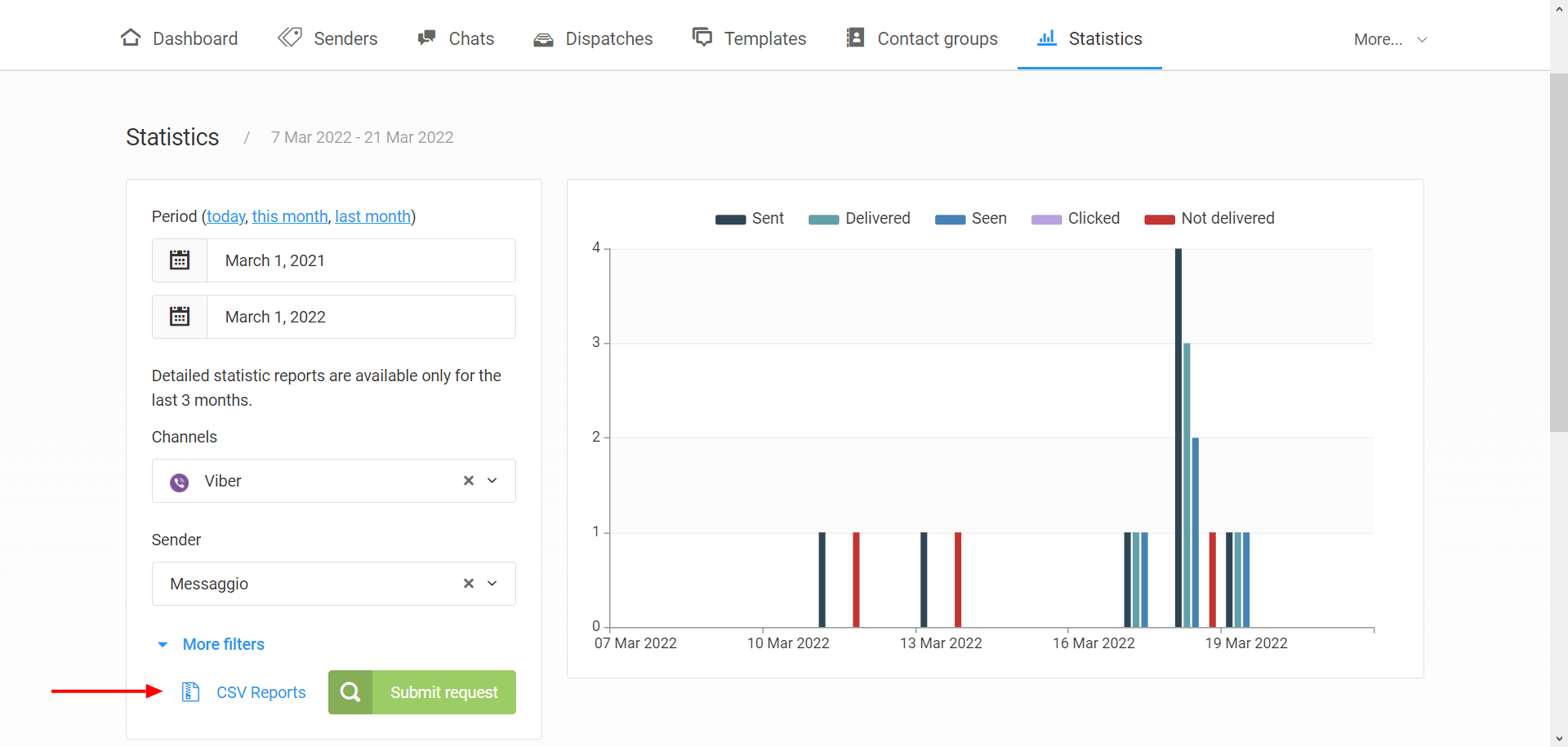 Possible obstacles
Let's go through possible difficulties you may experience while setting up and launching your mass messaging.
The account is still not verified, although you've completed the registration process.
According to Viber's rules, every submitted request is reviewed for 2-5 days. If it's been Day 6 already, contact our customer service.
The account was denied verification.
Viber for Business doesn't associate with some business areas, e.g. the messenger's direct competitors, gambling companies, religious and occult organizations, adult industry companies, alcohol & tobacco distributors, etc. Let us know if your company doesn't fall under these criteria, and we will help sort everything out.
The system doesn't let the messages through
Make sure that your texts and media files don't contain any of the themes and topics prohibited by Viber, don't break your local laws, and don't contain anything insulting or discriminatory (even if it was meant as a joke).
Viber for Business: The Prices
A significant advantage of Viber for Business is that companies only pay for the messages that were received by the user. There's also a Time To Live feature that allows you to only pay for the messages delivered and received within the previously set timeframe, with no delays.
You can get acquainted with the price list in the prices section, as well as by contacting us.
According to Viber Terms of Service, mass messaging is available for a monthly fee only. For Belarus, Bulgaria, Greece, Hungary, Iraq, Moldova, Russia, and Ukraine it's €150/month; and it's €100/month for other countries. The fee will be paid from your Messaggio account.
Helping you to stay visible
Viber for Business helps brands to stay on the grid and connect with clients whenever and wherever it's most convenient for them. If you have any remaining questions about creating a Viber business account, CRM or website integration, or other tech-related/management topics — shoot us a message! The Messaggio team is always happy to help.
---
Ready to start messaging campaign in Viber?
Tell us about your task and we will offer a suitable solution.