Table of content:

WhatsApp instant messenger is regularly used by 2,2 billion people. Among them are your business' potential customers. We will go over the ways to send them an effective messaging campaign and establish communication via WhatsApp. Also, your business can save money and not get banned on WhatsApp.
How to create a messaging campaign via WhatsApp without risking a ban?
Learn how to avoid two types of WhatsApp bans that may loom over your business:
Ban by specific WhatsApp users.
Ban by the Meta company, the WhatsApp owner, itself.
If your business gathers numerous users from Instance 1, then Instance 2 will follow. But Instant 2 can occur on its own: if Meta discovers serious violations on your part, it will block your WhatsApp business account.
Main mistakes that lead to a WhatsApp business account ban
Cold database messaging. WhatsApp forbids interacting with "cold" customers. Per the messenger's rules, businesses can only contact clients who have previously consented to communicate. Therefore, you won't be able to officially bulk-send WhatsApp messages to clients who have never made purchases in your store or interacted with your service.
There are several ways to obtain a client's consent to WhatsApp interaction. Among the most popular ones is to ask them to confirm the personal data processing. It's usually offered to clients when they are registering on websites or loyalty programs.
Making a WhatsApp business account via unofficial intermediaries. The Internet is full of offers to set up inexpensive WhatsApp marketing campaigns. The majority of those offers come from the so-called grey hat providers. They offer businesses to download their "free API for WhatsApp" software, create an account there, and start sending mass messages through it — all without any interaction with the Meta administration.
Is it necessary to install special WhatsApp marketing software or an enterprise app in order to send business messages?
Officially, mid-sized and large businesses officially can't create a WhatsApp account directly. They can do it either via Meta's official messaging partners (aka Business Solution providers) or via official and certified WhatsApp marketing software providers. Meanwhile, businesses that pay for grey hat services in hopes to speed up the process and save money, will eventually have their accounts blocked by WhatsApp. But not before ruining their reputation among the customers who received ads from that "grey" WhatsApp account. Spammers are not trusted. We recommend avoiding bulk spamming on WhatsApp.
Effective WhatsApp bulk messaging with any ban risks can be done via the official software only. That is WhatsApp Business or WhatsApp Business API.
How is WhatsApp bulk marketing software different from the regular messenger app?
Right away: your customers' experience will remain familiar to them: they don't have to download any additional apps, and your business messages will be sent to their standard WhatsApp messenger app.
You, meanwhile, need to choose one of two products for your business:
WhatsApp Business. An official and free app for smartphones or tablets. Suitable for small businesses with a small number of customers (you can only send messages to 256 contacts at a time).
WhatsApp Business API (WABA). An official WhatsApp software interface for working on a computer — a WhatsApp business web solution. It's basically a business platform created for medium-scale or large businesses. Supports mass messaging to an unlimited number of contacts, without adding recipients to contact lists.
The main difference between WhatsApp Business and WABA from the regular WhatsApp messenger or grey hat software is a set of WhatsApp business features that make communication with customers productive. Even with the free WhatsApp Business app for very small-scale businesses, you can set up a product catalogue, shopping cart, quick responses, chatbots, and automatic messages, as well as use WhatsApp chat or invite customers to group chats. The more robust WABA software easily integrates with popular e-commerce software such as CMS, CRM, or omnichannel platforms.
Below we explain how WhatsApp message sender works, and how to communicate with customers and send messages in bulk using WhatsApp business marketing software.
How to set up WhatsApp for business integration and create bulk messaging campaigns
Important: WhatsApp does not allow advertising messages per se. However, WhatsApp can be used as a marketing tool: it allows businesses to send out so-called non-transactional messages. Utilize WhatsApp in digital marketing by sending your customers the following:
current offers — like messages about new product arrivals, special offers, and sales;
personalized offers — like messages based on the customer's purchase history or their abandoned shopping cart;
useful information — like messages and notifications about changes in terms of service or product usage, a new address heads up, or an order status changes;
reminders — like notifications about an approaching appointment.
How to register for the WhatsApp business app in order to start WhatsApp business messaging?
For WhatsApp Business: download the app of the same name from the Google Play Store or Apple App Store, accept the Terms of Service, and register an account by linking it to a phone number. When registering an account, be sure to specify the name of your company or brand, and to select the business category they belong to. In the profile, specify information important for your customers, like the address, additional contacts, and business hours.
For the WhatsApp Business API: register through an official intermediary (like Messaggio — a bulk WhatsApp marketing software/sender app) and provide the manager with your business information in order to receive a personal account. Then sign up for Meta Business to get a Meta Business ID. Go to your personal account with the official intermediary and paste the received Meta Business ID there.
Now you need to get the official verification checkmark: WhatsApp Green Tick. Ask your official intermediary for WhatsApp Business Application Form (for registering your WhatsApp ID) and Verified Badge WhatsApp Application Form (for getting the check mark). Fill them out and send them back to the intermediary: their manager will forward the forms to Meta for approval.
When the agreement is completed, your Meta Business ID will be marked as active in your intermediary's account. This means that you now have a real WhatsApp business account, and can begin to communicate with customers by bulk sending WhatsApp messages.
How do I create a message for a WhatsApp marketing campaign?
WhatsApp Business allows you to compose messages in any form as long as they don't violate the Meta rules and local laws. You can use text formatting, and insert links, media files, and emojis.
WhatsApp Business API uses template messages, also known as Highly Structured Messages, for personalized marketing offers. You can create the content yourself and use variables (again, without violating the Meta rules and the law), but you need to a) use one of the official WhatsApp interactive message templates) pre-coordinate the messaging campaign with WhatsApp first. Both requirements can be fulfilled very quickly — via the official partner's personal account.
While creating bulk messaging campaigns via WhatsApp, you can also use text formatting, and insert media, links, emojis, stickers, files, and CTA buttons.
Not all business messages need to be coordinated with WhatsApp in advance. For example, if a customer messages you first, you can respond with a so-called free-form message, even if it has promotional content.
How to send bulk messages via WhatsApp using a customer database?
With WhatsApp Business, you can only mass message your contacts. To do this, manually select contacts from the list saved in the app: no more than 256 at a time. However, your business account must also be saved in the contacts of each of these customers. WhatsApp Business is convenient because you can send messages to customers directly from your iPhone or any other mobile device.
With the WhatsApp Business API, upload a client database file to the messaging campaign contact list via your official intermediary account. Select a message for the particular campaign, previously approved by WhatsApp, and send it to this contact list. It's more convenient to launch WhatsApp Business API (WABA) bulk messaging from a computer or laptop.
How to automate bulk messages via WhatsApp?
WhatsApp Business API allows you to schedule messages for a specific date and time. For example, in a dashboard of WhatsApp's official partner, Messaggio, you simply create a WhatsApp message template, design a campaign, go to "Dispatch actions", click the "Schedule start " slider and set the required date and hour for sending the message to the customer database.
What is the WhatsApp business pricing for bulk messaging?
With WhatsApp Business, you can send messages for free.
With the WhatsApp Business API, bulk messaging prices depend on two factors:
Customer's phone number country code.
Who wrote first — business or customer.
Let's analyze the second factor in more detail. The scenarios are:
Business is the one who sends a message (a template message approved by WhatsApp) to a customer first. In other words, the business texted first and invited the customer to start a dialogue. For a message like this, the business pays €0.01–0.14 (customer's phone number country code). However, if the customer responds, WhatsApp opens a 24-hour customer care window, during which the business can send free-form messages to that customer absolutely free of charge.


WhatsApp session: the company started the chat

Customer is the one who sends a message to a business first. The business responds with either a free-form or a template message, which will cost €0.028–0.0812 (again, depending on the customer's phone number and country code). If the customer responds, WhatsApp opens a 24-hour customer care window during which the conversation with the customer will be free.


WhatsApp session: Incoming message from the client
A 24-hour customer care window is another answer to the question of how to send WhatsApp marketing messages for free and not get banned.
What is the pricing for a WhatsApp business account?
WhatsApp Business is a free app, but it has limited functionality.
WhatsApp Business API the account pricing depends on which official WhatsApp partner you choose and in which regions you will launch your bulk digital marketing WhatsApp campaigns. The product's official website lists current WABA pricing for different countries.
How do I create a group chat on WhatsApp and invite customers?
For WhatsApp Business, select the Chats option, and then the New Group option. You can add up to 256 participants to a group — either manually, from the contact list, or for each participant personally, using the Invite to Group Via Link option.
With WhatsApp Business API, the group chat option is not available.
WhatsApp marketing campaign examples
To quickly create a WhatsApp marketing campaign, use the examples by the official WhatsApp bulk messaging platform service Messaggio.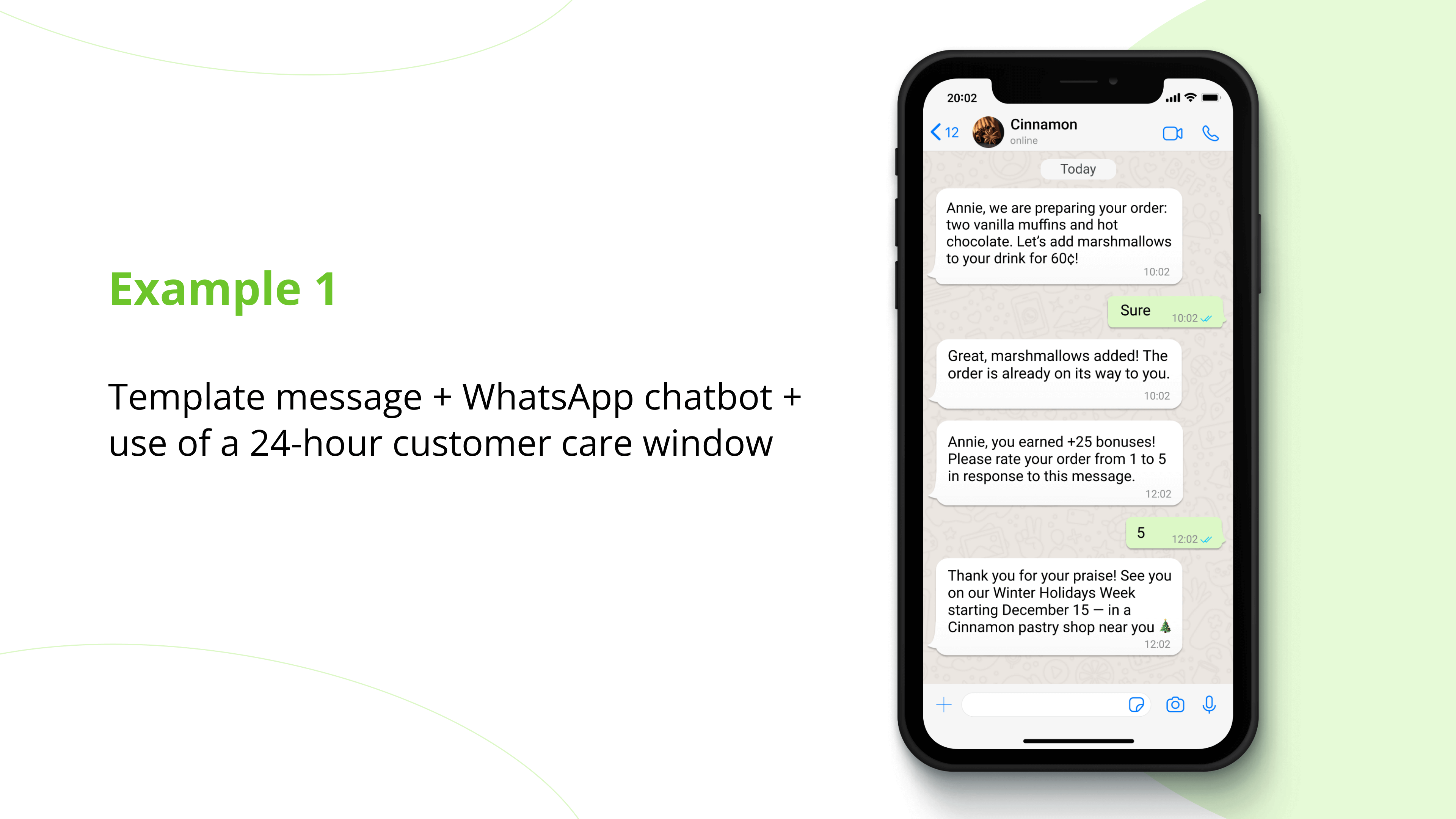 Learn more about how to write a good text for a mass messaging campaign.
---
Want to know more about Whatsapp digital marketing campaigns and bulk business messaging?
Messaggio will answer all the questions and help you launch your WhatsApp campaigns: contact us.