Table of content:

RCS stands for Rich Communication Services. It's a messaging protocol aimed at enhancing SMS and MMS features. RCS has also been steadily replacing SMS and MMS for smartphone users by being a new-generation messaging protocol.
Today we're going over:
how RCS works;
what RCS messaging means for marketing and business.
How RCS works and what makes it different
A default SMS app can be found in every smartphone since the SMS protocol has been supported by mobile carriers worldwide for more than 30 years. However, the capabilities of an SMS or MMS message are limited, which prompts users to download additional instant messaging apps, such as WhatsApp, Viber, Facebook Messenger, or Telegram.
But the Rich Communication Services (RCS) messaging offers the best of both worlds. This standard provides the instant messenger experience — from instant-two-way communication to large file transfers — without the need to install a third-party app. RCS is supported by dozens of modern Android devices, and that number keeps growing.
RCS as a standard was invented in 2007 and introduced by the Global System for Mobile Communications in 2008. Its true value on a mainstream scale was recognized with the growing popularity of smart devices in the 2010s. Google and Samsung began to popularize rich communication via RCS in 2019, first partnering with several big US carriers. As of 2022, RCS is available across all the main carriers globally.
In short, RCS for Android devices is what iMessage is for iPhones and other Apple products. Google, a pioneer in popularizing RCS worldwide, now has Google Chat as a global RCS implementation standard. Google Chat is native for phones with Google services. It can also be downloaded from stores and installed as an Android, iOS, browser, or desktop app.
Comparing main RCS and SMS/MMS features
| Feature | RCS | SMS/MMS |
| --- | --- | --- |
| Text message limitations | 8,000 symbols | 160 symbols |
| Required connection | Mobile data or WiFi | Mobile data |
| Supported data formats | Texts, images, videos, audio, links, contacts, geotags, emojis, stickers | Texts, emojis, links, images, videos, audio, links, contacts |
| Size limitations for attached files | 100 MB | 3,5 MB |
| Verified Sender ID | + | + |
| Rich Cards | + | – |
| Message statuses | Delivery / Read confirmation, User typing | Delivery confirmation |
| Group chats | + | – |
What makes RCS useful for business and message marketing
Since RCS messages are available worldwide, this means increased audience coverage for businesses. Communications, campaigns, and other types of business messaging via RCS are handled by mass messaging platforms. Such messaging is also known as RCS Business Messaging (RBM).
RBM features that are useful for message marketing
Verified Sender ID with a branded profile. With SMS protocols, only alphanumeric Sender IDs are available — which means that brands' user profiles will look rather bland: just a brand name and a verification tick. With the RCS protocol, brands can set up detailed profiles, adding details such as:
Brand logo;
Company description;
Website;
Several email addresses and phone numbers;
Terms of service and privacy policy links.
Sender IDs are getting verified with Google and receive a verification badge, ensuring customer trust and 100% message delivery. Customers with Android devices will also be able to see a blue dot next to the brand's contact name, meaning they can start chatting with that brand.
Dialogue windows can be customized using different colour schemes, adding immersion and recognition to chats between customers and brands.
Rich media. Text formatting, high-quality media of multiple formats (images, video, and audio), animations, emojis, stickers, links, geotags, call-to-action buttons, and voice memos can be added to messages.
In addition, brands can create Rich Cards: a combination of a title, a subtitle, an image, and up to 4 buttons such as with links and navigation. Up to 10 of these cards can be assembled into a carousel. Rich Cards and carousels are perfect for showcasing groups of products or services.
Rich Cards have certain limitations in terms of design: for example, they can be constructed only in standard templates with a default Google font, and the main colours will be taken from the brand's profile colours. However, they still make a powerful message marketing tool.
Seamless one-app experience. Customers can travel through the entire sales funnel in one app, without being thrown out of the RCS messages app to the browser.
Quick two-way communication. Brands and customers can exchange instant messages in a chat format, with no delays. One RCS message can be 8,000 characters long. Both parties can attach links, rich media, files, voice memos, and locations to their messages — they can also see when the other party is typing, and check whether the message was read or not.
Chatbots and suggested actions. To speed up the communication process, brands can set up suggested actions: short automated replies to certain customer inquiries. These suggestions can be in the form of either the so-called chips or rich cards. The system usually offers several suggested actions at once, and customers choose.
The list of suggested actions includes dialing a phone number, checking/sharing locations, clicking on a link or creating a calendar event.
Brands can also set up RCS chatbots that react to customer inquiries with smart replies, similar to suggested actions.
SMS fallback. If a customer's device doesn't support RCS, the brand's mass messaging platform of choice — such as Messaggio — will resend it to them as a simple SMS. Rich media features won't be transferred, but the main information will get delivered.
RCS supports two main types of messages for business: transactional and promotional. And even common transactional messages such as a one-time password (OTP) can become more interactive with RCS: for instance, businesses can use formatted text and add brand logos or suggested actions. Notifications (appointment reminders, payment or booking confirmations, package trackers, etc.) sent by businesses can be enriched in the same manner, as well by adding rich cards, pictures, carousels, buttons, links, and so on.
Examples of implementing RCS in different business fields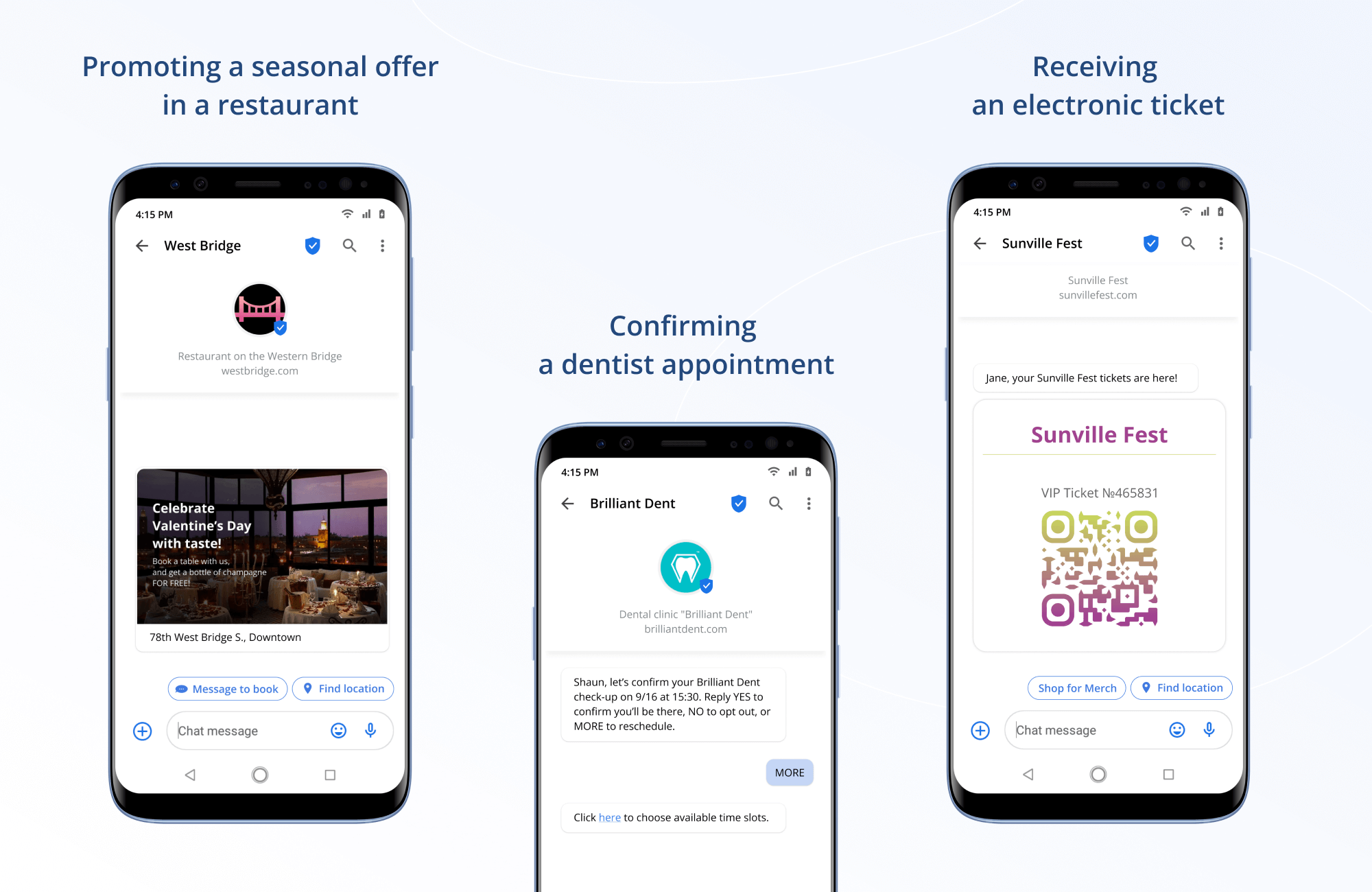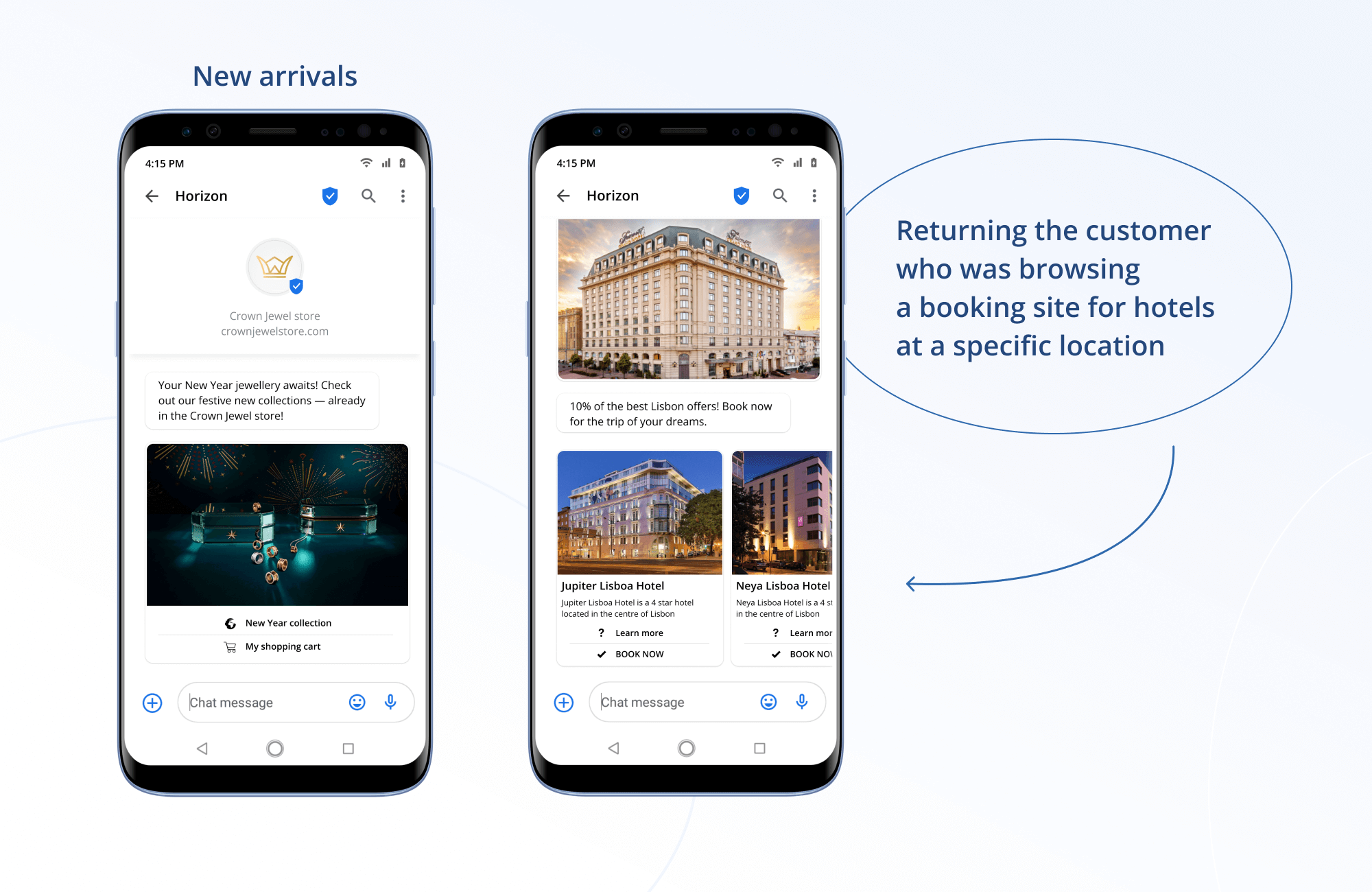 How to set up RCS messaging for business with Messaggio
In order to have all RBM features in one place, businesses register with Messaggio. Here's how it works:
A business creates a Messaggio account for free.
After choosing a brand name and phone number for RCS business messaging, the business submits it to its Messaggio manager. The manager verifies it with Google, and the business receives a verified Sender ID.
The business can start using all RCS messaging features. It can do it either via the personal Messaggio dashboard or by setting up API or plugin integration to its system.
Messaggio unlocks the full potential of RCS business texting. Messages can be previewed or sent to test devices before being directed to customers. Messaggio also helps businesses track their RCS marketing campaign success by collecting real-time statistics.
Register now and start using RCS Google RBM messaging for your business.
---
Ready to start mass messaging campaign?
Tell us about your task and we will offer a suitable solution.