Viber unifies the existing service types: 1WAY, 2WAY and Session, which have been used for different cases of interaction with customers. Instead of them, a new one will be available — Unified service type.
Table of content:
To communicate with customers today, Viber offers businesses three types of Sender ID. Depending on the company's tasks, the brand chooses the appropriate one: 2WAY — with the ability to answer the user, 1WAY — without the ability to answer, and Session for dialogs initiated by the user.
This is good news for those who use Viber for business or are just going to connect the Sender ID. Viber has announced a new solution that will offer the features of all types of Sender IDs — Unified service type. 1WAY, 2WAY, and Session will turn into one, along with enabling the client to send a response. In this article, we will tell you about the new features, benefits and cost of the new Unified type service.
Benefits of unification
The unification of services will allow brands to register a single Sender ID, on whose behalf they can send bulk messages and receive customer responses at the same time
"For us at Viber, it's always important to find the best match between improving the user experience on the one hand and making Viber for Business products easier for brands to use on the other", says Messaggio Karen Gispan Constante, Senior Partnerships Manager at Viber. "As you may know, today we offer three separate service types for Business Messages, without the possibility to easily upgrade from one service type to another. As a result, users can get up to 3 different threads in Viber with the same brand, potentially creating confusion for both parties. For these reasons, we have decided to unify existing Business Messages services into a single service type, making the most of their individual benefits".
The new type also has a cost advantage: companies will no longer need to pay subscription fees for both 1WAY and 2WAY if they want to receive user responses. They will only need to pay for one unified type and can receive the earlier benefits of two services at a comparatively cheaper price of one.
Unified service type advantages
For users
For brands

A singular unified channel to receive messages from brands, which allows easy access to the message history and keeps a single thread.

Opportunity to keep sending promotional and transactional messages, but also to manage meaningful customer conversations at the same time without switching between channels.

Cost-effective: one single monthly fee instead of three.

Auto-reply: the user will receive a notification if the brand is not ready to conduct a dialogue in the Viber chat.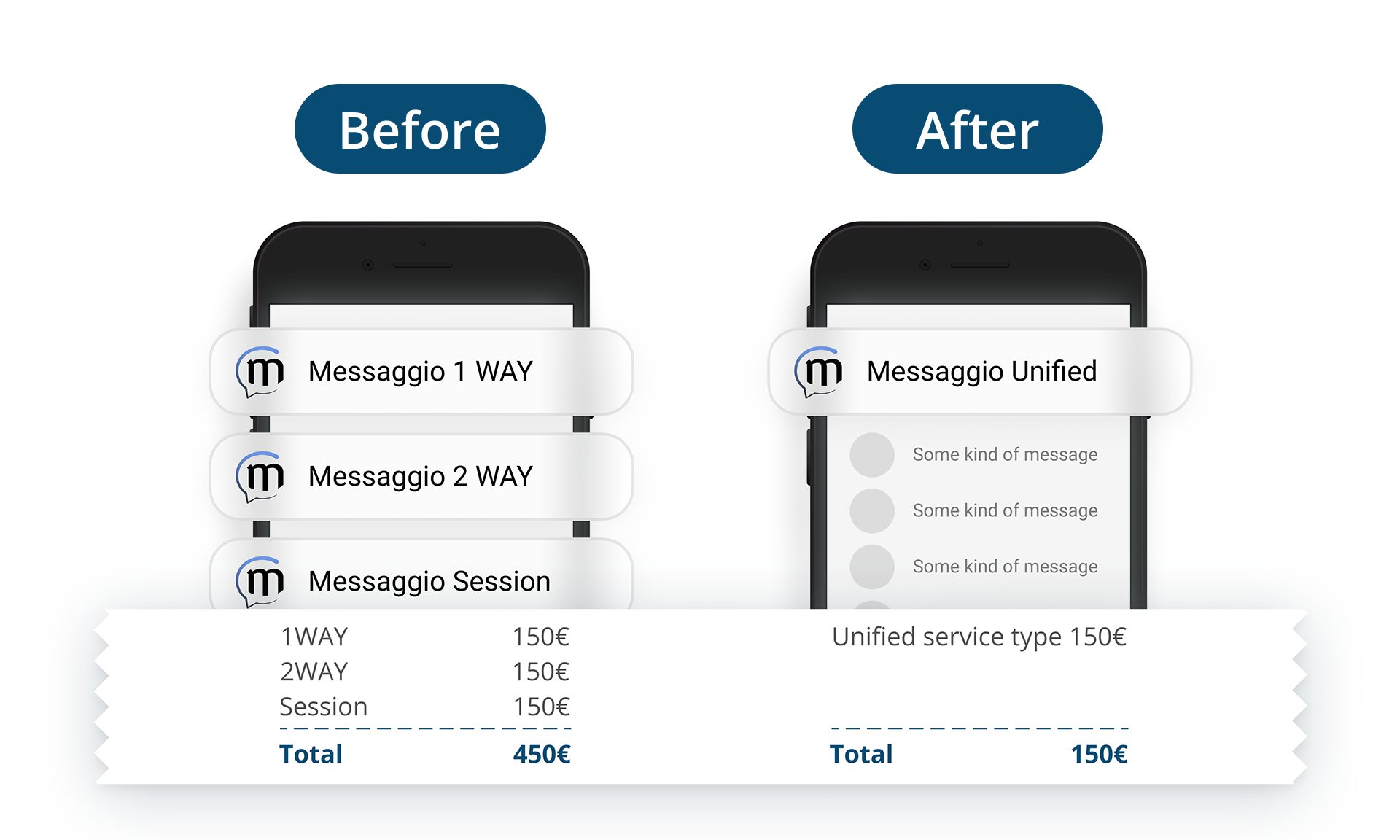 Messaging capabilities via Unified service type
All the messaging options that Viber business messaging users are accustomed to will remain in the Unified service type. Of course, new functionality will also be added to the new service. Many of the new features are similar to those available in Viber's private and group chats. Let's consider them in more detail.
File sharing
The ability for brands and users to exchange different types of files with each other including warranties, invoices, prices, booking confirmations, certificates, etc.
Acceptable file formats:
documents: .pdf, .doc, .docx;
spreadsheets: .xls, .xlsx;
text files: .txt, .rtf, .dot, .dotx, .odt, .odf,. fodt, .info;
other graphical formats: .xps, .pdax, .eps.
Each file can be up to 200MB in size.
Photo and video sharing
The ability to send photos and videos to brands: ID card certification, post-sales support, screenshots, etc.
Acceptable file formats:
pictures: .jpg, .jpeg, .png, .bmp, .gif,. svg, .webp;
videos: .avi, .wmv, .mov, .mp4.
No size limitation for pictures (except .gif up to 24MB), videos cannot exceed the 100MB max size limit.
Pin-to-top
The ability to pin the selected message or message thread at the top of the business chat: flight details, tickets, delivery status, etc.
Message reply gesture
The ability for a user to reply to a specific message inside a business conversation.
Auto-reply message
The ability to set up an auto-reply on the Viber side if the business is not ready to interact with the client. In this way, the 1WAY business logic can be preserved.
The Auto-reply will be triggered if the company has not configured a Callback URL. The auto-reply text is not customizable — the user will be shown a default message in the language that is set on the user's phone. However, in the future, Viber assumes the possibility to introduce the ability to set up your own auto-reply.
The Auto-reply service is free.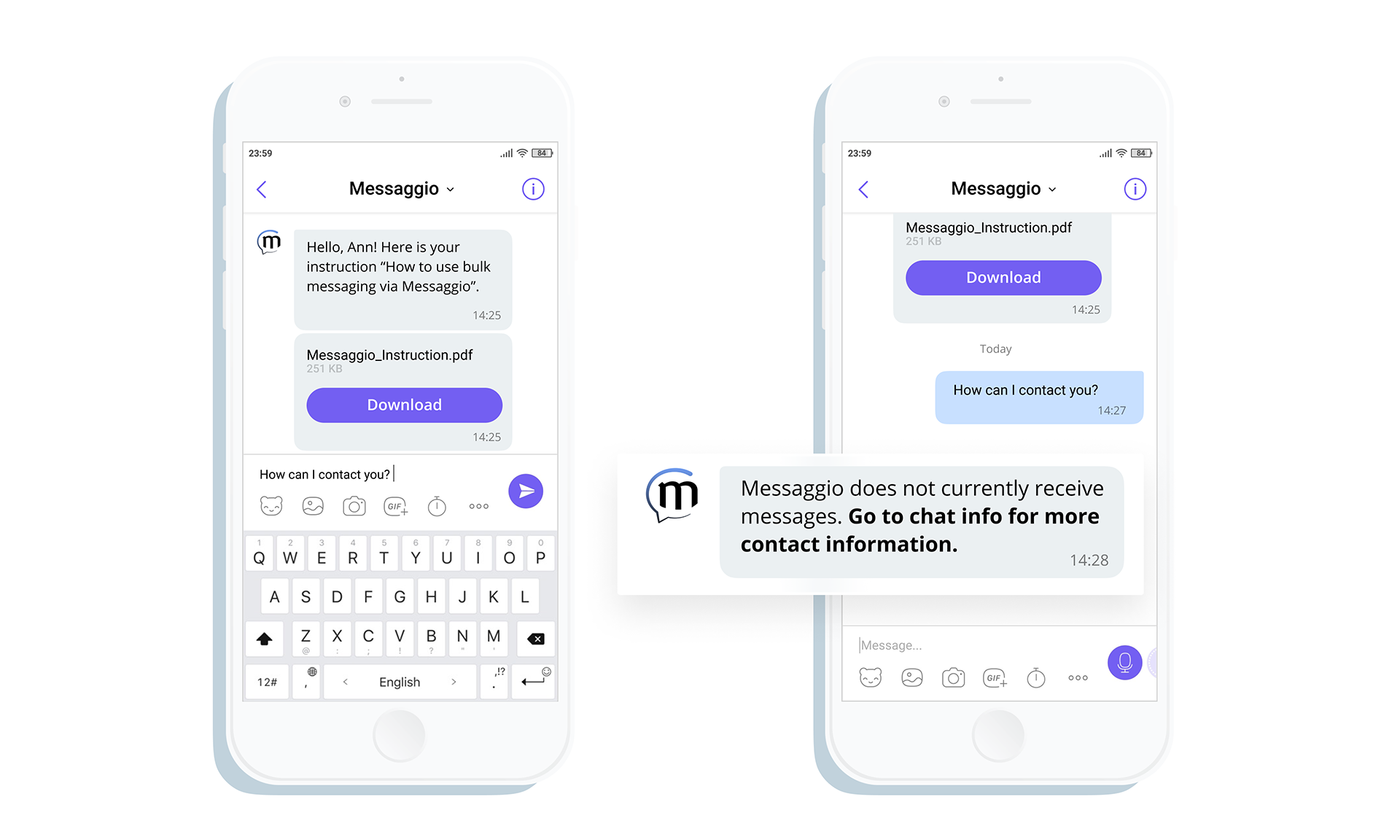 What unification will change for brands
After unification, the Viber Sender IDs of all types, 1WAY, 2AY, and Session, will receive the Unified service type functionality. If a brand has several types of Sender IDs registered, you can choose one of the Sender IDs for 2WAY conversations with customers, or continue to use all Sender IDs with the same purpose.
There is no need for companies to do anything to merge Sender IDs.
All promotional and transactional message templates — text, image, text + button, text + image + button — will be supported by the new unified channel.
Viber messaging cost after unification
Unification will not affect the pricing model in Messaggio or the pricing for Viber messages. Promotional and transactional messages will be charged as usual, regardless of whether the user has opened a session or not.
When the changes take effect
Viber reports that the Business Messaging unification channel will be launched in two stages:
Starting from October 4th, every new Viber Sender ID will have access to Unified service type functionality. This means that these IDs will support all of the previously available integrations: 1WAY, 2WAY and Session for both promo and transactional messages, and end-users will have an open keyboard.
Starting from October 11th, all existing Viber Sender IDs will be updated to Unified service type functionality. The Sender IDs will support all types of integration (1WAY, 2WAY and Sessions) and all types of messages. Brands that have their IDs configured to collect feedback will continue to receive user responses. For brands that are not ready to receive messages from customers and have 1WAY integration, an auto-reply will be enabled.
How to register Unified service type Sender ID in Messaggio
Unification will not affect Viber Sender ID creation in Messaggio, only now you don't need to specify the Service Integration Type.
The URL for user response is specified in the project settings. To enable users to reply to your messages, go to the project edit mode, the "API Settings" section and specify the Callback URL for incoming messages. If you are not ready to receive replies, leave the field blank — when your clients try to reply to messages, they will receive an auto-reply message asking them to choose a different channel to communicate with the brand.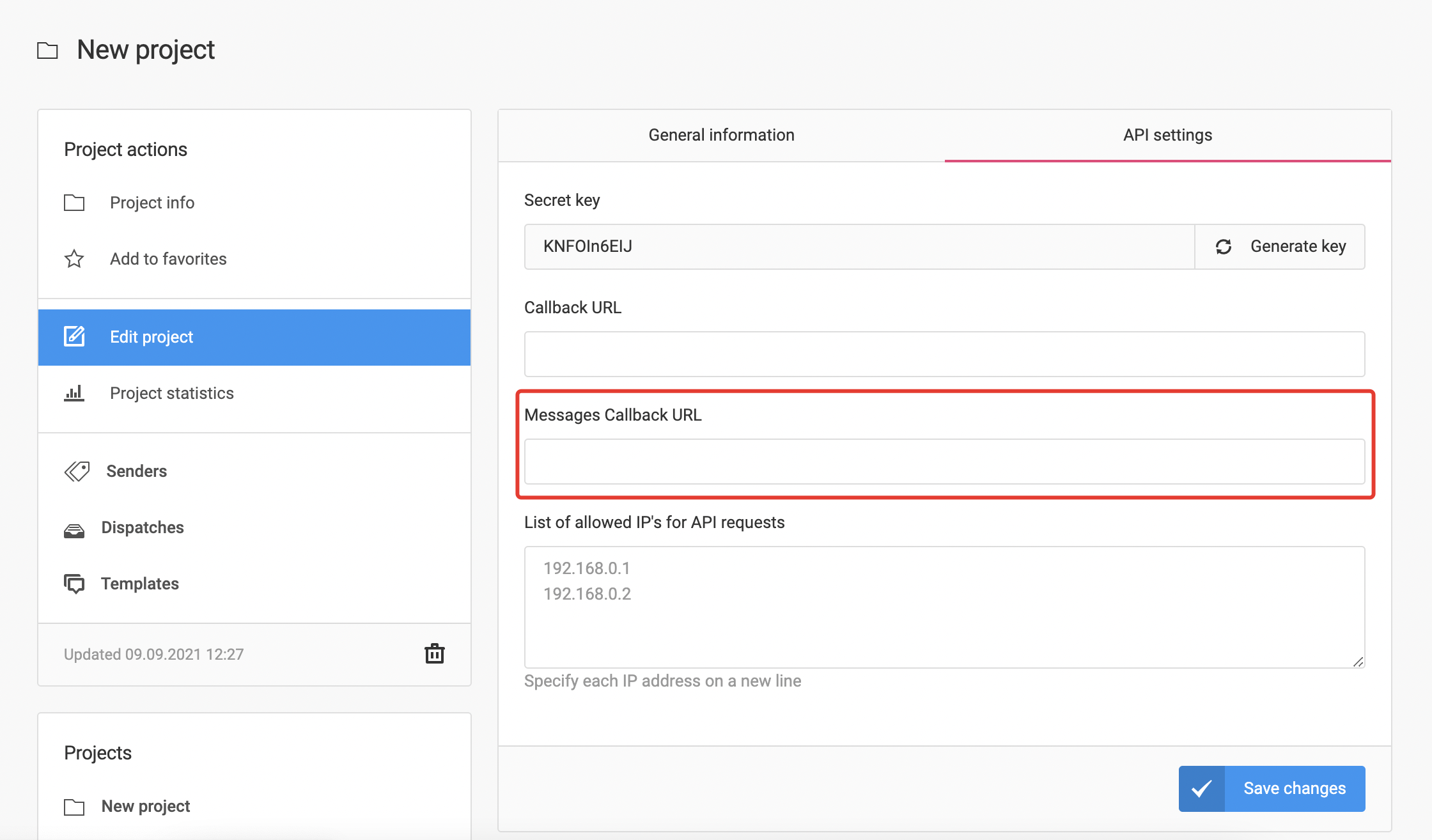 As soon as the new Viber Unified service type takes effect, we will update the Messaggio Knowledge Base information about Viber Sender Name requirements.
---
Ready to start messaging campaign in Viber?
Tell us about your task and we will offer a suitable solution.