Meet Messaggio on exhibitions and conferences
We participate in a variety of industry events of messaging technologies, online advertising, payment systems, and so on. We will be glad to meet you in person! Schedule meeting with Messaggio!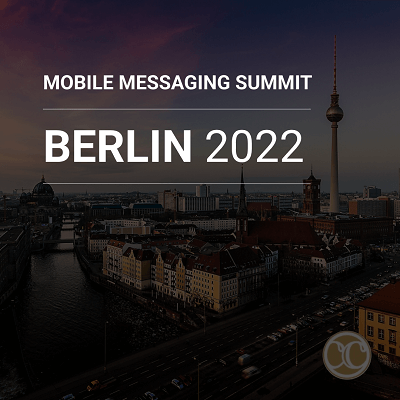 Let's meet?
Meet Messaggio on CC-Mobile Messaging Summit 2022
The SMS and A2P messaging industry is rapidly changing and growing. Therefore, the Community of Communications Operators (CC) is already organizing the 5th annual CC Hybrid Summit — CC-Mobile Messaging Summit, designed for wholesale carriers and corporate companies. The event will take place June 22-23, 2022 in Berlin. CC-event brings together mobile network operators (MNOs), A2P players, aggregators and wholesalers, enterprises as well as leading messaging players and technology innovators to meet and network in Berlin. Here you can meet key industry players and peers, participate in knowledge-sharing discussions and learn more about market trends, promote your company as a leading player in the market, and demonstrate the latest technological and innovative solutions among community members.
Schedule a meeting!
Visit event website