Table of content:
Internet marketing's focus is rapidly moving from attracting new users in mass to personal work with every attracted user. One of the personalized marketing tools is triggered SMS. We'll explain what triggered SMS messaging is, what makes it useful for business, and how one sets it up.
Triggered SMS: what is it?
A triggered message is a text that is automatically sent to the recipient after a certain trigger (event) occurs. An example of such a trigger can be an item abandoned in the cart without an order fulfillment. After one or two days the user receives a notification with a reminder, a discount, or a link to similar products.
The goal of triggered messages is to motivate the buyer to complete an action where the trigger is the buyer's behavior, their inactivity on the website or in the app, or the occurrence of a date important for them.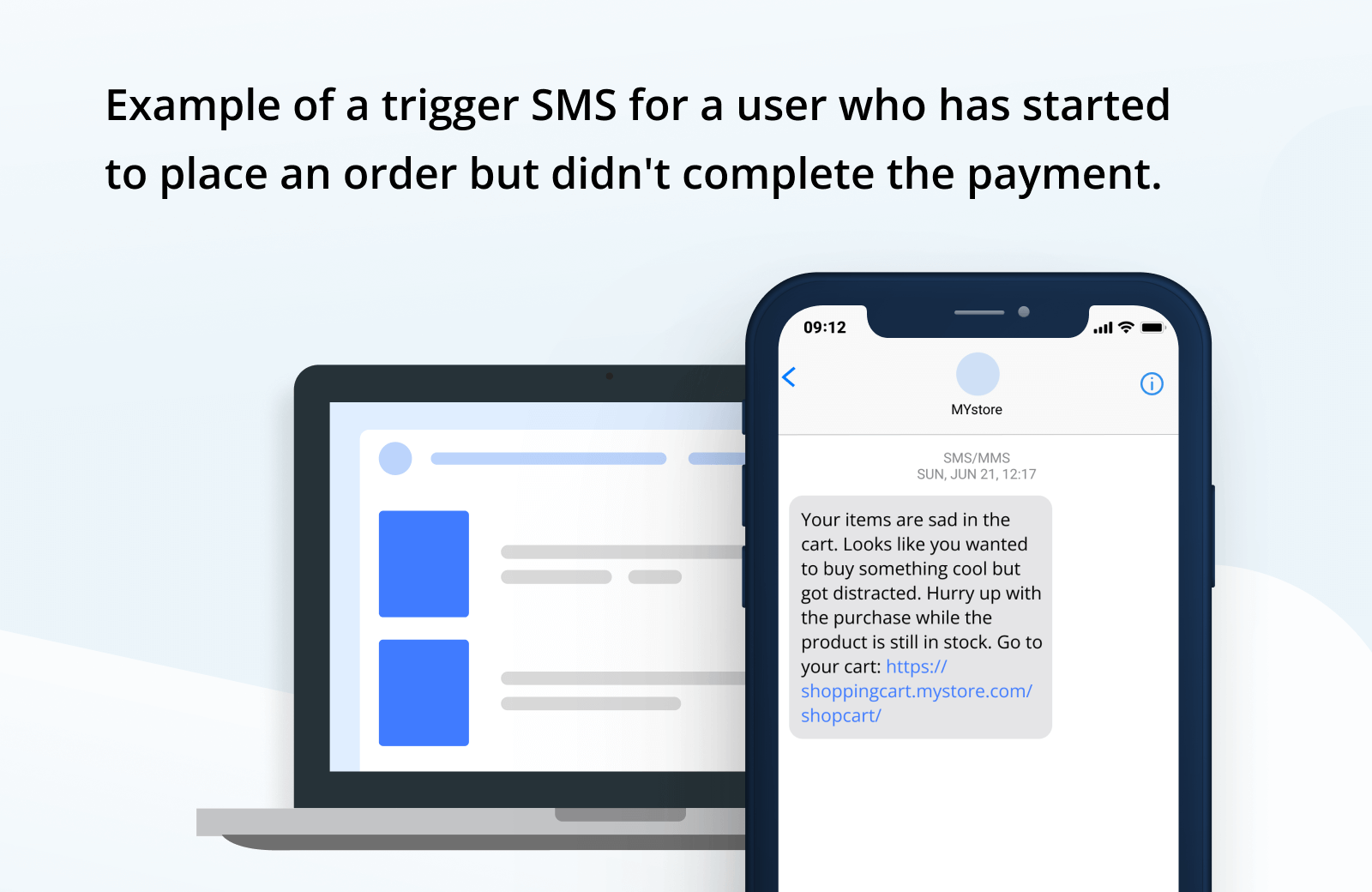 Advantages of triggered SMS
Why businesses should use triggered SMS:
Automation. Messages are forwarded automatically after a particular action is conducted on a website or an app. All that's needed is a one-time setup of a message chain.
Engagement and warm-up of a subscriber database. Triggered messages increase the number of touchpoints with a store, as well as grow their awareness, thus helping with sales.
Personalization. The content of a message is tailored to a particular recipient. The recipient feels special, receiving a message with personalized content.
Useful content. Triggered messages don't provoke negative reactions because they only contain information that is beneficial for the user.
Fit for any business, from online stores to the B2B segment.
Goals of triggered messages
The main goal of triggered messaging is to encourage a user to act. A well-designed triggered message chain is a pre-planned, consistent, multi-leveled communication. There's no other marketing messaging channel of a similar automation and personalization grade, as triggered SMS messaging.
This tool works for:
Increasing loyalty. Timely forwarded triggered messages help users buy goods and services that are useful for them in particular. Clients trust the brands that help with making the right decisions.
Increasing sales. A user can get distracted and forget about the purchase but triggered SMS will bring them back to the website or the app.
Event informing. Thanks to reminders about doctor appointments, approaching forums, or webinars, users won't miss the event.
Growing user engagement for marketing campaigns. A message about a promo campaign that's coming to an end, motivates users to catch a great deal as soon as possible.
Warming up interest in the company's products. A user can simply forget about you, so they will happily accept the offer to return and check the terms.
Collecting feedback. Sending a message after delivering an order or providing a service isn't just a way to amp up a trusting relationship with a client but to also get a review that will help to improve the product.
Types of triggered SMS messages
Triggered SMS, depending on the goal, can be divided into:
Informational — notify a client about anything connected to changes in their sales funnel status. E.g., by thanking them for using the service or signing up/making a purchase, or by reminding them about the approaching expiration of a trial period or a promotional campaign.
Activating/Re-activating — return a client to the incomplete action. E.g., reminding about paying for an order that was placed earlier.
Congratulatory messages — congratulate a client on an important date and offer to use bonuses. E.g., wishing a Happy Birthday, or a Happy Loyal Customer anniversary.
What metrics does triggered SMS messaging affect?
The benefits of bringing triggered SMS into marketing processes a business will witness in its product metrics. Especially the ones that show client retention & return rate. Let's take a look at how triggered SMS messaging affects each rate. ​​
Metric
How to improve it with triggered SMS
LTV (Customer Lifetime Value) — the entire profit from the client within the period you've been working with them.

Retention rate — a rate of keeping users. Demonstrates how many clients go back to an app or a website within a particular time period.

— Motivate to extend the service by sending an SMS chain several days before, and on the day when their paid period or a trial ends.



— Share SMS messages about new arrivals and special offers in the categories where a user made purchases before; forward messages to interested segments instead of the entire database at once.

AOV (Average Order Value) — an average amount spent each time a customer places an order on a website or app.
Accompany abandoned cart messages with the "also bought with this item" link.
CAC (Customer Acquisition Cost) — the amount of money a company spends to get a new customer.
Forward messages first to an instant messenger, and then as an SMS — to the users who don't have that messenger installed; this will help to save on mass texting. For instance, Viber offer more competitive business message prices than mobile carriers.
CR (Conversion Rate) — conversion into a purchase.
Send messages encouraging to go back to the exact step the user left:
— go back to browsing items;
— to the abandoned cart;
— to the abandoned checkout.
How to create triggered messaging?
1. Get user consent
Triggered SMS, just as other types of mass messaging, can only be sent to the users who consented. Remember that a client can complain about spam; if it turns out that their contacts were obtained illegally, a company will be fined.
Learn more about the rules and tips on collecting customer data in our article "How to gather a contact database for messaging".
2. Think through the triggered messaging scenario
Write texts for the messages and a chain of triggered actions (tapping the button, following the link, abandoned items in the cart), that, when executed, will forward those messages to the user.
A triggered message chain can contain the following texts:
Example 1
A client books a hotel room. The company sends them a promotional message: an offer to upgrade their room category with no additional charge. The message includes an instruction to reply with «yes» if the client is interested in the offer.
Examples 2
A client has made an order in an online store. The company sends a reminder: your purchase is waiting for you at the pickup point.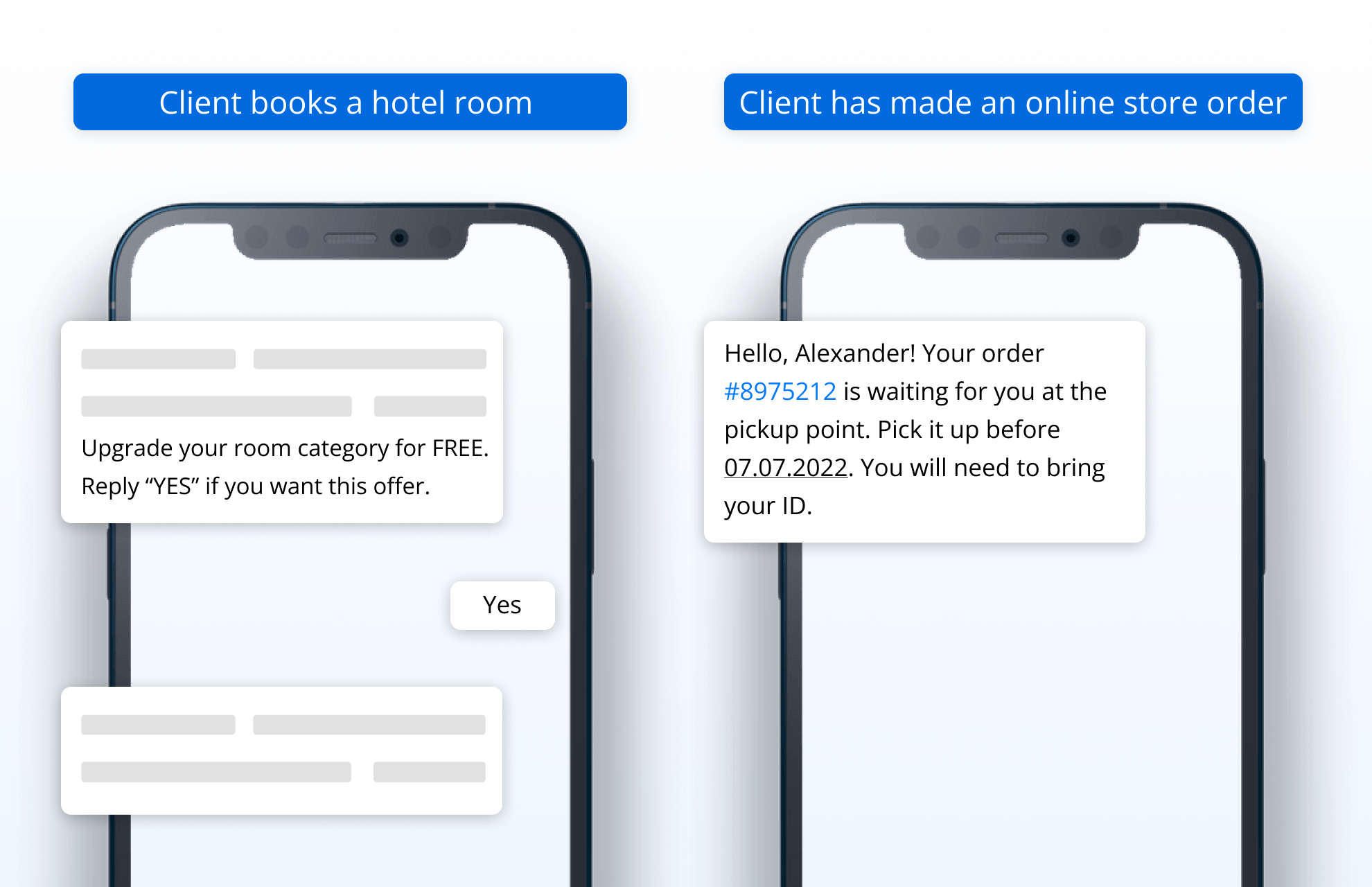 Example 3
A client signs up via the app. To complete the registration process, the company sends them a text message with a code.
Example 4
A reminder about the upcoming subscription charge. The company notifies the client: tomorrow night a tariff payment will be charged. The message also contains a balance check number and a deposit link.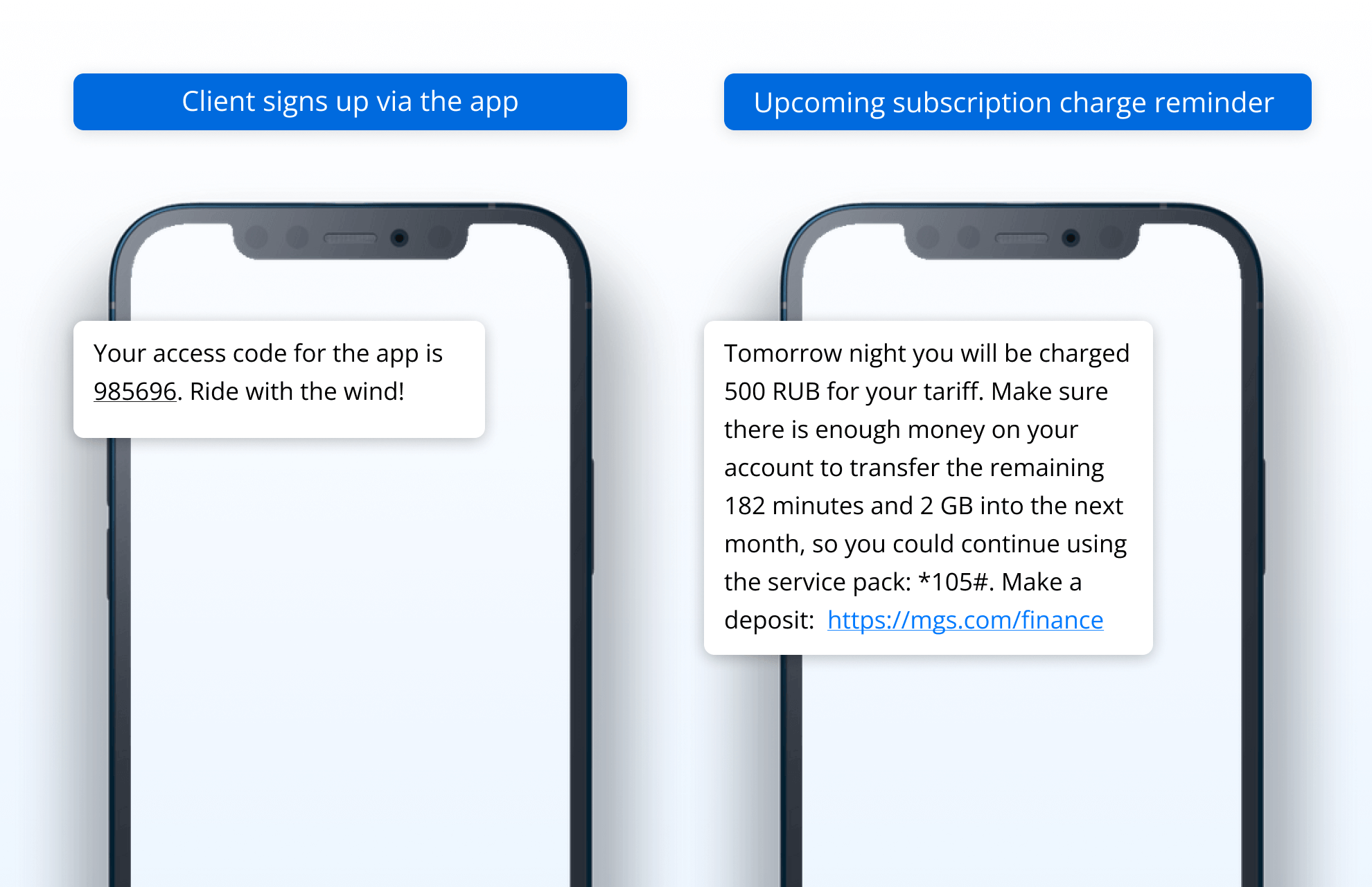 3. Set up triggered SMS using a mass messaging service
To set up triggered messages, use special services: they provide interfaces for designing message templates, approving the templates with mobile carriers, creating contact groups for bulk texting, choosing the time for launching messages, and more.
Another way to use triggered messages is to set up the launching via API. Messaggio offers methods of integrating a mass messaging gateway into your system. An API key will be required on your side, and on the Messaggio's — a webhook for receiving outbound message statuses.
To learn more about setting up triggered SMS messaging via API, explore Messaggio instructions, or contact the platform's support team.
---
Ready to start mass messaging campaign?
Tell us about your task and we will offer a suitable solution.