Benachrichtigen Sie Ihre Kunden
per Messenger oder SMS
Liefern Sie wichtige Informationen kundenfreundlich.
Nutzen Sie die beliebten Marketing-Tools für Instant Messenger in Ihrem Unternehmen.
Konto erstellen

Free
Kostenloser Plan verfügbar, keine Kreditkarte erforderlich!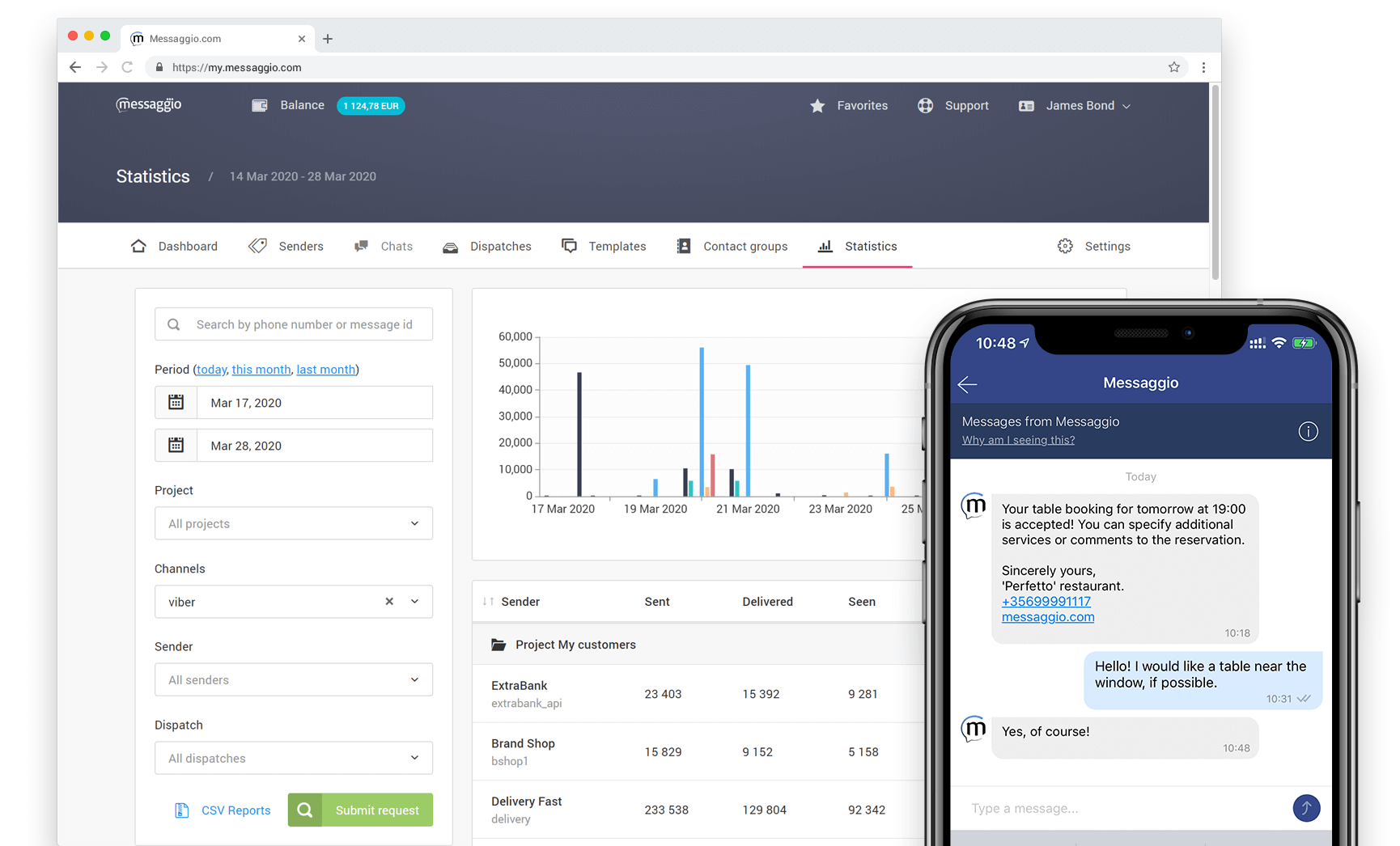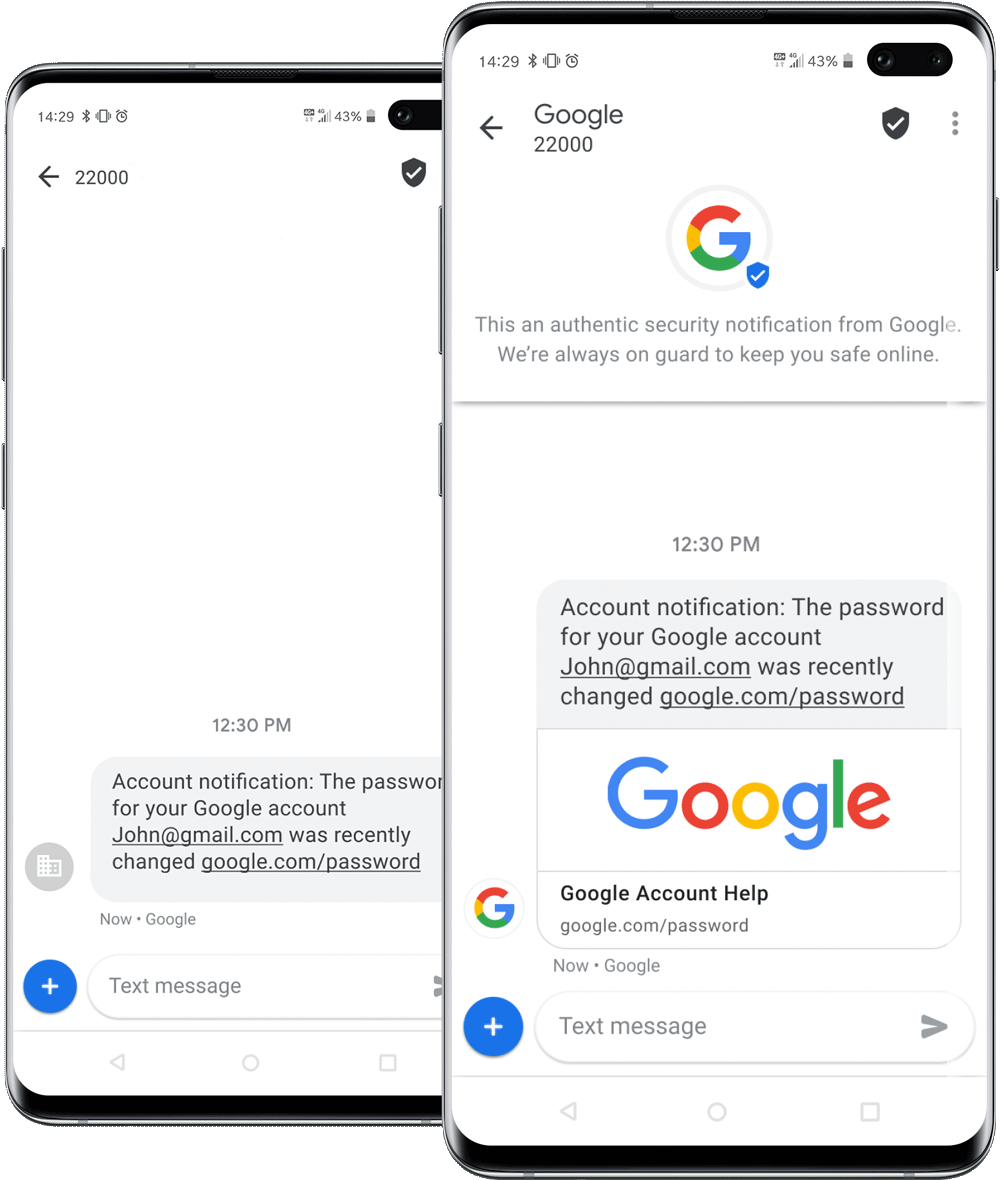 SMS texts are effective and engaging, and nearly 100% of your customers will read them within minutes. No matter whether it's a conversation about buying a product, filling out an application for a loan, technical support questions, or getting notifications about orders, SMS is a perfect way to contact your customers.

Sending a Verified SMS message via Messaggio to Android devices gives your customers confidence that it's certainly from your company. Messaggio fulfills this automatically in connection with Google verification platform, so your messages appear with your organization brand at the very top of your customers' messages with your logo right next to the message.

Verified SMS via Messaggio goes through cellular carrier services just as any regular SMS message. Verification process validates the checksum and authentication key with Google platform, integrated in Android Messages to ensure the message is legitimate.
Having submitted a Verified SMS sender, Messaggio generates a unique authentication key and transfers it to Google. The key is a one-way hash, so Google can't obtain any data regarding the recipient or message content.
The content of Verified SMS message is delivered via the carrier, so common carrier rules are applied.
When the recipient receives the message, the Android Messenger app computes an authentication key on its side and sends a verification request to Google to confirm sender's validity.
WhatsApp Business Messaging
Improve your service notifications and customer care with
messaging in WhatsApp, one of the most popular messengers in the world.
Create account

Free
Free plan available, no credit card required!
More about WhatsApp business messaging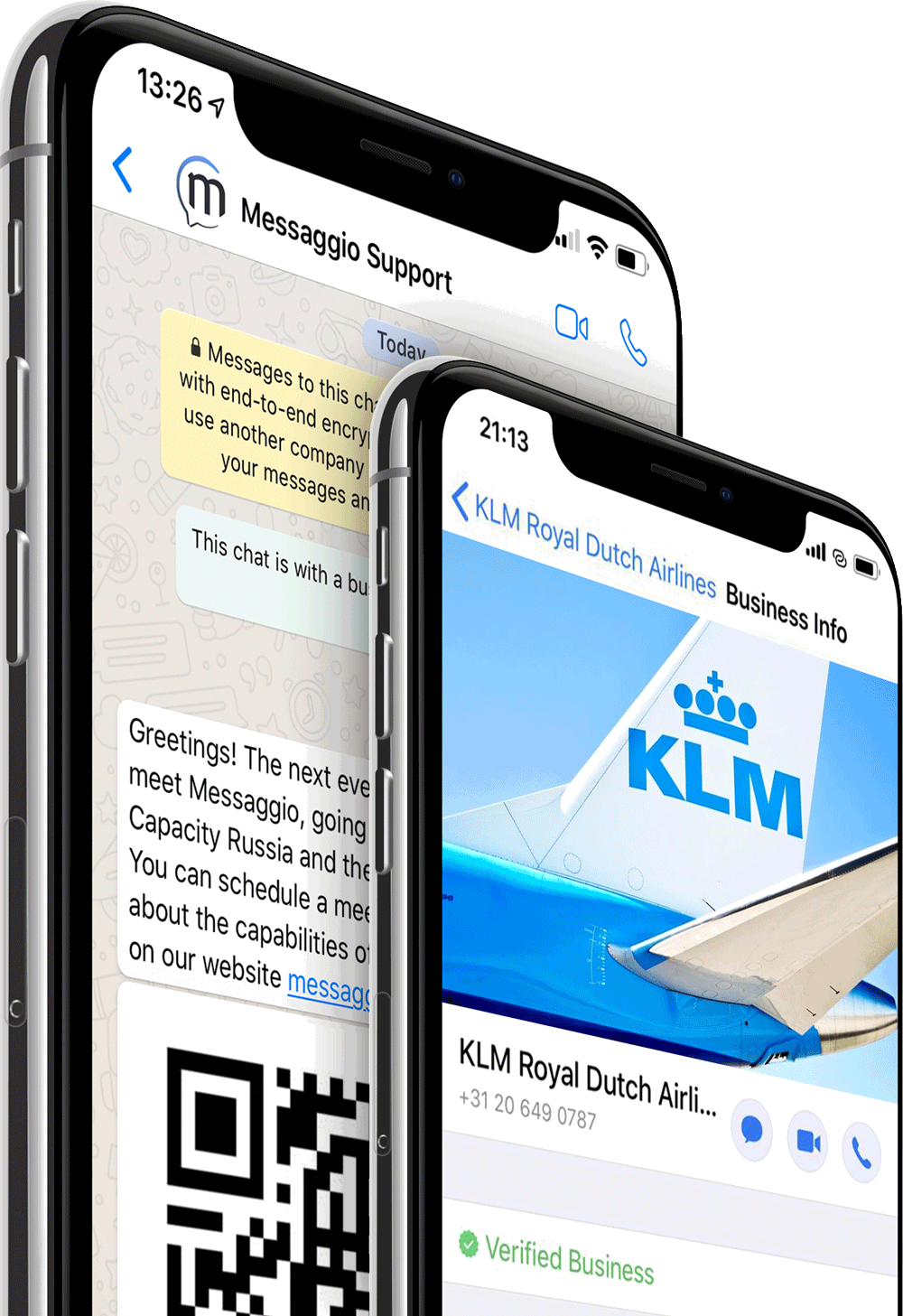 Multimedia content
Send large texts and various multimedia content to the users in a native way via the WhatsApp messenger.
Interactive communication
WhatsApp messenger supports native 2way communication channel. Get replies from your customers for free!
Global coverage
Your company logo is set as branded and verified WhatsApp Business Sender ID to dispatch messages around the world.
WhatsApp is the most popular messenger in the world – it processes about 65 billion messages daily for 1,5 billion active users in 180 countries.

WhatsApp Business API is a great tool for enterprises to reach out their users at a great scale.

Companies launched WhatsApp Business API obtain results of messages opening rate up to 99%, and users answering rate of more than 60% in b2c communication requests.
Up to 4096 symbols in any language
Brand Sender ID is labeled as "verified"
Rich media content (images, files, videos, audios)
Push notification of incoming WhatsApp message
Native 2WAY communication with the user
Welcoming message to the user and chat-bots
Message templates promptly approved by WhatsApp
Free b2c messaging within 24h period after user's reply
Improve your marketing campaigns
with
Viber Business Messaging
Powerful platform for worldwide Viber Business messaging.
Register your branded Viber Sender to start customer notifications and promotions!
Create account

Free
Free plan available, no credit card required!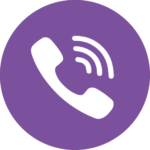 More about Viber business messaging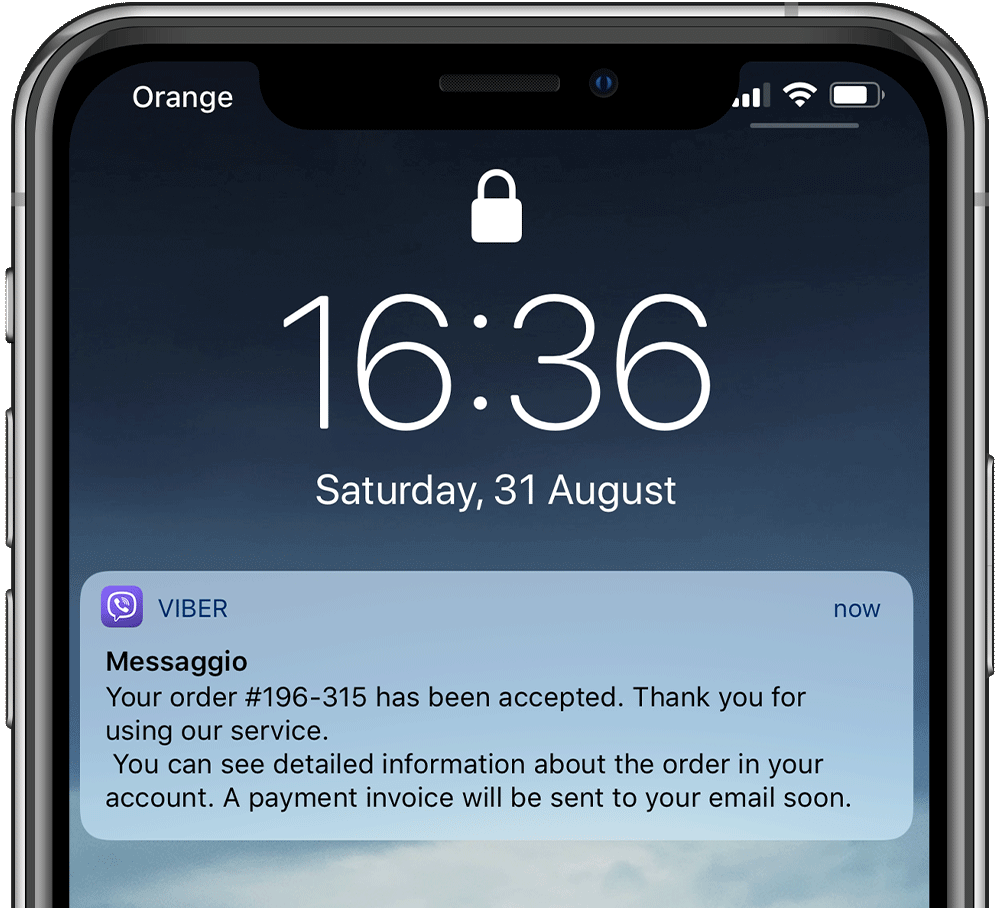 97
Delivery rate
High delivery rate through the direct official connection with Viber servers.
Messages seen
Message tracking allows to analyse customer engagement precisely.
Links clicked
An exceptional conversion rate of Viber business communication is achieved due to the CTA button in appealing message layouts.
Viber coverage
Average penetration rate of Viber messenger globally, up to 99% in the majority of countries.
Branded Sender ID
With Verified badge
Viber provides great opportunities for branding. Your sender name in any language, logo, verification badge, company description and contacts.
Learn more
Global coverage
After the approval (typically process takes 2 business days) branded Sender Name may be utilized to send A2P messages to any destination Worldwide.
Native 2WAY
Business may use native 2WAY Sender IDs for interaction and receiving feedback from the users the same way as using long-code SMS A2P.
Rich content
Emojis, special characters, images, buttons, extended statuses are optionally available. Message text contains up to 1000 symbols and it doesn't depend on the language.
Extended statuses
Fastest & reliable DLR message statuses: accepted, rejected, delivered, etc. Viber processes messages in less than 3 seconds or answers "not Viber user". There is no charge for undelivered requests.
Branded Sender ID
Company name and logo icon are visually recognizable in the conversations list. Business chat is highlighted with the green mark "V" (Verified) next to the Sender ID in dialogues list.
Push notification
Notifications attract user attention and force users read them even if Viber is not a major chat app, but just installed on the phone. This option boosts Viber's audience coverage up to 99%.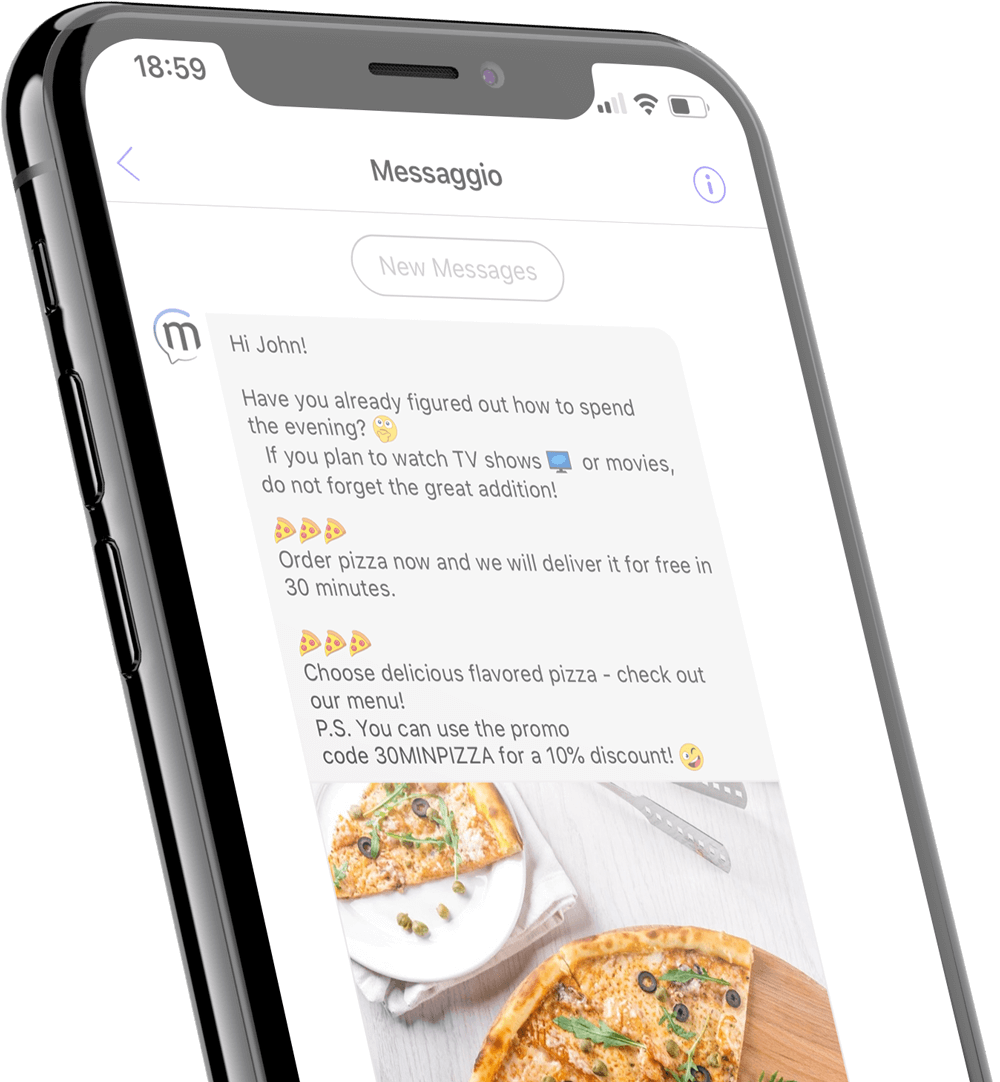 Marketing & promo campaigns in messengers
Create promo and marketing campaigns with Messaggio platform!
Send interactive Viber, WhatsApp or RCS messages to your customers, optimize expenses, collect feedback with the highest conversion rate.
More about Messaggio platform
Viber
WhatsApp
SMS
RCS
Notifications &
customer care
Communicate with customers efficiently via instant messengers.
Build modern customer service through Viber, WhatsApp or RCS.
More about multichannel messaging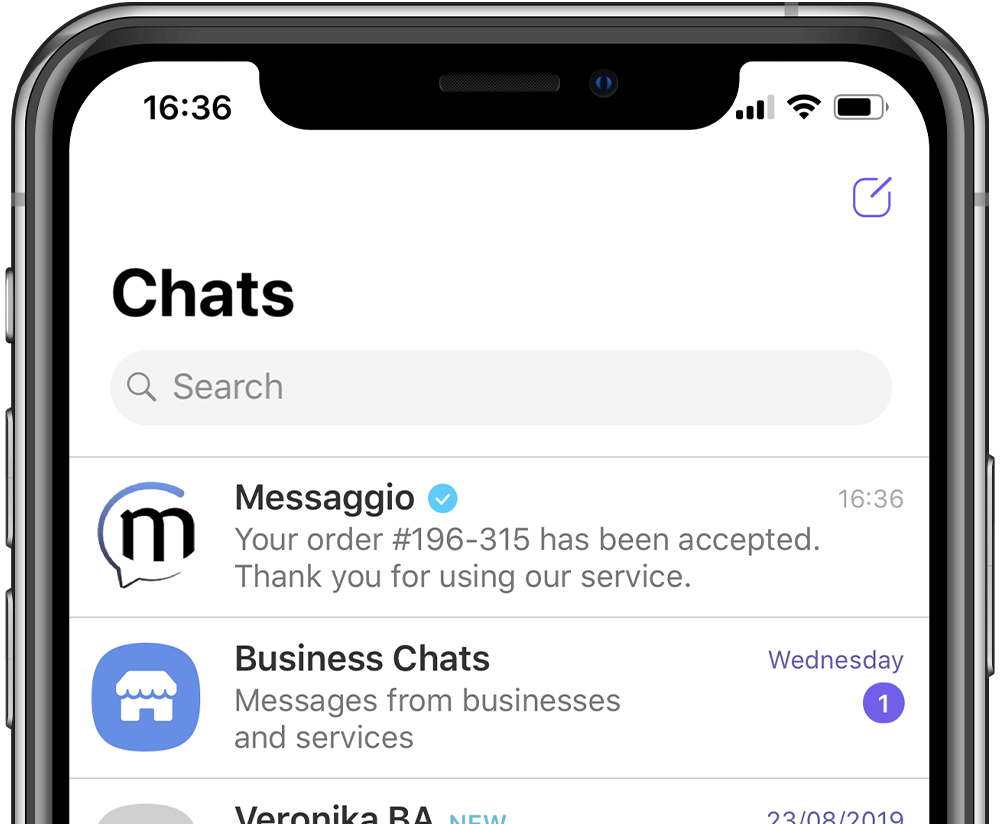 Join Messaggio and get Business Sender ID for multichannel messaging
Free plans available, choose your plan and start messaging today. Integrate messaging API or use Messaggio marketing campaign manager.
You may send one-way messages with multichannel routing to SMS, Viber, WhatsApp, RCS, or receive clients' replies in two-way dialogues.